Singapore's shipbuilding company ST Marin delivered the fourth coastal patrol vessel LMV (Littoral Mission Vessel) to the Singapore Navy, reports
TSAMTO
.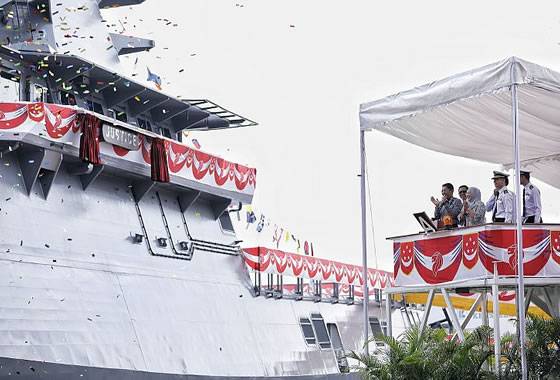 The contract for the design and construction of eight new 80-meter coastal patrol ships LMV was concluded in January 2013. They will replace the 11 of the Fearless class patrol ships that are in service for more than 20 years, built by the ST Marine division in the middle of the 1990's.
New ships are designed to patrol, protect maritime infrastructure and sea lanes, intercept offenders and escort.
Bookmark the lead ship LMV "Independence", took place in September 2014. He was launched in July 2015 and May 26, 2016 transferred to the Singapore Navy. In combat
fleet
the ship entered in early May 2017.
The fourth ship, the Justice, was laid in August 2016 of the year, launched in March 2017.
Delivery of all ships is scheduled to be completed by 2020 year. They will be part of the Singapore Navy's 182 Squadron and will be deployed at the Tuas base.