In a press release issued by the Serbian foreign ministry, State Secretary of the Ministry of Foreign Affairs Ivica Tonchev said that the Ukrainian ambassador to Belgrade, Alexander Alexandrovich, "seems to have forgotten that the main task of the diplomats is to improve bilateral relations."
Tonchev recalled a series of scandalous interviews with Aleksandrovich, in which he stated that Serbia does not have an independent foreign policy and is a tool in the hands of Russia, with the help of which the Balkans are destabilized and Europe is being destroyed.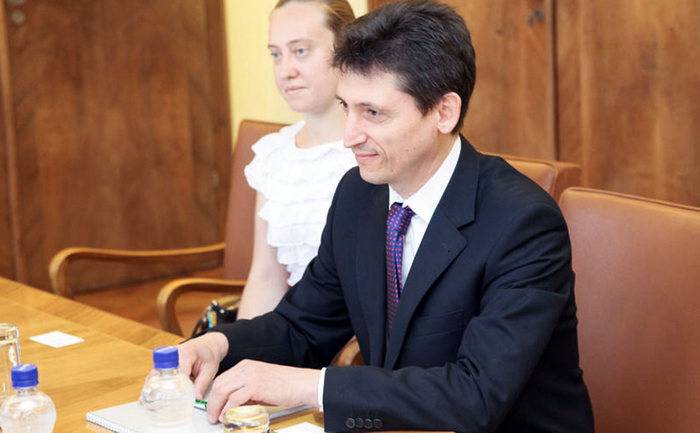 Ambassador of Ukraine to Serbia Alexander Alexandrovich

The representative of the Serbian Foreign Ministry said that Aleksandrovich without any justification accuses the Serbs of trying to destabilize the situation in Macedonia, the implementation of a coup in Montenegro and support for separatism in Bosnia and Herzegovina.
It is good that the interview was short-lived, because then Serbia would probably have been accused of provoking the Second World War in cooperation with Moscow.
- declared Tonchev.
The diplomat responding to Aleksandrovich's statements about the alleged participation of Serbian volunteers in the armed conflict in the east of Ukraine, reminded about the Ukrainians who took part in the wars in the territory of the former Yugoslavia.
According to Tonchev, the fact that Serbia conducts a consistent foreign policy, which gives serious results, pushes individual ambassadors to extremely non-diplomatic behavior towards the country, which has shown hospitality to them.
Taking into account the repeated appeals of the Ministry of Foreign Affairs of the Republic of Serbia to the Ambassador of Ukraine to direct their energy to fulfill the tasks outlined in the Vienna Convention on Diplomatic Relations, I would like to appeal to his ministry and government of Ukraine to point out to him the inadmissibility of such further behavior
- concluded Tonchev transmits
RIA News