The new generation icebreaker of project 21180 Ilya Muromets and the ice-class rear support vessel of project 23120 Elbrus will be part of the Northern
fleet
until the end of this year, reports
TASS
Post Deputy Defense Minister Dmitry Bulgakov.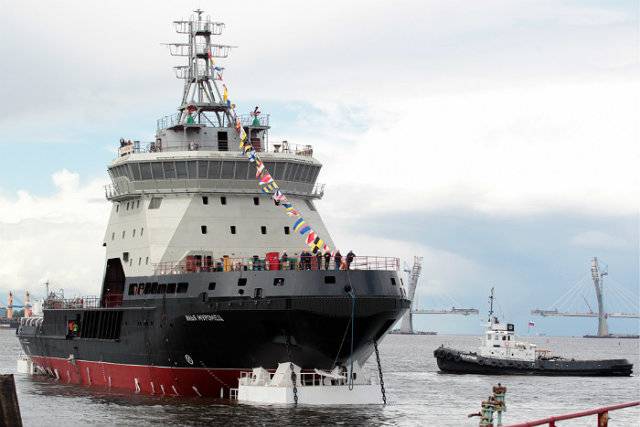 The ships are of great importance for ensuring combat readiness, defense capability and protection of state interests of ensuring Russia in the Arctic zone,
said Bulgakov.
He clarified that the icebreaker "Ilya Muromets" will arrive in Murmansk before the end of November, "after the completion of testing the functioning of all systems and mechanisms."
"Ilya Muromets" was laid on the "Admiralty Shipyards" in April 2015, launched in June 2016-th. It will be used to support the activities of the Arctic grouping of the Russian Navy. The length of the icebreaker is 85 m, the width is 20 m, the draft is 7 m, the speed is 15 knots, the ice cross-country is 1 m.
Logistics support vessel "Elbrus" is already in the Northern Fleet, completing tests and preparing for the transfer procedure. "Elbrus" combines the characteristics of a rescue tug and transport and is able to operate in an environment of high latitudes with ice thickness over half a meter. It is possible to transfer cargo to the shore and ships ",
- told the deputy minister.
Bulgakov added that the pressure chamber located on the vessel for decompression of divers allows him to participate in rescue operations.