The monument to Russian officer Alexander Prokhorenko, who died heroically in Syria, will be inaugurated in Orenburg on November 4. The delegation of the National Parachutists Federation of Italy will take part in the memorable ceremony. In August of this year, a monument to Alexander Prokhorenko was opened in the Italian city of Vali Sotto. Marble sculpture depicts an officer leaning on a boulder, in full combat gear. In honor of him it is planned to name the street in the Italian city of Varese, according to the Department of Information and Mass Communications of the Ministry of Defense of the Russian Federation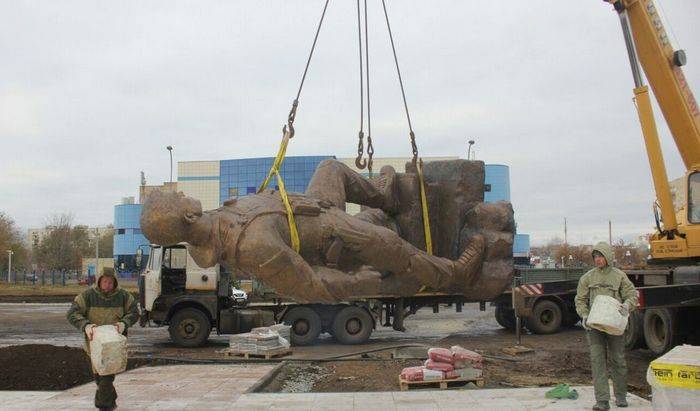 According to the portal "Ural56.ru", in Orenburg on Novaya Street on the square near the Orenburg Stadium, preparations are underway for the installation of a monument to Alexander Prokhorenko. The monument to the Hero of Russia was brought from Chelyabinsk. Workers at the site said that its height was 4,7 meters, and together with the pedestal it was about 10 meters.
The monument is cast in bronze. Alexander Prokhorenko is depicted in full growth, while his left hand rests on a broken column - this is a reference to the fact that he died while preparing the assault and the liberation of the Syrian city of Palmyra.
Alexander Prokhorenko died while performing a combat task of hitting Russian aircraft on the militants of the "Islamic State" in the Syrian Palmyra area. Once surrounded, the 25-year-old officer summoned fire on himself. For this act he was posthumously conferred the title of Hero of Russia, the name of the officer was forever listed in the Smolensk Military Academy military troop defense.