Russian military engineers received refrigerators, allowing them to work in full gear and in suit of maximum protection at temperatures up to plus 40 degrees, according to
News
.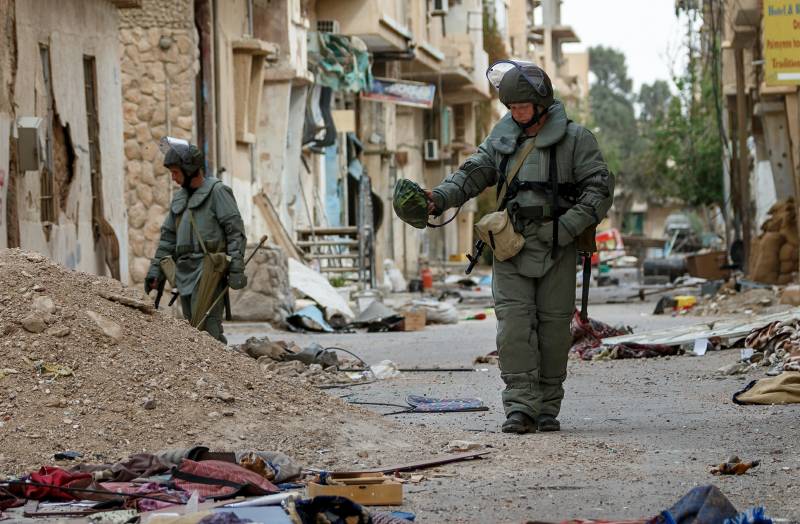 The system uses the same principle of operation as in space suits: through tubes, sewn to a special vest, liquid cooled by dry ice circulates. Today in developed countries, special fans are used to cool sapper suits. But they provide relative comfort only up to temperature plus 30.
The International Mine Action Center told the newspaper that the cold-vests had recently entered service, used by Russian sappers involved in clearing mines and improvised land mines from the Syrian Deir-ez-Zor.
The developer of the novelty is the Moscow company GS CJSC, which specializes in the manufacture of equipment and equipment for sappers. The maximum weight of the equipment does not exceed 5 kg, which allows you to carry it with you like a regular bag on a belt.
"The system consists of two main components. The first is a two-layer fabric vest with embedded coolant tubes. He is dressed under an armored suit. The second component is an external recirculation module. A portable pump powered by batteries pumps coolant (plain water) through a container of dry ice. The use of dry ice made the system portable. The ice evaporates during thawing, and the load gradually decreases, "the material says.
According to experts, the Russian system is simpler, easier and more economical than its foreign counterparts.
Sapper armored suit is rather heavy and covers the whole body. Even in our climate, a trained person sweat starts to pour from his forehead in minutes through 5-10. Heat and sweat are very disturbing, the sapper must work well and perform subtle manipulations. A similar situation, by the way, with military chemists, whose costumes were originally hermetic, and a long stay in them turns into torture,
explained Military Expert Oleg Zheltonozhko.
He noted that attempts to create a cooling system had been made for a long time, but either high costs or technical difficulties prevented it.
Americans, for example, also solved this problem. But they have a man tied to an SUV hoses, where there is a recycling system. Such a "umbilical cord" greatly limits mobility, and it's simply unrealistic to work with it in ruins.
told the expert.