Units of the Syrian government army are engaged in active hostilities in the area of ​​the Abu Kemal settlement, where a group of troops under the command of General Suhail landed a few days ago. Landing was carried out from the sides of helicopters. Together with the Syrian government forces in the area of ​​Abu Kemal, the Shiite militia and representatives of Hezbollah operate.
The CAA forward detachments succeeded in destroying several observation posts, and also captured an escort with
weapons
and ammunition destined for terrorists. Psychotropic substances were also found in cars.
Syrian journalist Riyadh Farid Hijab, referring to the field commander of the Shiite militia, reports that American military instructors have moved out of Abu Kemal towards the positions of Kurdish armed groups. If everything is really so, then this is actually another proof of American support for ISIS militants (* banned in the Russian Federation), who for the past several years have kept the Syrian-Iraqi border and the largest oil field in the SAR under their control.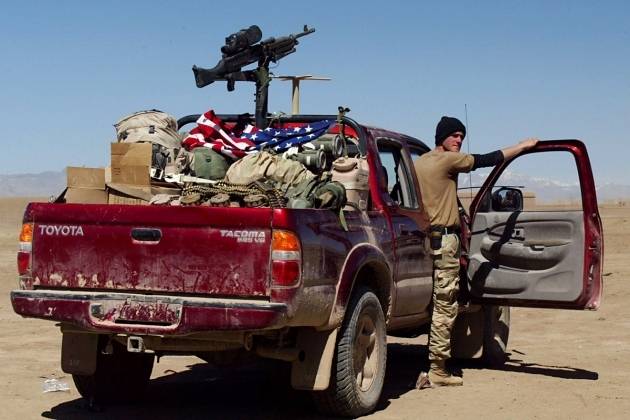 From the message of Riyadh:
Unexpected for opponents of the Syrian forces landing forces behind the enemy's rear allows not only to free another settlement from ISIS militants (*), to restore Syria's borders in the southeast, but also makes it impossible to implement US plans to create a neutral, flightless zone in the region protected by Americans. Here it is worth recalling the fact that last Tuesday the commander of the special operations forces of the international coalition against terrorists, General Gerrard, reported on 4 thousand US troops stationed in Syria. Characteristically, this information is completely contrary to the data announced by President Trump. Earlier, the head of the White House spoke of only four hundred overseas soldiers and officers present in the Arab Republic. By the way, the Kurdish armed formations are not very cordially able to meet the retreating American military. Indeed, among their leaders, discontent with the policies of Washington has sharply increased over the past month.
The reason for the apparent change in attitude towards the United States in the Kurdish detachments lies in the position of Washington in relation to the situation in Kirkuk. Recall that the United States actually gave the Baghdad the go-ahead for a military operation against the Peshmerga detachments, although Washington earlier announced that it would support an exclusively peaceful and political option to resolve the conflict. Moreover, Washington made a statement in which it was said that the United States does not see Kurdish autonomy as part of Syria.
According to Riyadh Farid Hijab (Syria, Aleppo)