The Russian embassy in the United States called the statement by US Senator Ron Wyden unacceptable. We are talking about the senator from the state of Oregon, who in the course of the speech agreed to what he called the Russian authorities "fascist." This once again speaks not only about the level of marasmus in the American political elites, but also about the level of education and elementary upbringing.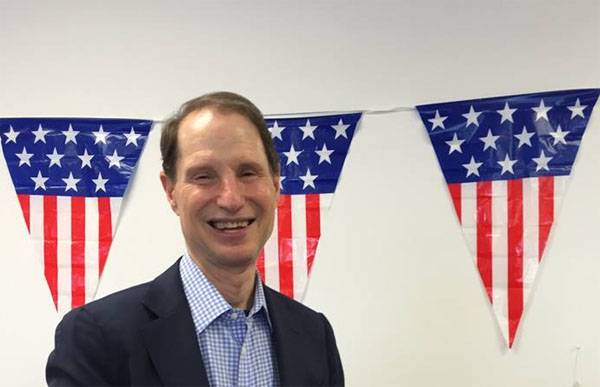 We give the statement of the Russian
diplomatic mission
in the US in full:
Congressional hearings of Twitter, Facebook and Google representatives confirmed the lack of evidence of state Russian interference in the US presidential election.
As it often happens in the USA recently, to cover up the inconvenient facts they seek to insult us. So it was the other day with our flags, before that - with diplomatic property and consular archives.

Today an unacceptable attack was made by the senator from Oregon R. Wyden, who called the Russian leadership fascist. Adequacy left another elected representative in Washington? Did he understand at all what he was talking about? Or the main thing is to draw attention to oneself, if one cannot get the evidence out of those called for interrogation?

The process of self-healing and return to the values ​​proclaimed more than 200 years ago in the USA is inevitable, although, apparently, it will take a lot of time. The worst thing for the image of America is that the whole world is a witness of the current negative.

Such overt provocations damage the already difficult Russian-American relations. It is time even for those who prefer the tone of the shopkeepers who unleashed World War II to understand that the Russian Federation does not interfere in the internal affairs of the United States of America.

And in that War against the plague of Nazism, we won. We won because our nations were together. Hopefully, in bilateral relations, the "spirit of the Elbe", the spirit of cooperation, including fighting, will prevail. Now he is needed in the fight against the new threat - international terrorism.

We must find an opportunity to combine our efforts.
Recall that in the US Congress the most recent time they were actually engaged in trying to "get evidence" of the Russian intervention in the US presidential election. To do this, interviewed the leadership of the main social networks. During the hearings, no evidence was obtained by Congress, which probably caused a stream of consciousness among some particularly inadequate American parliamentarians, who even did not know what the term "fascism" actually means.