As promised, I threw away a certain amount of time and money to watch the masterpiece film "Matilda". And in connection with the viewing I have some questions.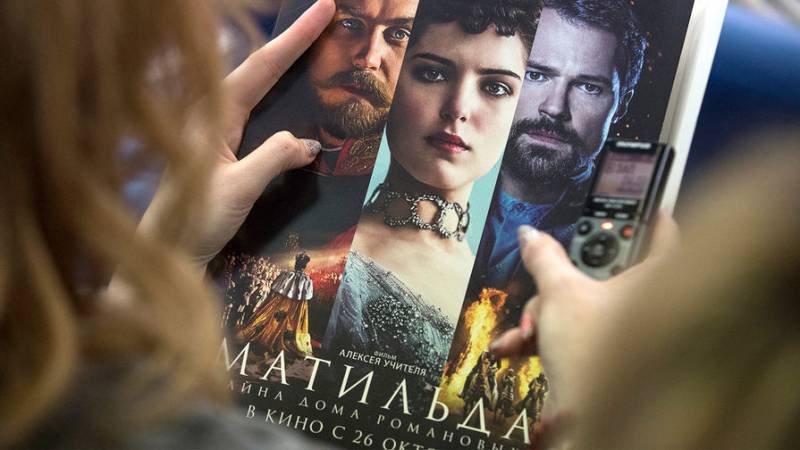 In general, I was convinced up to this point that the "Viking" is that bottom, below which there is no way. It turns out that the question is only in the amount of money. A hit of one and a half billion was just awesome.
Seriously I believe that in the domestic cinema now you can put a big and bold cross. It simply is no more, and, apparently, will not be. Like art.
Of course, it will remain, it is today a very good feeding. I can not even imagine how much was "sawed off" from the budget of this outright nonsense, born in the head of the author of the script.
Moreover, I frankly suspect Poklonskaya and the Teachers in collusion. Now I can't explain the advertising campaign that Poklonskaya arranged for this movie to anything else.
I will not touch the film, enough has been said about it, my opinion is an absolute dummy that does not carry anything in itself. Neither
historical
truth, no plot. The latter was particularly outraged. Especially did not expect the truth. Who needs it today?
But I really want to say a few words about our "cinema". At least simply because instead of this "masterpiece" it was possible to cut down 12
tanks
T-90 Newcomers. Which will bring really more benefits than this. Even if you just sell them.
Degradation
The only thing that comes to mind after watching "Salute-7" and "Matilda". Frank and complete degradation of all creators.
I understand that I really want the filmmakers to try where they can make movies. And they gave me some kind of a little fly. Well, Master has something, and there are a couple of orders, and three prizes for local bottling. But I want, of course, something from Cannes or Hollywood. I really want to.
About the virtually unknown author of the script of Terekhov, who was awarded a prize for a novel from the 800 pages, in general, there is nothing to say. The Big Book is strong. Apparently, I also wanted something.
But the main thing - who gave them so much money so worthlessly spent?
No, costumes, furnishings, decorations - everything is fine here. And the actors again (as in "Salute") tried their best. I see.
It was not visible only the essence and the script. Kill God, well, did not see. And not because he didn't want, he really wanted to, he didn't watch anything or read from the reviews on purpose. They didn't deliver a script by which it would be possible to at least understand something in the film.
Zero cold and vacuum in the head after viewing.
I do not understand, by the way, from which started Poklonskaya. There was no Nicholas II film there. There was an alternative tale about a person who was relatively similar to Nikolai Alexandrovich, but who had no external resemblance, nor the slightest resemblance.
Instead of a cultural (who has doubts?), Educated (I would try such a father to be a boor), a calm (according to the memoirs of many contemporaries) person, I was again treated with hysterics.
Is this a new trend like this - Russians wiping out for any reason and without it?
Apparently now yes.
If earlier Hollywood directors and screenwriters showed us as drunks of the highest category, then ours for the sake of you do not understand what and who are shown Russians as people with a frankly unstable psyche.
Apparently, no matter what should be Russian on the screen, just to be flawed.
Lord Shipenko, Kravchuk, Teacher, I understood, thank you. From the third time it came.
Well, at the same time and the masters of writers low bow. Rubanov, Smirnov, Terekhov, Planes, Chupov ...
Beautiful Russian people are all willing to show, if not a beautiful movie, so at least "how it was in reality."
But in fact - another nonsense. Very expensive. And again, frankly mean.
Well, gentlemen, since we have a question, what difference does it make where to see ourselves, as a representative of the people on the screen, in the form of a miserable hysterical or drunkard? Then it's better to watch American films for sure. There though the plot is present. No claim to historicity. And they can shoot there.
Everything is better than giving money for the dismal attempts to "make, as in Hollywood," our homegrown "directors" who have reached the budget.
At least, the Russian cinema with a signboard has lost all its appeal to me. Butor, fake and all that.
And the last question that torments me all this time: it is interesting, and who will pay damages? Judging by the dynamics of fees, losses will be in the region of a billion-something.
Interestingly, the Master will be given an order for such merit, as it is now accepted here?
Or is it in debt trap, work out?