Saab has announced a contract with the Finnish Armed Forces for the supply of an additional batch of new generation NLAW grenade launchers (Next Generation Light Anti-tank Weapon) reports
TSAMTO
.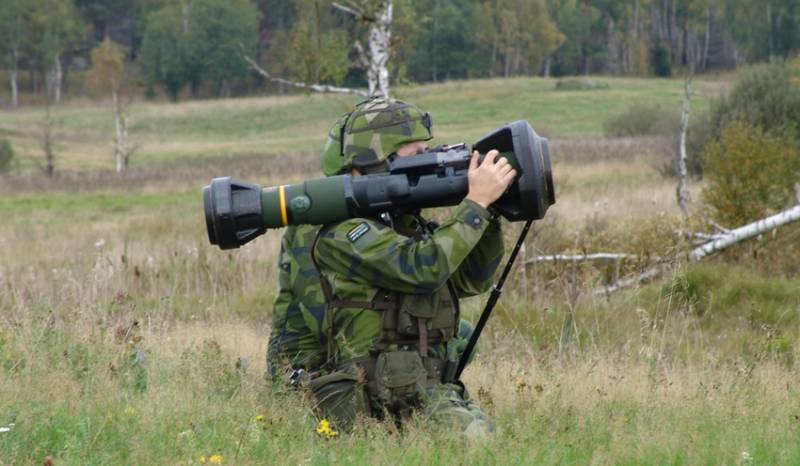 The first contract for the supply of NLAW was signed in 2007 year. In June, 2015 with Saab was awarded a new contract, which included the delivery of grenade launchers and training equipment. Its cost was about 32 million euros. The current order is the implementation of an option to this contract.
"RB-57 NLAW is a lightweight rocket launcher designed for destruction at short range
tanks
and other armored vehicles, including those equipped with dynamic protection. A complex using firing-and-forget class ammunition is carried over and used by one soldier. The range of destruction of a stationary target is from 20 to 800 m, of a moving one - up to 600 m, the weight of the complex is 12,5 kg, the transfer time from traveling to combat is 5 seconds, "the article says.
The lesion is carried out both in the frontal projection and in the weakly protected upper one. The ammunition 1 long m and weight 6,5 kg equipped with a tandem warhead weight 1,8 kg and non-contact fuse. Penetration - 500 mm. The kit includes a sight with 2,5-fold increase.
The ammunition is equipped with a self-destruct mechanism, which is activated at a distance of 1000 m (after 5,6 seconds of flight).
The use of the complex is possible at temperatures from –38 to + 63 ºС. The customer of NLAW is also the military departments of Great Britain, Sweden, Switzerland, Indonesia and Luxembourg.