The Brazilian Ground Forces Test Center (CAEx) starts testing the first batch of lightweight unarmoured Chivunk airborne attack vehicles with a wheel formula 4x4, developed by the Centro Tecnologico do Exercito Brasil Research Center of Brazil (Centro Tecnologico do Exercito).
According to Jane's Defense Weekly, preliminary tests of 10 vehicles will pass at the first stage. According to the plans, the tests will be completed by February 2018. After evaluating the results of the tests, CAEx will decide on the transition of the project to the stage of serial production or refinement of the equipment.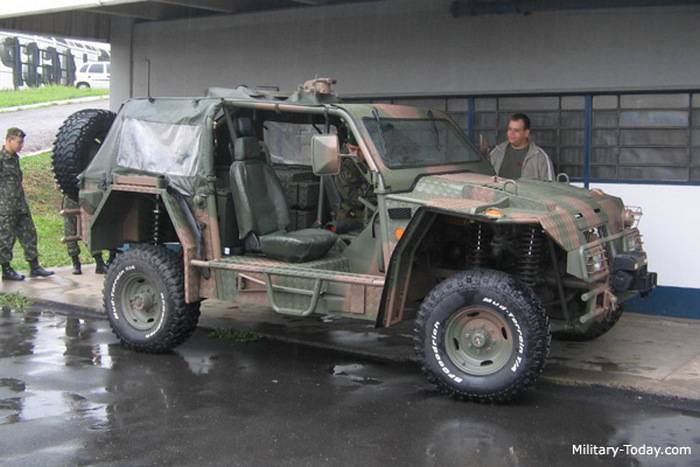 The Brazilian ground forces are planning to purchase around 30 vehicles for the rapid reaction force, including a parachute infantry brigade (Bda Inf Pqd), which plans to use Chivunk for reconnaissance, medical evacuation, towing 120 mm mortars, etc.
The combat weight of the vehicle is 3 m, length is 4,68 m, width is 2,35 m, height is 2 m, and the payload mass is 500 kg. "Chivunk" is equipped with a diesel engine company MWM Motores Diesel 140 horsepower. Euro-3 standard, Eaton FS2305A manual transmission, 3-ton winch for self-pulling. The machine is equipped with mounts for machine gun M2HB chambered for 12,7x99 mm or 7,6-mm MAG58M machine gun, two assault rifles, two rocket launchers and 76-mm PU smoke grenades.
The Chivunk maximum speed is 120 km / h, the cruising range with three crew members is 550 km. "Chivunk" can be transported on the external suspension of the helicopter and parachuted from a plane at low altitude, transmits
TSAMTO