Modernization and ensuring the safety and reliability of nuclear weapons will cost the United States $ 1,2 trillion over the next 30 years, reports
TASS
Post of the Congressional Budget Office.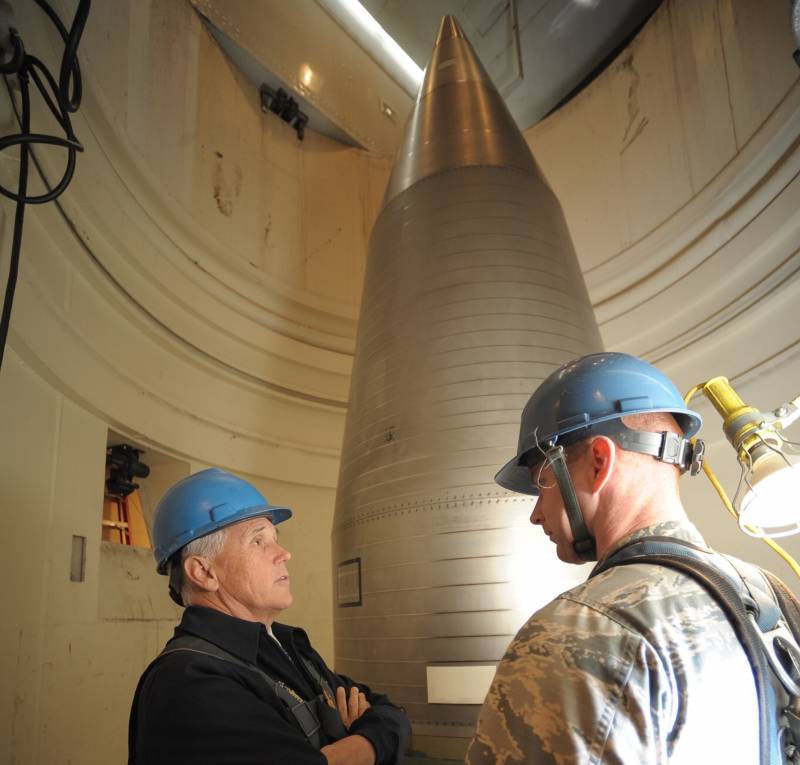 Vice President Mike Pence at the US Air Force Base in North Dakota.
The report notes that "$ 772 billion will be spent on the operation, maintenance and upgrading of strategic means of delivering nuclear
weapons
- heavy bombers, intercontinental ballistic missiles, submarines and warheads, $ 25 billion - for tactical nuclear weapons and delivery vehicles, $ 445 billion - for a complex of laboratories and manufacturing enterprises that provide activities related to nuclear weapons, as well as for the maintenance of command posts , communications systems and early warning systems for missile attack.
Over the next 30 years, the US Department of Defense plans to replace all the available Ohio-class submarines equipped with Trident II missiles. They are now 14, and the "oldest" went into service in 1983.
In addition, the Pentagon intends to acquire a B-21 bomber, which is under development and will cost about $ 550 million. It is also planned to replace the Minuteman III ICBM, which were adopted almost 50 years ago.
The report's authors believe that the new submarines will require $ 313 billion, new missiles - $ 149 billion, bombers - $ 266 billion. Even 44 billion will cost the development of other weapons systems.
Analysts emphasize that if "not modernizing the existing strategic delivery systems and warheads", but simply "updating their individual components and maintaining them in combat-ready condition", then the total costs can be reduced by about 50%. However, the military rejected such an idea, insisting that "elements of the current nuclear triad will not be able to effectively implement the nuclear deterrence strategy already in 20 years."