The name of the "Manhattan" terrorist has become known. It turned out to be a native of the Republic of Uzbekistan Seyfullo Saipov. He hit people in downtown New York using a small truck, killing at least 8 people, injuring even more 15.
Among the dead are 5 Argentine citizens who took part in the march on the occasion of the celebration of Halloween.
According to the American press, the terrorist left a note in the cabin of the car stating that the attack was committed on behalf of the Islamic State terrorist organization (* prohibited in the Russian Federation).
29-year-old Saipov, being behind the wheel of a car, drove off to the bike lane and began to make assaults on the people there. On the bike path, he drove a few blocks.
The car eventually crashed into a school bus. Saipov, holding a paintball gun, came out of the cab, after which he was overtaken by a bullet from New York police officers. He was wounded in the stomach. At the moment, igilovets is in a serious condition in the clinic.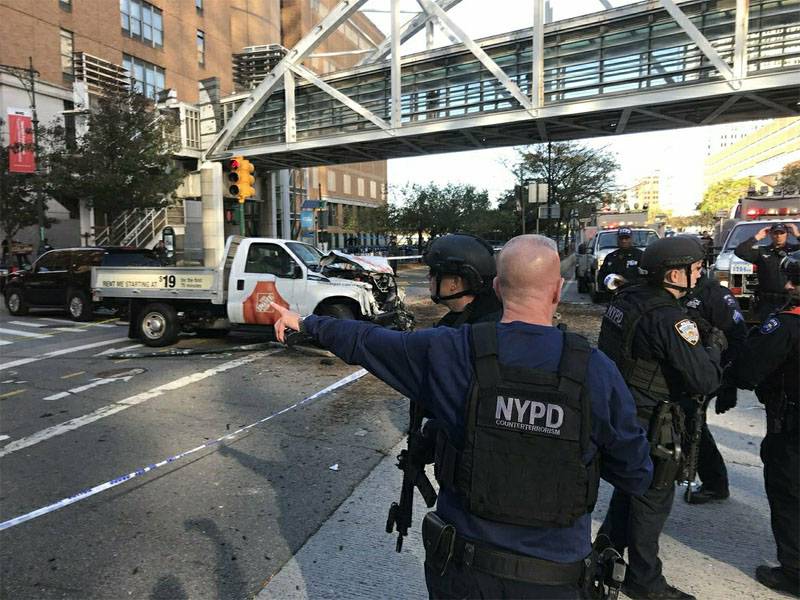 It is established that Saipov arrived in the US in 2010 year. Over the years he received a residence permit and settled in the state of New Jersey. Saipov has a wife and two children.
US President Donald Trump ordered to tighten security measures at public events.