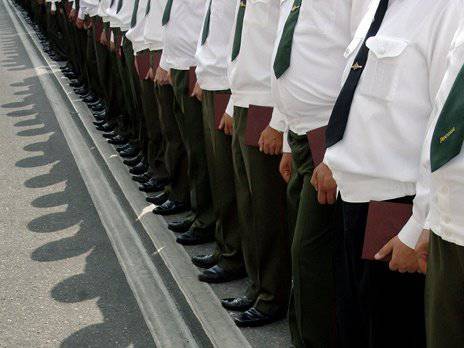 In the near future, the Ministry of Defense of the Russian Federation intends to make sergeant posts 7300 officers. Both officers and contract sergeants are currently serving in these posts. This informs RIA "
News
", Referring to the head of the personnel department of the Russian Defense Ministry, Lieutenant General V. Goremykin.
As the general pointed out, the GUK came forward with this proposal due to the increase in the number of officers in Russia to 220000 people. Goremykin said that Anatoly Serdyukov took a positive decision on this issue.
As the head of the personnel department explained, previously many officers were transferred to subordinate sergeant positions due to the reduction of officer positions. It is clear that the remuneration of the transferred officers turned out to be curtailed. By the way, it is not specified whether the money allowance of officers in new positions will be increased.
In total, in accordance with the reform of the Armed Forces, the number of Russian officers was reduced from 335000 to 150000 people. Growth to 220000 occurred after the creation of the Aerospace Defense Forces.
Now a huge number of officers and ensigns are in sergeant positions - about seventy thousand people. At the same time, the number of non-commissioned and non-commissioned military personnel reaches 660000 people, and of these, 100 thousands are contract servicemen. By 2017, the number of employees under the contract, mainly in the positions of sergeants, is expected to be brought to 425000.