The head of the Pentagon, James Mattis, said that the Supreme Commander of the US Armed Forces (Donald Trump) may well issue an order for a preemptive nuclear strike without a corresponding resolution of Congress. According to Mattis, who spoke in the Foreign Affairs Committee of the US Senate, Trump may decide to "give such an order in case of a clear threat from any country."
Mattis:
Of course, such a decision will be subject to comprehensive consideration.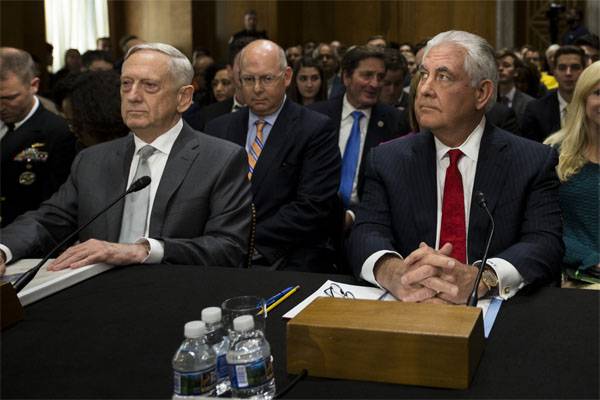 Such statements were made by the US Secretary of Defense after a question from Senator Ben Cardin, who clarified whether the Pentagon has permission to use military force against the DPRK. Cardin asked Mattis to give an answer as to whether this kind of permission was granted by the American legislators.
Speaking at the same meeting, US Secretary of State Rex Tillerson stated that Trump did not have the right granted by Congress "and added that, according to the law," in exceptional cases, he may not need such permission. "
During the hearings, the situation in the Middle East was also raised. According to Tillerson, the United States "does not seek to act in Syria against the troops of Assad, but will not hesitate if it is necessary to defend itself or its allies."