At a meeting of the Council for the Development of Civil Society and Human Rights, Russian President Vladimir Putin commented on the upcoming anniversary of the October Revolution. According to the head of state, he hopes that the 100 anniversary of the revolution will be perceived by the Russians as a symbol of overcoming the split in society. From the presidential statement:
I hope that this date will be perceived by our society as summing up the dramatic events that have divided the country and the people, will become a symbol of overcoming this split, a symbol of mutual forgiveness and acceptance of the national
stories
as it is: with its great victories and tragic pages.
With the thesis that the people of Russia are split over the events of 100 years ago, it is difficult to disagree. Friction of this kind between different members of the public has been observed for more than a dozen years. At the same time, some people call the October revolution of 1917 "a symbol of change and freedom," others believe that the revolution is "one of the main crimes against Russia and its people in the XX century". With such theses, one of which is almost the complete opposite of the other, it is difficult in society to come to a consensus.
During the Council meeting, persons who called themselves human rights activists were invited at the state level to think about a set of measures to perpetuate the memory of victims of political repression.
From other events on the Council:
At the very beginning of the meeting, Vladimir Putin offered the people to pay tribute to the memory of Elizabeth Glinka (Dr. Lisa) and Daniil Dondrey.
Vladimir Putin:
Since our last meeting, we have not had the opportunity together to pay tribute to the memory of these bright, wonderful people who have done a lot for the country and for society and, of course, for our Council - this is certainly a very big loss.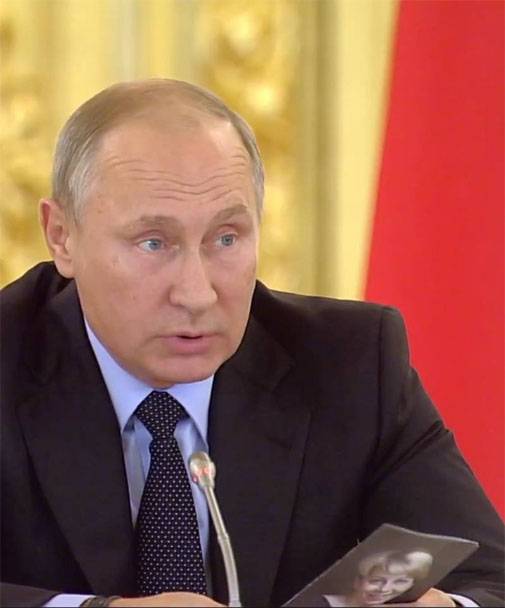 At that moment, the president was holding photographs of Dr. Liza.
During the meeting of the Council, the President noted that the number of NPOs "foreign agents" in the country has recently decreased from 165 to 89, which is less than 0,4% of the total number of non-governmental (non-profit) organizations registered in Russia.