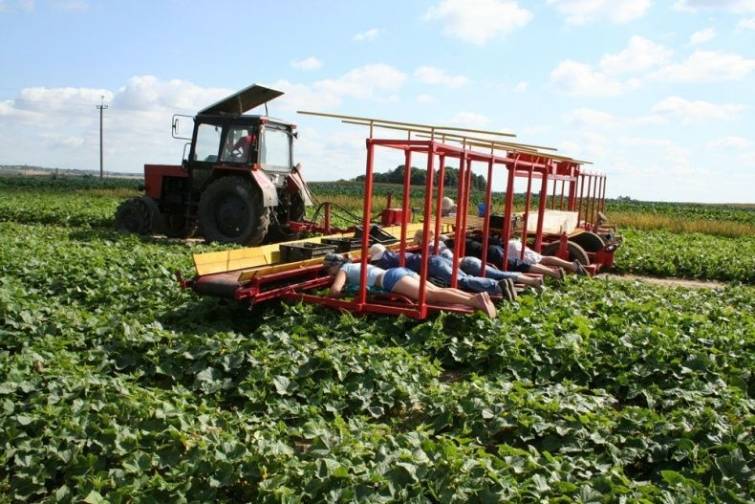 My Belarusian friends told me about this system. The topic is very funny, but it made me think about it in relation to our realities, since there is in it some kind of rational grain.
Recently, many Belarusians are faced with the harsh capitalist reality - unemployment. The preserved corner of socialism is not so much bursting at the seams, but hidden unemployment (this is when an employee from the 40-hour work week has 5-10 hours maximum) cannot be assessed due to the lack of reliable information. We will not evaluate.
Any citizen of Belarus who has been left without work (for various reasons) can search for it independently through recruiting agencies (those who really want to make money) and usually find it ... in Russia.
Either option is to get on the labor exchange, which is called the "Employment Center". This is for those who found a job "in the dark" and does not want to pay tax on parasitism. Either sit at home or dig in the garden.
The staging process is not very troublesome, but rather tedious and long, not a week, of course, but you can spend the whole day at the door of the corresponding room. After receiving the unemployed card you need to once a month, on the specified date to come and celebrate. Otherwise, they can deregister and deprive the already negligible benefit, which ranges from 23 to 41 of the Belarusian ruble (670 — 1195 of Russian rubles) per month.
It's okay, we have the same system.
But in Belarus there is a small nuance about which I want to tell.
In order to get this benefit, you must also devote one day per month to community service.
Working off the day is as follows. An unemployed person calls or comes to an employment center and makes an appointment for a specific day. On the specified day, 8 will come to the center again in the morning, where a delivery bus, or even more than one, will wait for him and other fellow citizens.
In the fall, most of them are sent to collective farms or to farmers for harvesting. You can earn about 15 Belarusian rubles (437 Russian rubles) in a day and get a few kilograms of vegetables, it all depends on the benevolence of the owner (or to steal).
According to my interlocutors, there are farms where they work less (due to low wages or no one at all), but, in addition to the vegetables received from the owner, a huge amount will be stolen during the work.
Considering which contingent comes, it is not surprising. There are people who, according to 10-15, are on labor exchanges for years, and this is despite the fact that it is possible to retrain and get another profession with virtually guaranteed employment. In the event that you are not a dunce and your hands grow from the right place.
But, apparently, this is not enough for anyone. And not every employer needs an employee who, by lunchtime, "zhahnul" 50 grams, or even more. Namely, this could be observed at the cleaning. Someone had time before lunch and added it during lunch, and someone at lunch took a dose such that the birds, as they flew, choked.
Some people, some of whom are already retired, work in such a way - in the 6 season, days a week, receiving Belarusian rubles for 15 plus vegetables, this is a good addition to the pension.
The pension of the majority of the population ranges from 200 to 300 Belarusian rubles (5830-8750 Russian rubles).
So it turns out that different people with different goals get to work out. Some are driven there by force, some go to earn money, some are on the stock exchange, so as not to pay the "tax on parasitism", and someone wants help in opening the SP and must be some good unemployed for some time.
Nevertheless, there is a certain logic in this matter. My friends, of course, booze, because both work for Russian employers on the "remote" and did not want to spend the working day. What remains? Right off.
For knowledge workers (one is an accountant, the second is doing some kind of creepy calculations for a metalworking plant), this is actually a feat - it's all the day plowing on carrot harvesting. The farmer got tough, forced to work, how he works. But the result is 10 rubles per person and a bag of selected carrots.
And this is not the worst option, by the way. It would be possible to get, for example, on street cleaning. Absolutely free.
The logic of the Belarusian authorities is clear and understandable: if you are unemployed, then you have enough time to devote to the state. Even if it is almost free of charge, since the amount of the allowance is small.
Speaking of Russian realities, it would be quite possible to adopt this method. And use, as in agricultural work, and when cleaning the streets, for example. "Exhaust" would be very good, I think.
Here we are not talking about those who really stayed "overboard". In the first place - employees of specialized factories. As an example, I can give the same KBKHA. Shortened and quit electrical engineers snapped up like hotcakes. But with the hydraulics alignment is quite different. Exchange without any prospects.
But first of all, it is not about those who are happy to be on the stock exchange, and who work "in the black." And such people were full, when he was being, he came across such organisms, working at a medical plant. They come not for the sake of employment, but to get a mark that they are not suitable. And God forbid such a / such to take: you get for the money the enterprise sneaker, who for short labor activity will do everything to poison your life. But usually such a frame simply will not work, because he already has a job, just extra money never stopped anyone.
Absolutely not fighting for the interests of the state, which our citizens are trying to deceive. It deserves it. However, the experience of the Belarusians makes sense to adopt. At least for the sake of cleaning the streets or, for example, park areas.