Пентагон намерен резко повысить эффективность своих
aviation
платформ за счет высокоточного лазерного
weapons
who can shoot down missiles and hit ground targets, reports
Expert Online
.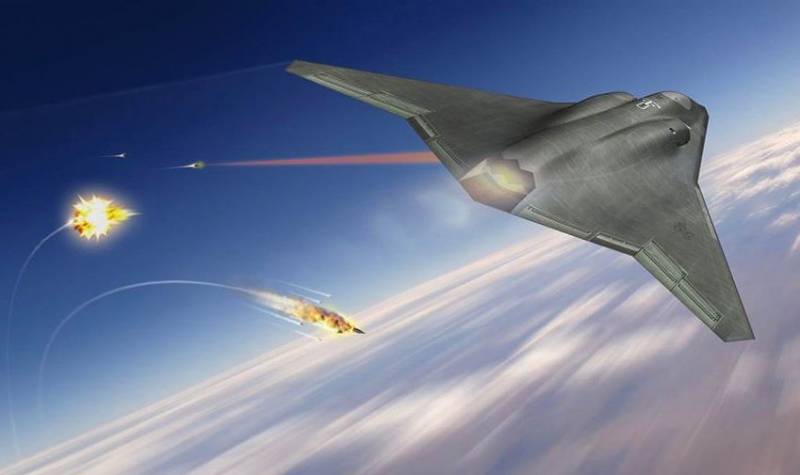 In particular, it is planned to equip with lasers all heavy F-22 fighters and new LRS-B strategic bombers, the development of which began 3 a year ago. And in the future, almost all of the strike aircraft platforms to be built in the United States should be equipped with combat laser complexes. This is the task of the Pentagon strategists.
Recently, the USAF ordered a compact but powerful laser generator from Lockheed Martin. For this purpose, only $ 26 million has been allocated so far. But this amount should not be embarrassing, since this is the first stage of research work. Creating a full-fledged laser will cost hundreds of millions of dollars.
"All work on this subject is carried out within the framework of the top-secret project SHIELD (Self-protect High Energy Laser Demonstrator), about which the military themselves prefer not to cover. It is only known that, according to the assignment of the US Air Force, they need three types of lasers, "writes the publication.
The most low-power (less than one kilowatt) pilots will be able to use weapons to aim at the target and to counter enemy surveillance systems. The installations of average power (several tens of kilowatts) are intended to shoot down air-to-air and ground-to-air missiles, that is, to protect the aircraft itself. Finally, a powerful laser (more than a hundred kilowatts) will be needed to destroy enemy aircraft and destroy targets on the ground.