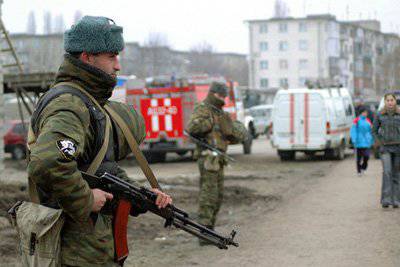 In Nalchik, the leader of the bandit underground, operating in the territory of Kabardino-Balkaria and Karachay-Cherkessia, named Ubaid, was liquidated. This was reported "
Rosbalt
"in the information center of the National Anti-Terrorism Committee on the results of the operation.
The FSB received operational information about the possible whereabouts of one of the odious ringleaders of the bandit underground operating in the North Caucasus. And around 04: in the morning, the gunman was blocked in one of the private houses of Nalchik at the intersection of Komsomolskaya Street and Michurin.
In a part of the city, the KTO legal regime was introduced.
Before the beginning of the active phase of its conduct, the gangster was asked to fold
weapon
and surrender to the authorities. In response, he offered armed resistance and was killed during the assault.
During the inspection of the house the body of a gangster was discovered and identified. It turned out to be, as the secret services had supposed, the leader of the sabotage and terrorist thugs operating in the territory of Kabardino-Balkaria - Alim Zankishiyev, nicknamed Ubaida.
According to the NAK Operational Center, Zankkishiyev was on the federal wanted list since 2006 for committing crimes of a terrorist nature. Since 2011, after the neutralization of the former ringleader of gangsters, Dzhappuyev Ubaid, coordinated the terrorist activities of gangs in Kabardino-Balkaria and Karachay-Cherkessia. During this time, the militants committed more than 30 terrorist attacks on the territory of the CBD, the killing of law enforcement officers and military personnel, the attempted assassination of government officials and the explosions of the IED.
In addition, members of the bandit underground, under threats of life, they extorted large sums of money from businessmen of the republic.
Zankishiyev was also involved in organizing the killings in January-February of the pilot Denis Nikolaev and the investigator Kantemir Kyarov.
He also organized an assassination attempt on the head of the administration of the Urvansky district of the republic, Antemirkan Kanokov.
During the inspection of the scene of the clash, two pistols were found and seized, one of which was foreign-made, cartridges, grenades.
At the present time, operational search activities are continuing in the KTO area, an investigation team is working at the scene.