"South Korean Abrams" received a new modification. As Armyrecognition.com reports, the Ministry of Defense of the Republic of Korea officially presented K1A2 - a new version of the main combat
tank
K1.
The K1 tank was developed in the 80s based on the American M1 Abrams. Later, in 90, Hyundai Rotem developed its upgraded version of the K1A1. For the first time, the development of the K1A2 tank at Hyundai Rotem was announced in 2014 year, and at the last ADEX 2017 exhibition, the South Korean Defense Ministry held a public demonstration of the updated tank.
The K1A2 modification differs from the K1A1, first of all, by new electronics. The tank is equipped with updated TIUS systems (tank information and control system), which integrates all the electronic systems of the tank into a single network, and CICS (combat information and control system), which provides automated control of the tactical link and allows for the exchange of information between tanks and other military equipment and control points.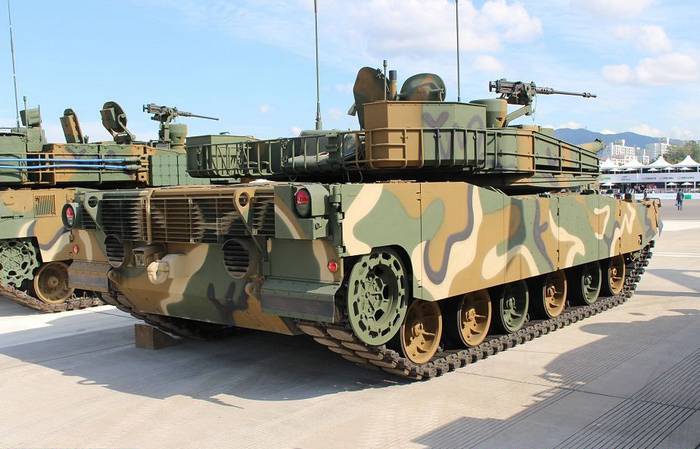 The Hyundai Rotem indicates that the K1A2 version uses electronics from the K2 Black Panther (eng. - black panther) - the new main battle tank of the South Korean army, put into service in 2014 year. The developers of the new version of K1 announced that by the year 2026 they are planning to upgrade all the K1A1 available in the South Korean army before the modification of K1A2.
Modification of K1A2 will allow temporarily replace the second batch of K2 Black Panther tanks, the production of which was supposed to start last year. Due to problems with South Korean engines that did not show an adequate level of reliability, the production of updated K2 Black Panther was postponed for several years until the military department found a supplier of new engines and transmissions, reports
"Warspot"