By leaving the post of head of Iraqi Kurdistan, Massoud Barzani showed that he wants to share responsibility for the failure of the idea of ​​gaining independence in the region with other Kurdish political forces, reports
RIA News
the comment of the expert of the Emirate center of advanced research "Al Mustaqbal" doctor of sciences Shadi Wahab.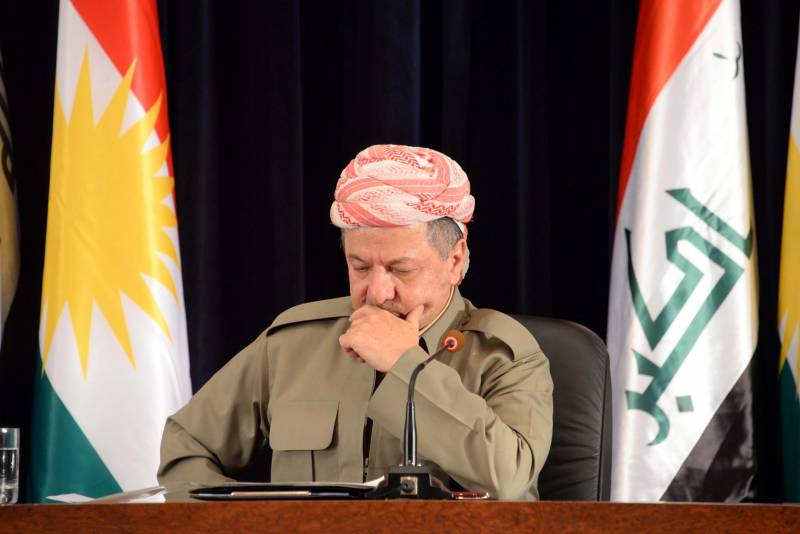 Soon there will be a meeting of the Kurdistan Parliament, at which Barzani's message will be read about his continued tenure. Earlier, the media reported that Barzani did not intend to extend the powers of the president of the autonomy, expiring on November 1.
Barzani does not want to be solely responsible for concessions to Baghdad on the issue of granting independence to Kurdistan, but wants to be shared by all Kurdish parties, including the Kurdistan Patriotic Union, which did not speak so unequivocally for secession from Iraq,
said the wahab agency.
In addition, "with this step, he aims to ease the pressure on Kurdistan from Iraq and from outside, as well as to preserve the unity of the Kurds," he said.
At the same time, the expert is sure that "Barzani will not refuse to play the main role in the regional policy even if he leaves his post, and he will remain in power until the new parliamentary and presidential elections are held."
Earlier, the autonomy parliament, in which a referendum on independence, which was not recognized by Baghdad, was held in late September, decided to postpone the presidential and parliamentary elections for 8 months.
Previous presidential elections in Iraqi Kurdistan were held in 2009. The term of Barzani's presidency expired on 2013 and was extended twice: by the parliament and the court. Earlier, Barzani said he would not run for a new term.