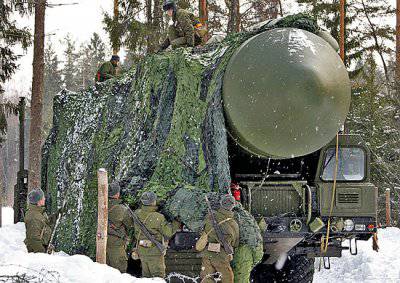 From 27 March to 26, around 40, the servicemen of the next missile division of the Teikov formation of the Strategic Missile Forces will undergo the second stage of retraining for the newest YARS ground-based missile system (PGRK). This stage is carried out on the basis of the training center of the Air and Space Defense Forces in the Arkhangelsk Region, the press service and information department of the Ministry of Defense of the Russian Federation reports.
Another, the second in a row, missile regiment of the Teikov missile division, armed with PJC "Yars" with an intercontinental ballistic missile RS-24, equipped with a divided head part, took up combat duty as part of two missile divisions and a mobile command post of the 27 regiment of December 2011.
Setting up the third rocket battalion of this regiment for the combat duty of the third rocket battalion will complete re-equipment of the Teikov rocket formation at the Yars PGRK and will begin retooling of this complex of the Novosibirsk and Kozelsky rocket formations. Moreover, in the last of these compounds, the deployment of the Yars missile complex will be carried out in a mine variant. In the future, the re-equipment of a number of missile formations was planned for the Yars missile system.
In total, the process of retraining of servicemen at the Yars PGRK consists of three stages. The first one took place from January 30 to February 15 based on the Teikov missile formation and included theoretical training of servicemen, the second stage is currently taking place at the Aerospace Defense Forces center deployed at the Plesetsk cosmodrome on April 26. The final stage is practical, will take place directly in the missile regiment when the Yars PGRK is commissioned.
Each stage of retraining of military personnel ends with the delivery of a number of offsets and is controlled by the combat training unit of the Strategic Missile Forces.