The wreckage of the Russian Mi-8 helicopter was found in the sea near Barentsburg (Svalbard archipelago) at a depth of about 200 meters, reports
TASS
Post rescue center in northern Norway.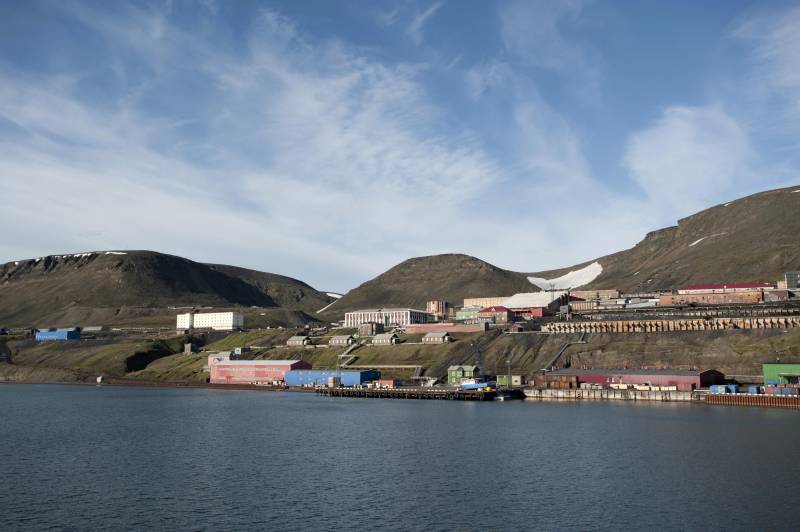 Russian mining village Barentsburg.
The wreckage of the Russian Mi-8 helicopter, which was missing from October 26, was found at the bottom of the sea at a point located in the 1,2 nautical mile (2,2 km) northeast of Cape Heer at a depth of 209 m. Center for Northern Norway, completed. The police will be responsible for the operation to search for the bodies of the victims of the disaster,
the report said.
Recall that the Mi-8 helicopter of the Converse Avia airline, carrying eight Russians - five crew members and three employees of the Arctic and Antarctic Research Institute - October 26 flew from the conserved village of Pyramid to the mining village of Barentsburg. The car was supposed to land at the heliport located at Cape Heer.
In 15: 04 local time (16: 04 Moscow time) the connection with the helicopter was lost. A Norwegian rescue center was notified of his loss. A search and rescue operation began in which two helicopters, patrol airplanes, several ships, ships of the Coast Guard of Norway, volunteers on boats and a mountain rescue platoon of the Russian state trust Arktikugol began.
In the Norwegian center they stated that the people on board most likely did not manage to leave the helicopter before it crashed, and that their bodies could be carried away over a considerable distance.
On Saturday, the Russian IL-76 Emergency Situations Ministry delivered specialists and necessary high-tech equipment to Spitsbergen, including the Falcon remote-controlled underwater vehicles and side-scan sonars. Rescuers were equipped with compressor equipment, motor boats, diving equipment necessary for work under water.