Iraqi pro-government forces surrounded the outpost of terrorists of the IG group (banned in the Russian Federation) in the city of Rawa and are located in 10 km from the city of Al-Qaim near the border with Syria, reports
TASS
, the message of the official representative of the Shiite Hezbollah al-Haj Abu Hamza's warring forces on the side of the Iraqi army.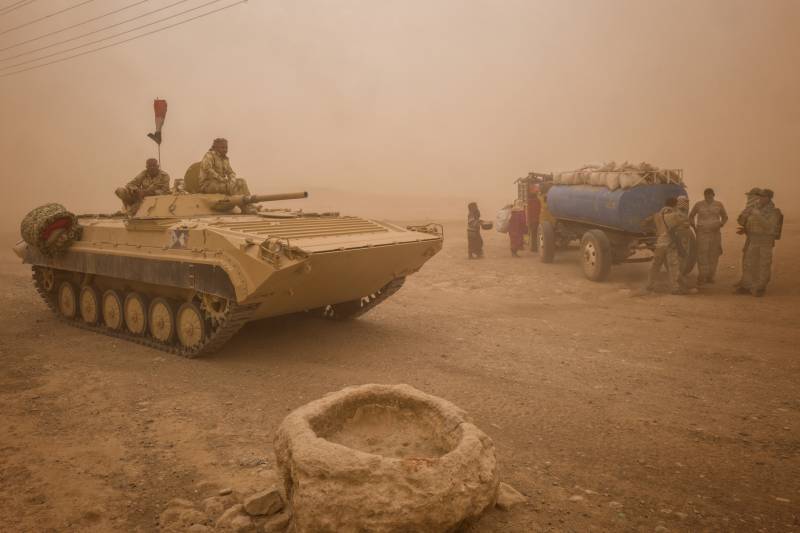 According to him, "the assault of these last outposts of the IG in the western province of Anbar will begin in the next 48 hours after the sandstorm subsides, hindering the movement of troops."
Hamza noted that "in Al-Qaim, they are defending from 400 to 500 of IS militants, among them there are foreign mercenaries."
On Saturday, the Iraqi army and militia opened security corridors to exit civilians. Their numbers are estimated at 4 by thousands of people.
The representative of the Shiite movement also said that "about a day, about 100 terrorists were eliminated, 20 square meters were cleared of IG gangs. km. " Now the sappers are engaged in demining the road from land mines, established by the militants.
On Thursday, government forces in Iraq beat off the Saad airbase from terrorists and came close to the outskirts of the city of Raw, located next to Al Qaim. In turn, Syrian troops on the opposite side of the border have crushed igilovtsi gangs at the T-2 oil pumping station and are now moving towards the city of Bu-Kemal, where the checkpoint is located.