Another belligerent statement was made by US Secretary of Defense James Mattis regarding the DPRK. While in Seoul, where US President Donald Trump plans to arrive in a few days, Mattis said that any strike by North Korea would be repelled.
Pentagon chief indirectly appealed to the authorities of the DPRK with the following speech:
Do not make a mistake! Any attack on the United States or on the allies of the United States will be repulsed. Any use of nuclear
weapons
against us will lead to a massive military response. This will be an effective and winning action!
Against this background, an article appears in the Business Insider publication devoted to the report of the ex-employees of the Congress Special Commission on Electromagnetic Pulsed Weapons. The article (and the report) quite seriously announces that, allegedly, Pyongyang is armed with "a bomb capable of almost completely destroying the US population with an electromagnetic pulse." Such a saying belongs to American experts Peter Pray and William Graham.
There is only one conclusion from this horror story: someone in the United States really wants an additional allocation of funds from the budget for "confronting the North Korean threat." It was nuclear, and now also "electromagnetic impulse". Will it come to foil hats?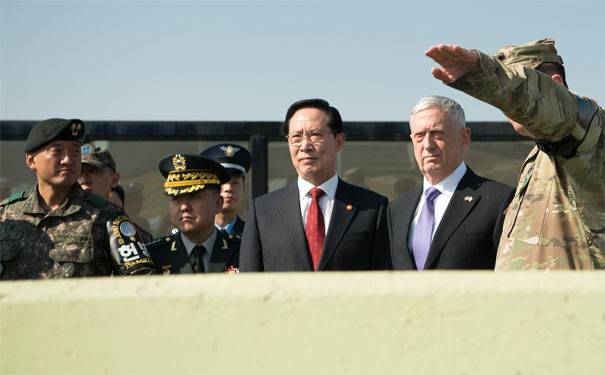 During a visit to South Korea, Mattis was shown the territory of the DPRK, "from which comes a direct threat."