Former Ukrainian President Viktor Yushchenko joined the criticism of the current government. In an interview with the Polish edition
Republic
Yushchenko said that the war is used by the current leadership of the country as an excuse for slowing down the reform process. According to the ex-president, who responds to a statement by a Polish journalist that war prevents Ukraine from developing, he said the following:
It is not true. War is often used to justify ineffective policies or the absence of any kind of policy. It is true that it creates many new problems, but its second front is the economy. If you fail here, you lose the first one too.
Then Yushchenko decided to cite Stalin's economic actions as an example, despite the fact that the very pronouncement of this name in Ukraine causes acute attacks of Maidan senility. Ex-president of Ukraine:
During the 3 years, the devaluation of the Ukrainian hryvnia reached 350%. Why did Stalin devalue the ruble not in 1942, but only in 1946? Because a stable national currency is an effective method of dealing with the occupier. I am not in a position to explain why, over the past year and a half, half of the Ukrainian banks have gone bankrupt. I can not understand that even a year and a half ago, we had 47-percent inflation. Here we are not talking about the war, but about a weak financial, monetary, and also banking policy.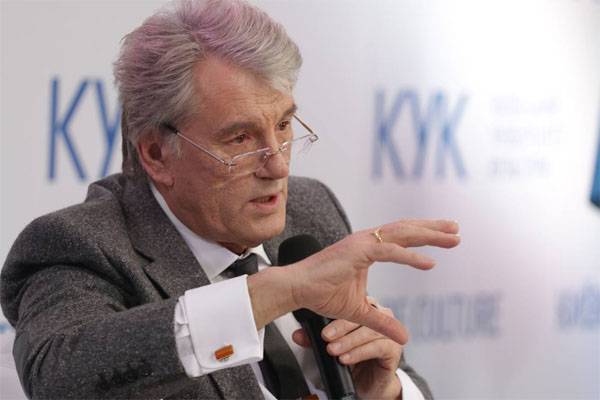 After that, Yushchenko cited an Israeli example. He noted that Israel almost always lives in a state of war, but this does not prevent the country from developing economically.
The main problem of today's Ukraine, Yushchenko, was that the declared de-oligarchization in the country had failed.
In the upper echelons of 20-30 people. They make a profit. Independent analytical circles believe that $ 140 billion has been withdrawn from various quiet tax havens from the country. Of course, this process did not last for two, not three years. Now we stand in line at the International Monetary Fund to get $ 17 billion over four years. It may be worthwhile to organize a round table and try to answer the question: what do we need to do in order to return these 140 billion dollars to Ukraine?
Yushchenko noted that today in Ukraine, the level of corruption has reached unprecedented heights.