The details of the prematurely completed visit of the President of Ukraine to Avdiivka are clarified. During Poroshenko's arrival in the "ATO" zone, an exchange of fire took place between individual units of the Ukrainian security forces. Representatives of natsbat from the "ATO" zone tried to break through to the president and talk "objectively." However, the military personnel of the 72 Brigade of the Ukrainian Armed Forces opened fire to prevent a breakthrough.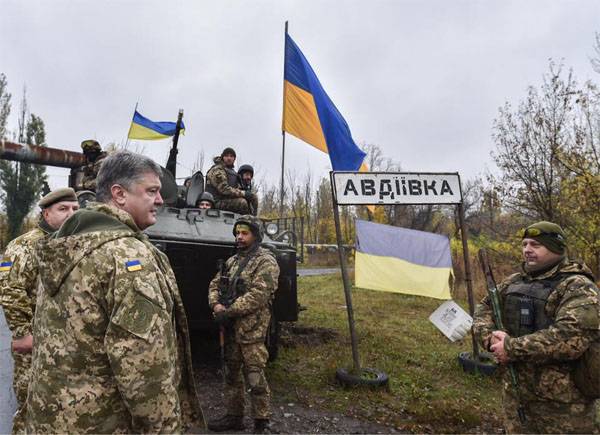 At least, this is how the situation was described by the deputy commander of the operational command of the Armed Forces of the DPR, Eduard Basurin.
According to him, in Avdiivka, in the end, two people who had tried to commit an attempt on the Ukrainian president were neutralized. According to Basurin, the information of this nature was originally published by the Security Service of Ukraine, but then it was deleted, stating that "hackers intervened".
Basurin during the briefing:
We confirm the shooting that took place between the Ukrainian security forces 22 of October near Avdiivka. However, we cannot say that this was the very special operation for the elimination of the opposition.
After that, Basurin noted that the data from the contact line suggests that about 40% of the Ukrainian security officials express strong dissatisfaction with Poroshenko's policies and readiness to support the protest action in the center of the Ukrainian capital.
Against this background, it became known about the plans of the head of the DPR, Alexander Zakharchenko, to hold a videoconference with residents of both the republic itself and the territories controlled by Kiev. The conference will take place on November 2. Questions Zakharchenko asks to ask on the site
head
.