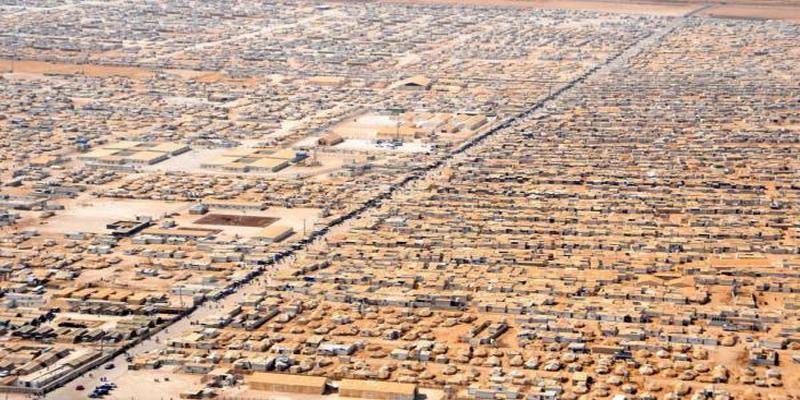 The terrain near the settlement of Al-Tanf on the Syrian-Jordanian border has recently become known thanks to the actions of the United States. For example, the American MTR near the Rukban refugee camp was organized to train militants and an 55-kilometer safety zone was declared. This fact was repeatedly stated in the Russian Ministry of Defense, where the means of objective control recorded the accumulation of military equipment of militants in close proximity to the US military.
Now, according to a number of Arab media reports, another one has been opened next to the main refugee camp, since there are no free places in the Rukban itself. Only who and from whom flees into the desert, in the complete absence of elementary communications, and even in the den itself to the terrorists? We will understand in order.
The first mentions of illegal armed groups (hereinafter IAFs) on Al-Tanfe appeared in the spring of 2017. Then, the Jash Magawir al-Saura appeared in the border area. It was based on the so-called "New Syrian Army" ("Jaish Surya Al-Jadid"), formed by the international coordinating center for the support of the armed forces of the Syrian opposition operating in Jordan in the spring of 2015.
The group of representatives of the tribes of the Syrian desert, East Homs and East Kalamun, which is based on the Al-Tanfah "New Syrian Army" also included. Known for the Kuvat Shahid Ahmad Abdu NVF (the Shahid Ahmad Abdu Forces, also operates in the Eastern Kalamun) shahids (martyrs) El-Karyatayna ").
The militants of these formations live in the Rukban refugee camp, divided into sectors of various groups. As you can see, there are a lot of militants, at least by the number of names of illegal armed groups, in the Al-Tanfa region. And what about the refugees, you ask? Everything is simple: now Washington is simply skillfully hiding behind them in the media space in order to hide the bases for training terrorists from the general public. As for "Jaish Magawir Al-Saura", a number of Western media reports that they are deployed outside the Rukban camp and are intended to fight ISIS (prohibited in the Russian Federation) and to liberate the Albukemal district of Iraq and Syria.
Where will the militants of this group actually go? Unknown. It is likely that Washington, to put it mildly, does not like to monitor the successes of the Syrian army with the support of the VKS, and while government forces successfully attack the remnants of ISIS in Deir ez-Zor, terrorists supported by US military instructors, create a hotbed of instability, ready to blaze at any time.
And while the United States continues to realize its false double game, declaring the successful release of Raqqa together with the coalition or other sham successes in the fight against international terrorism, there will be no peace in the entire Middle East.