At a time when Barcelona is celebrating the proclamation of independence, Spanish Prime Minister Mariano Rajoy said during a speech in Spain that the Spanish government decided to remove the head of Catalonia, Carles Puchdemona, and dissolve the Parliament of Catalonia. He stressed that the elections to the new parliament in Catalonia will be held on December 21.
And in the center of Barcelona, ​​several thousand people gathered on the Piazza San Jaume, where the generality building is located. The protesters marched in the center of the Catalan capital after the rally began in the morning near the parliament building, where a vote was taken on the resolution on proclaiming independence. Police estimate the number of participants in the rally before the generality in 10 thousands of people.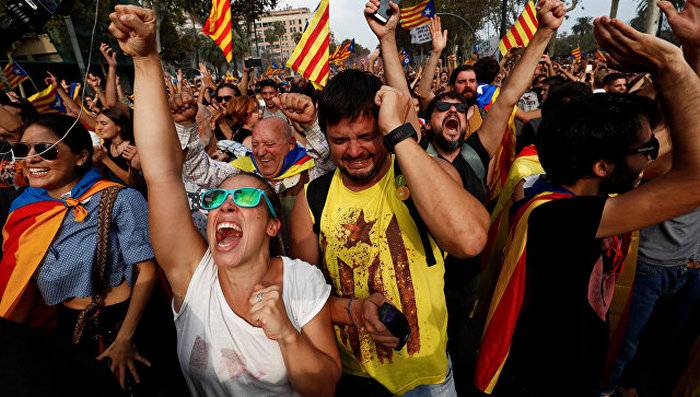 In the crowd chanting "Freedom!" and "We are independent." From time to time, participants in the action begin to sing the anthem of Catalonia - the song Reapers. Tourists, who cannot get to one of the most famous squares of the city because of the rally, observe what is happening with surprise.
Followed and the reaction of European countries. The French authorities, the United Kingdom, and Germany have declared that they do not and will not recognize in the future a unilateral resolution on the independence of Catalonia. Of course, Ukraine supported them in this. And only Abkhazia is ready to consider the issue of recognizing the independence of Catalonia, if there is a corresponding appeal, said Deputy Foreign Minister Kan Tania.