October 23 in the office of the radio station "Echo of Moscow" a crime occurred. Mentally ill Israeli citizen and Echo regular listener Boris Grits stabbed Tatyana Felgengauer, an employee of the radio station. Everything. The finish. The girl is treated. Scum to jail.
But when it comes to "Echo", even the prosaic and, unfortunately, axiom still functioning in our country fades away - "everyone is equal, but someone is more equal". Bearing in mind the relationship of the radio station's collective, like flies on a well-known handful, to the outside real world, perhaps it was worth stopping without stoically and without hysterical noise? Well, so that all those information slops are on the verge of breaking the law (sometimes far beyond the bounds, we are silent about morality) that spilled on society, all of a sudden did not turn out to be right on your deck. But no, not the case.
After all, no matter how cynical it may sound, but now
news
about the attempted murder of an employee of Echo himself - news number one. This is not a jar of feces on the head Latynina. And since our country, contrary to the horrors of the West, is pitiful and sentimental, all the chances of getting into the club of "martyrs for an idea" (not personally, of course) shone like a pioneer star. The main thing is that Venediktov, apparently, already prepared to accept condolences from various servants, no, no, yes, and I thought it would be nice to throw the unworthy down from this informational height to these people.
Unable to withstand the moment, "Echo", and most importantly its adherents, even more divorced from reality, like any lower class of the sectarian hierarchy, gave a false start. But in response, suddenly, out of nowhere, all that they had been diligently pushing overboard all these years came up. No matter how surprising it is, as you know, it does not sink.
Here is a typical opposition "Ehovsky" requiem for any person who has not yet passed the rite of initiation of their sect. This creation is from the inimitable citizen Larina, who is like a victim of the mismanagement of a beehive.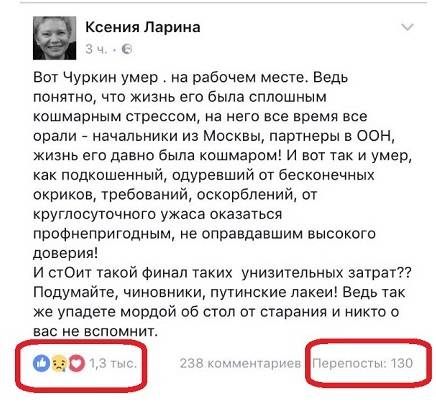 It is true then she got her brilliant thoughts.

And this is how Madame Latynina danced on the late Churkin with her phenomenal analytics, known for her talent to accumulate the products of human activity around her.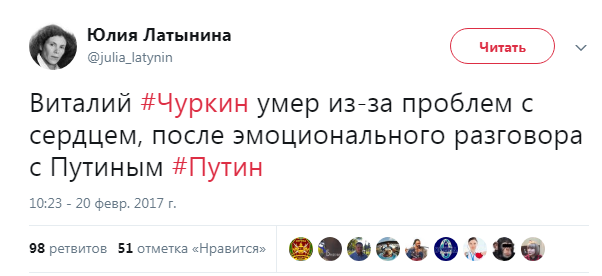 And here is another inhabitant of "Echo" Varfolomeyev.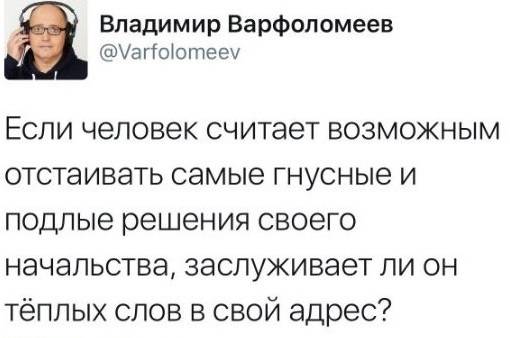 This extreme acuity belongs to citizen Kashin, who commented on the death of St. Petersburgers in the 3 metro on April 2017 in this way. The bodies had not yet been able to betray the earth, as sectarianism covered the closest adherents with their heads.

But this post floated to the surface of the network after the oppositional false start of Echo of Moscow. It belongs to the injured citizen Felgengauer. Another sharpness. Let me remind you Arseny Pavlov, who is also the legendary Motorola, died on October 16 2016 of the year. And while the news about the death of the legend is warm, the "HYIP" from flat jokes promised to be the most bold.
But this is only a small part of what emerged from the life of "Echo" in recent years. That is to say, something that can be caught with a net, without soiling your hands. However, in the light of that information wave, which the "handshaking" citizens raised in their media, the most interesting is another information product thrown on the Echo fan.
Since every day it becomes harder for opposition supporters to break through the bottom, from time to time, sectarians give rise to a long-lasting product that can be sewn profitably to a series of similar events. In fact, just imagine - every day you can sit over the "Echo" fan and constantly push, and you can probably forgive. And the guru Venediktov at this moment sits at the console and increases his speed, completely teflon to criticism, protected by sectarian infallibility. Unlike ordinary adepts, who sometimes get their own product in person.
And this long-lasting product was "wrong grief". Unfortunately, few people remembered this liberal opposition chip. And in vain. After all, she was the very long-running product that, like a girl, walked from the "Echo" employees to the ordinary "twitter" hamsters
Here, for example, is the work of the hands of the youthful version of Venekditov's citizen Varlamov.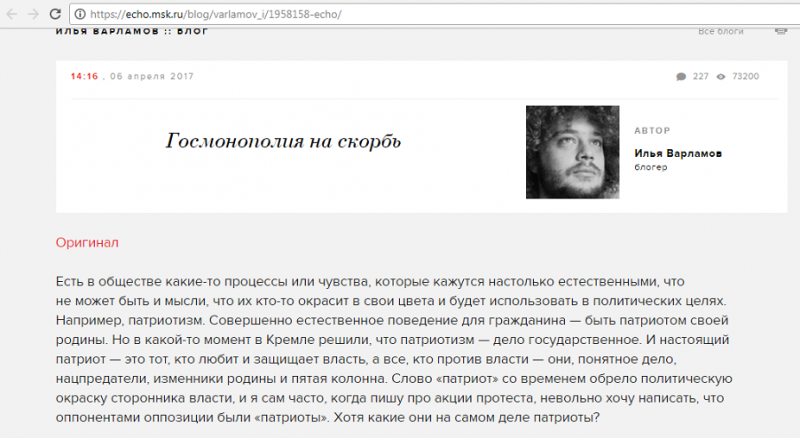 And these are already detective observations of Plyushchev, men of extremely interesting, a sort of hybrid of Nyusha from Smeshariki and a candle swum in the sun.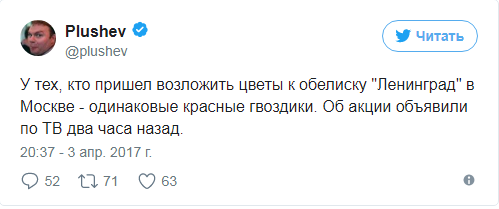 The opposition howl "not so grieving" swept through the information field of Russia every time when, to their horror, the handshakes were not even seen by hundreds of thousands of people who were indifferent to their sect, but by the degree of their unity and purity of their feelings, which the opposition had lost. The only thing that at this moment is stronger than horror for them is envy. How, how did this servant without chants, measurers, Internet wallets and promises in 10 thousand euros go to the streets in thousands? Therefore, it was so sweet (and so profitable) to convince ourselves that people were grieving wrongly, falsely, but we, the "handshakes", we know how to grieve.
And then came the hour of reckoning this hated "wool"! Now, the opposition will show what flowers to carry, what speeches to say ... In general, there have come hours of grief lessons from Ekho Moskvy. And tweets and posts came down like a horn of plenty. After all, these gentlemen could not wait until Tatiana Felgengauer is in a coma, between life and death, suddenly wakes up and spoils this party.
In red, I decided to mention what is called condolence and support. At least that more or less looks like it.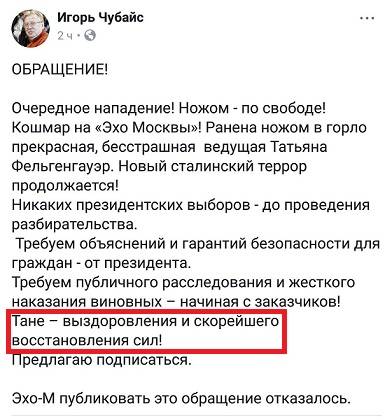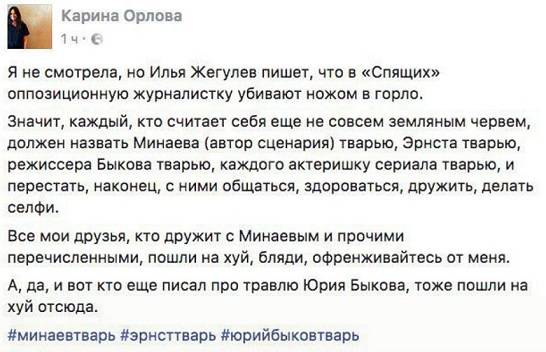 But where is the guru himself? He will certainly show true grief. Venediktov sat all the time by the bed, immersed in an artificial colleague with a glass of water, occasionally wiping off a mean tear? He created a cycle of programs telling about Tatiana Felgengauer as a colleague and person? He asked adherents not to arrange a circus from an attempt on a person's life? He declared mourning for Echo and asked his colleagues to refrain from cheerful online activity?
Instead, citizen Venediktov rolled an informational "cart" on ... VGTRK Russia for inciting hatred of his flock. Interested in someone a girl who suffered from a psychopath and lying in a coma? Is someone trying to help her relatives and friends come to her? Unclear.
The moral is simple and unpretentious. This sect is principled in one thing only - it will equally try to make a rating on the bones of both "its" and "alien" people. In any case, a "good" person, even a carcass, even a stuffed animal, will be sold on the air for the "HYIP".