History
with the nomination of Ksenia Sobchak for the presidency and its activation in the anti-Russian field, they are reminded to recall Ukraine. Now it has already been forgotten, but everyone in Ukraine knew this: before the next election, the entourage of then-President Yanukovych came up with the idea of ​​letting go of the reins a bit and playing around with the nationalist factor in Ukrainian politics. To bring to the scene the terrible pognibokovtsev, svobodovtsev and other Bandera, which could be set aside the shortcomings and problems of the then current system of power. And to unite, rally the people around the Yanukovych vertical according to the principle of the opposite, that is, "anyone but those".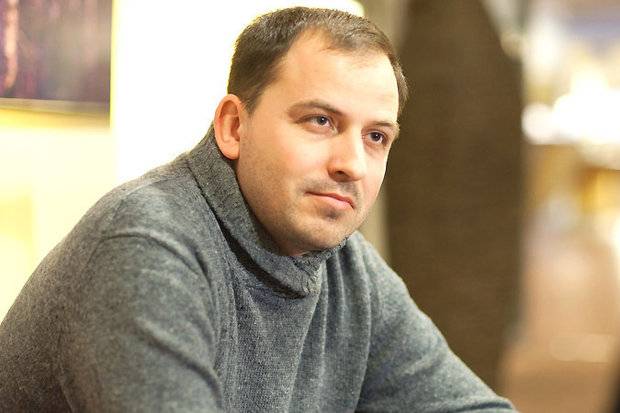 It seemed that the whole structure was efficient, since, naturally, all nationalists were registered with the Security Service of Ukraine. Everyone knew perfectly well who finances whom and who controls whom. It seemed that this beast would not break off the leash. It seemed that the oligarchs would be more or less ruined, sawn.
And the people will once again choose the lesser evil and will see in Yanukovych: in the East - the defender of the interests of the Russian-speaking; in the West - eurointegrator. In short, all the sisters on the earrings.
How this ended is well known. That is, such a balancing act, such dances are ultimately deplorable for a dancer.
The political performance that we are witnessing now is, of course, disgusting in itself. And not so much by what Sobchak says - what to expect from her another? - and how much so that we seriously discuss Sobchak and what she says. That is, we have fallen so low, we are so degraded that we are discussing the most outspoken clowns, the most obscene personalities who would not even deserve the pages of tabloids in a more or less healthy society, in a more or less healthy state. At least in a state that we lost twenty six years ago, it would be absolutely impossible to imagine such a young lady as a trendsetter. Today it is a presidential candidate. We can congratulate each other.
I see in everything that happens a dialectic combination of the two processes.
On the one hand, there is an attempt to bridle the "quivering doe" and give meaning to what is happening, that is, to the elections. We understand that no matter what the VTsIOM polls record on the phenomenal support that is fixed by the people in relation to the course of United Russia, everyone knows what is happening around us. We see how irritated people are on the streets, in public transport, in state institutions. Discontent is difficult to hide under a pile of opinion polls. It is. This discontent is not yet ready to break through in a terrible Ukrainian way, but it definitely threatens with a very low turnout.
And Ksenia Anatolyevna, obviously, someone wanted to use as a pacemaker, as an injection of adrenaline for our lifeless, hemophilic pre-election organism. This injection, of course, may work, but it can really revive Frankenstein. Since the embryo is in its embryonic form, the Yeltsinism virus is stored. For him, even built a special laboratory, a special vivarium. He has a place to escape, there is a bottle in which the genie safely sat out all our rising from his knees.
Of course, political consultants suggest, but the dialectic of history has. Naturally, clutching at this chance with his teeth (albeit comic, albeit grotesque, albeit some comedic, parody) - all ours, of course, will try to use it, let's say honestly, the bourgeoisie and the oligarchy who have not suffered at all during the years of patriotic rise.
Who knows how the public sentiment will turn and how the solitaire will be played out for months through 5-6, when the US personal sanctions against each of the participants of the oligarchic meetings in the Kremlin finally come into effect, when there is still a lot of what?
I am sure that the team of Ksenia Anatolyevna is not the only squad that will be brought into battle. Many different scenarios are possible, and you should probably expect tension from disturbances on all fronts. But how it will play in the aggregate is an interesting question.
I think that any games in Yanukovych are extremely dangerous from the point of state interests and the state's readiness to defend itself. This, of course, is somehow insane, some kind of completely unhealthy balancing act. But if we remember what our state is and will look at it without rose-colored glasses, then why is there any wonder: what kind of state are such and political technologies.
And the bourgeois state will not change, even if we all interfere with it, even if we try to reason with it somehow, write pamphlets about the "Ruble candidate" in piles, expose Maydanism, resent the offensive words of Gref and Sobchak about Crimea.
Sobchak is not the only one who argues on this topic, right? And why, someone cautiously patted Gref on the shoulder? After all, no.
No matter how much we try to bring up the state, it is useless, because a weak bourgeois state (and we are a weak bourgeois state and we have no prospect of becoming strong) is digging its own grave. Keep him from it is impossible.
So if you ask the question: what do ordinary people need to do? - the answer is: ordinary people need to raise their class consciousness, to unite and prepare for the inevitable. To what will happen when some of the next Sobchak is erected on the post or throne prepared for her and everything continues to spin, according to the old Yeltsin trajectory known to us.
Sobchak announced her performance at the Yeltsin Center. What is there to comment? All clear. The following is also important - Sobchak spoke about support from Khodorkovsky. Her headquarters are large figures and 90's manipulators, starting with Malashenko. The patriots already say: it would be nice to stop Sobchak with Malashenko and Khodorkovsky on take-off, remembering about Soros and the collective Department of State with the CIA looming behind them. Because when this multi-headed creature receives state funding and protection to conduct its completely official election campaign of a registered candidate, this will be more difficult. Moreover, it will even be illegal.
In the meantime, Sobchak herself with her criminal, in the opinion of many, statements, does not give us a reason for some preventive actions — or is it senseless for the people of Russia to hope for legal protection?
What is bourgeois democracy? It is the will of the ruling class, raised to the law. Therefore, it is absurd to appeal to the law that carries out the will of the ruling class, that is, the bourgeoisie. It's like a sheep asking for a wolf's condescension. Therefore, Sobchak will continue to say anything, just like Gref and Kudrin and the rest of this company.
Do you think that in the kitchens of the mansions on the Rublevo-Uspenskoe highway justice is glorified, perhaps, and the reunification of the Crimea with the rest of Russia, the prevention of any Bandera raid on Simferopol? Of course not. Therefore, to stop, to prevent all this will not work. At the very least, it is absurd and naive to turn to the state with these pleas and requests.
According to the idea of ​​the authors of the project, Sobchak is a light virus, a small vaccine, with which we are "treated". Look, we have already been excited with might and main, blood is bubbling in us, people are indignant: "How is that, what a bitch, how ashamed is she that she says. So, we all go to the polls, if only Sobchak did not pass! Sobchak will not pass! But Pasaran!"
That is, the inoculation seems to be working as it was - everyone was excited, where, even yesterday, life was barely warm, some passions boiled up today. But the real, normal gangrene can well develop from this vaccination. The one who initially seemed to himself a cunning manipulator and a skilled immunologist, ultimately can fall victim to his own infection, which simply will not keep within the specified limits.
The fact that she will speak at the Yeltsin Center, that the oligarchs, Malashenko and the entire Yeltsin Guard are behind her back, what is it for? According to the plan of those who invented this, then there will be a great opportunity to say to Western international "partners": "You accuse us of not having a wide public discussion of topical issues. But no! We have some dissatisfied with the accession of the Crimea, some look at things from the point of view of the West. But these "some" two and a half people - so much, so many voted for Ksenia Sobchak. But how many supports the current course of reunification of Russia and the Crimea, how many support today's course of upholding their own interests in the mainland! So we have a democracy. So you should have no complaints against us. So let's restore the investment already. Take away our sanctions. And let's already amicably. Look - here is Sobchak, nothing happened to her, everything is in order. "
That's why this performance is needed, that's what it's for.
But you need to understand that the doll in this puppet theater can jump off the controlling hand. There is no such doll that would not dream of changing the puppeteer. So this performance is very dangerous for Carabas-Barabas. Especially if he is no longer in the same form as, say, fifteen or twenty years ago.
About sobchakovskom "genetic trash." Of course, Sobchak appeals to illiterate people. In the very Sobchak formulation, absolute, total obscurantism and illiteracy are felt. I do not know whether this young lady had biology at school, but, most likely, she did not attend her lessons. Otherwise, she would know that no talents are transmitted through chromosomes.
This is very important for me now, because I am working on the third series of the film "The Last Call" about the catastrophe in the national education. Our team tells in it about the social-Darwinism that prevailed in our reformist cabinets with the death of the Soviet Union, about building a new market school based on this idea.
So: all the arguments, all the ideas that there is a certain gene pool of supermen, that Tchaikovsky is inherited by his son Tchaikovsky, then his grandson Tchaikovsky is pure bredyatin. We recorded interviews with reputable scientists at the Novosibirsk Academgorodok, with employees of the Laboratory of Human Genetics, Cytology and Genetics, and they explained to people in black and white who are not familiar with the subject that science knows no such rules by which genius is inherited. It is acquired by upbringing and education.
That is why in the Soviet Union, which was created in an illiterate agrarian country, where in some republics there was no written language, literacy was 1-2%, a dazzling tower of the Soviet project was built on the foundation of illiterate Czarist Russia. In it, astronauts, great scientists, laureates of various awards in physics, chemistry, mathematics, genius poets, writers, musicians became people with "zero gene pool", if we talk from the point of view of citizen Sobchak. These were the children of the peasants, the children of the workers. Because biology does not know of any "superhuman gene pools."
Bullshit is all she tells. But this nonsense is very popular. It is distributed just in those most expensive houses on the Rublyovo-Uspenskoye Highway, where it is customary to think: talents are given to children in the same way as wealth is passed on to children; therefore, if you drive out the rich, talented people will disappear from the country. Nothing like this. There are talents in children of alcoholics, it happens that geniuses are born to the most vulnerable and most disadvantaged people. So conceived by nature.
All that Sobchak pushes is a rehash of the old liberal nonsense of the beginning of the 90s about who drove off to where. Let's not support them.
By the way, the main damage to the people was caused not by revolution, "repression" and emigration from the USSR, but by Yeltsinism. Yes, tens of millions prematurely went to the grave and were not born. 14 or 15 million left Russia as a result of Sobchak, Yeltsin, Chubais reforms.
But this does not mean that as a result some kind of dead earth was formed, on which nothing will ever sprout. Life refutes various Ilinyhs, various "soil scientists" with eugenic ideas about biology. Eugenics is actually a fascist science, a pseudoscience about human reproduction. Where did she come from?
This kind of science was invented by American cattle breeders - the first oligarchs among the cattle producers. They looked at the improvement of the human breed just as they did at improving the breed of horses or goats. So, a man is not a goat or a horse. This is a scientific truth now, a hundred years after eugenics has been debunked and even genetics refuted.
By the way: how many have inspired us that genetics in the Soviet Union was crushed. This is nonsense, it was not like that. The genetic school in the USSR was powerful. This is today it is rammed into asphalt. It is today genetics in Russia destroyed, including in relation to agriculture.
But back to Sobchak. All these social Darwinist models, all near-fascist speculations that some gene pool has been destroyed somewhere, let's leave to the ignorant. In 20, Soviet Russia had to rise from the ashes. She survived the most terrible world war in which the then oligarchs led by the tsar dragged her into it. The country went through a bloody civil war after that. She was buried in homelessness, cocaineism, morphine, alcoholism. And, nevertheless, on this terrible ground she managed to grow up truly outstanding people of whom we are proud today and which constitute perhaps the only meaning of our existence.
Naturally, if a person knew their surnames, he understood Kapitsa, tried to imitate Gagarin, listened to Sviridov's music, read Shukshin's stories, he would just spit on Sobchak. If he attended biology lessons, he would know that this is complete nonsense and she doesn't even deserve the kind of emotional discussion that we are now conducting.
Just for me, this is a close topic. I recommend everyone to wait for the third series - a long and hard series - the movie "The Last Bell", where we touch on this issue. As for Sobchak, she is just a horn, she is a miserable tarahtelka, which is voiced by the fact that in our brains is absolutely incompetent, absolutely gray, uneducated, primitive bourgeois class.
They believe that talents, success and competitiveness, for which they pray as an icon, are inherited sexually. It seems to them that some problems with this were created by the Soviet state. They are idiots. But they are legitimate idiots. They will think the same way as oligarchs in Poland, in the Czech Republic, in the USA, in Mexico, drug barons in Colombia, or some oligarchs in India. They are absolutely the same.
We must understand that when Sobchak speaks, it's not her fool who broadcasts her gaping mouth, but the entire multi-voiced hydra of our modern oligarchy, conceived in the ruins of the Soviet Union. Tarnished red jackets today embodied in this aged eternal girl. Everything that she says, we must perceive only and nothing else. No seriousness, no more sense in the nonsense that she voiced, we should not see. She's just a fool - but a fool that has a very clear class reference. We must see behind her class, not a particular person.
Ksenia Sobchak is the horse of the Apocalypse. If she shines something in politics, it will mean that everything went at the seams. And in these circumstances, the people will have to organize local councils.
I would urge you to prepare for such a scenario. Never in a living country, Anna Ivanovna, in the guise of Ksenia Anatolyevna, will take the throne. It can only be a symptom of ultimate degradation and decay.