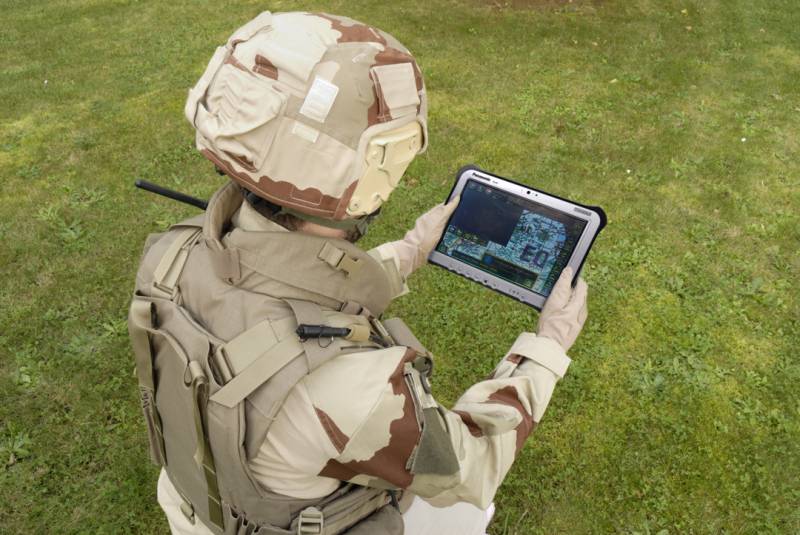 The newest version of the combat equipment FELIN from Safran includes a new communication system, integrated by ATOS, which connects each infantryman with a battle management system installed in his car
All the best to winTechnology is increasingly contributing to the work of a soldier operating in an urban environment. Progress in optoelectronics, unmanned weapon systems and operational management alleviates the burden of combat operations in the City Territory, both physically and morally.
According to General Alan Buken, a military adviser at Tales, "discussions on the tactics and strategy of combat operations in the City Territory (BDGT; English term - Military Operations in Urban Terrain) have been going on for quite some time, however, disputes over the adaptation of technologies to meet specific the needs of these operations are conducted only the last ten years. According to Buken and Gadi Shamni, who heads the direction of BDGT in the company Israel Aerospace Industries, this is partly due to the difficulties that arise in those armed forces that think about solving urgent problems. Shamni noted that "the military, as a rule, thinks more traditionally and not always new concepts and tactical techniques are easily introduced, so often the industry is ahead of the military when it comes to adapting technologies to new threats."
Easier - easier
For Patrick Kurlee, Safran Optoelectronics and Military Products Division Manager, the BDGT integrated space means that soldiers need as much freedom of movement as possible. "It is very important to provide our soldiers with a light modular system that could be adapted in accordance with threats and combat missions." To this end, Safran has developed FELIN combat equipment for the French army (Fantassin a Equipements et Liaisons Integres - integrated infantry equipment and communications equipment). At the moment, in its second incarnation, the FELIN equipment for the dismounted soldier includes a small tablet that combines all the devices and systems he needs, including a GPS geolocation device, a radio station, a video transmission system from other soldier's optronic systems, or from external sources, for example, an unmanned aerial vehicle (UAV). "The latest version takes into account the recent combat experience of the French army," said a Safran spokesman. "Currently, it includes several sets that, based on the combat mission, can be added or excluded, as well as a new communication system integrated by ATOS, connecting the infantryman to the battle management system installed on his machine." Compared with the first, the second FELIN version has become much easier. Safran has already supplied the French army with more than 20000 kits for the FELIN system in the first version.
According to Curliet, the French army also expressed a desire to have an easy
weapon
. The 40-mm assault rifle produced by FIAS-F5,56 from GIAT / Nexter has been in service for the last 1 years in service with the French infantry, but in September 2016 was announced by the French Ministry of Defense that FAMAS-F1 would soon be replaced with an 5.56-mm HK-416F assault rifle Company Heckler and Koch. According to him, "HK-416F on 1,5 kg is lighter than FAMAS-F1". The French Defense Purchasing Directorate announced that the French army would begin receiving HK-416F rifles in 2017, and supplies would be extended over the next 10 years. More 100000 units will be shipped.
FAMAS-F1 assault rifle developed by the French weapons company MAS
The development of lighter weapons for infantry and an increase in modularity is also at the heart of the philosophy of Israel Weapons Industries (IWI). When developing the UNI PRO 9 submachine gun, modern polymeric materials were used to maximize relief, which made it possible to reduce its weight to 2,3 kg without a magazine (compare with the weight of a FAMAS-F 13,6 rifle kg). "The UZI PRO submachine gun was specially designed and adapted for urban operations and urban space," said IWI's head of sales. - Its compactness and increased accuracy allows the soldier to operate successfully in a limited, full of people space. In addition, the UZI PRO has a quick-mounted muffler, which avoids unnecessary noise in residential areas. " The X-95 Tavor 5,56-mm caliber rifle, also created by IWI, combines the advantages of an assault rifle, a carbine, and a machine gun pistol. As stated in the company's specifications, "X95 is made of high-strength polymeric materials, which allowed to obtain a light but durable weapon. It introduced a number of advanced technologies, which allows conversion to different calibers in a few minutes. "
Preferred weapon
The work of elbow-to-elbow fighters plus a limited field of view can increase the risk of friendly fire incidents during BDHT. According to General Buken, "friendly fire incidents happen in almost every operation." Therefore, it is absolutely necessary to ensure that, among all their capabilities, armies can have as precise weapons as possible or one that could be used to attack buildings without risk to civilians or their fellow soldiers.
General Buchen noted that Tales is working on these complex challenges. In his opinion, "it is important to have a weapon with a reduced damaging effect, but at the same time capable of neutralizing the opponent, or missiles, which, when they receive new information about possible losses, can change their trajectory at the last second." Tales is currently working on his Reptile laser, a device designed to help special forces remove obstacles (by cutting hedges or drilling a hole) without undue damage to surrounding objects. It also develops a portable source of electromagnetic energy that damages the electronic components of an adversary's vehicles to immobilize them without causing significant damage.
The firing of some types of weapons in a confined space, such as buildings or small lanes, can be very dangerous for the operator. According to Buken, "the detonation of certain types of weapons, such as missiles, can create extremely high pressure in the room from which the operator is firing, which can be fatal." To this end, MBDA has developed a thermal-guided missile (Missile Moyenne Portee) medium-range missile, which is currently being produced and shipped to the French army. The representative of MBDA said that "when developing the DFD system, priority was given to two areas: the possibility of launching from confined spaces and a combat unit with two modes, anti-tank and concrete-fighting, which are selected before launch by simply pressing a button." MMR can be launched by a dismounted operator from a launcher or from an armored vehicle, for example, Panhard / Renault PVP. The company MBDA declare that they will put the French army 2850 MMP missiles and launchers.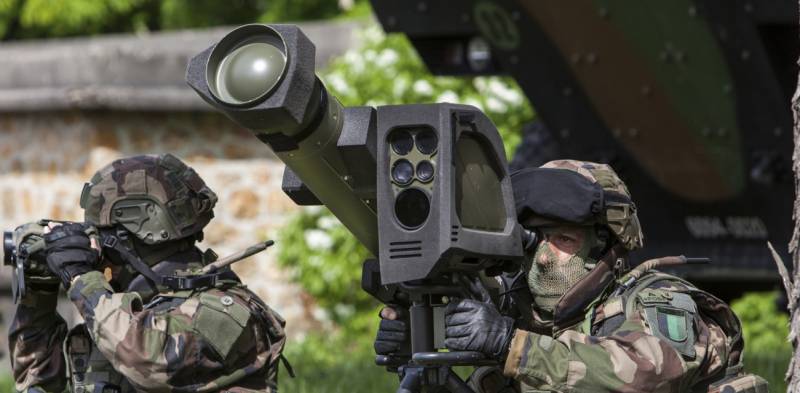 Anti-tank missile system MMP
The Swedish company Saab in 2014 introduced its new M4 Carl Gustav low-impact grenade launcher, part of the Carl Gustav grenade launcher family, optimized specifically for urban areas. According to official data from Saab, the M4 grenade launcher is shorter (mm length 905) and weighs less than its predecessor on 3,5 kg thanks to carbon fiber composite components. The Carl Gustaf M4 grenade launcher has a shot counter for accurate tracking of the service life, limited to 1000 shots, as until now the calculation was approximate, based on operator data, which often led to premature decommissioning of the system - just in case. Counter shots, which actually will extend the service life of weapons to its real limits, installed on the right side at the rear of the pipe and data such as the weapon number, batch number and the number of shot shots can be easily transferred to the computer through an induction device.
Another key feature of the M4 is the ability to install an intelligent sight, which can optionally be equipped with a communication system for two-way interaction between the sight and the projectile due to the galvanic contact on the guide axis. There is a remote control device on the right of the front handle that allows you to adjust the intelligent sight while maintaining the position for the shot. Such a function will increase the likelihood of hitting, for example, by providing the fire control system of the sight with data on the temperature of the propellant or other data, for example, the initial velocity.
In 2014, the press reported that the US Department of Defense was about to conduct a two-year assessment of the M3A1 grenade launcher (this is the American designation M4), which will include tests and its qualifications. The program was completed this spring, and by the end of the year, procurement of a grenade launcher for the US military should be announced. The previous version of the M3 Carl Gustav is already in service with the American army; now it is the standard weapon of light infantry units, and until 2014, only special operations forces were equipped with them.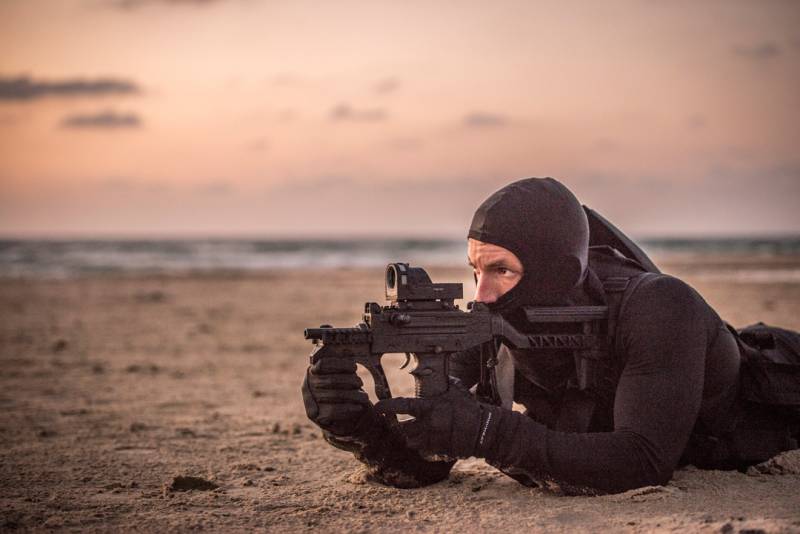 Compact size, high accuracy and low weight make the UZI PRO an ideal weapon for urban space where flexibility is primarily appreciated.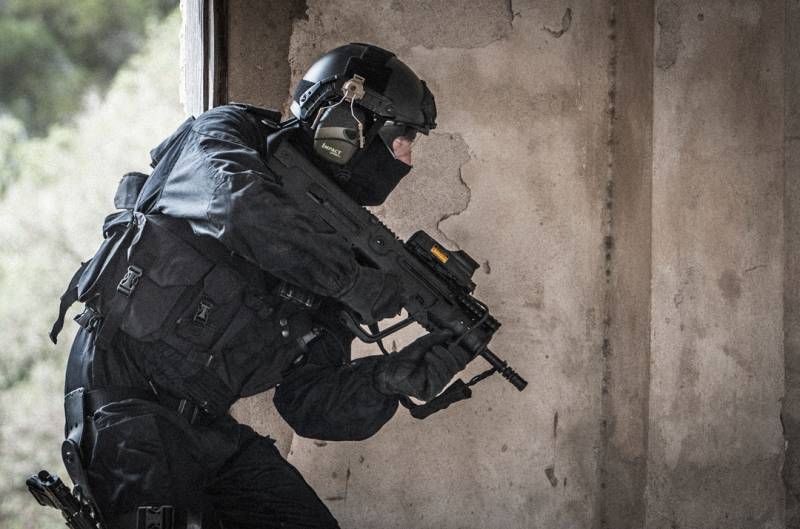 The X-95 Tavor can easily be converted into an assault rifle, carbine or submachine gun.
Eyes and ears
Compared with operations in open areas, BDHT is a particularly stressful space, since the threat can arise from any direction. The echo of confined spaces negatively affects perception, making it difficult, in particular, to understand where the fire comes from. Israeli company Camero has developed two devices capable of detecting people and movement through walls. They can detect subtle movements (breathing and heartbeat) made by living things (people and animals) through most wall, floor and ceiling materials, including clay, brick, stone, gypsum, plasterboard, cinder blocks, wood, glass and even reinforced concrete. The penetration thickness varies by material, but radars cannot see through a solid sheet of metal. The Xaver-100 Hand-Held Detection Tool uses radar sensors and mathematical algorithms to determine if there is a living thing behind the wall. The device has one radiating and one receiving antenna, the data from which are displayed on a small screen in the form of a one-dimensional image showing the presence of living objects and the distance to the nearest target. The antenna provides an 120 ° field of view in azimuth and elevation.
The Xaver 400 device (photo below) weighing 3,2 kg displays a two-dimensional image on the screen; its main battery, along with additional ones, provides a total of seven hours of operation. Stenovizor displays the location of the target in the XY grid, showing the field of view and the maximum distance, the latter is selected using the button on the left side; The button on the right allows you to select tracking, expert and deep penetration modes. Both Xaver 100 and 400 devices can optionally be equipped with an integrated wireless module that allows you to remotely control more than one system using a handheld or a conventional computer. The detection distances of both devices in different modes are 4, 8 or 20 meters.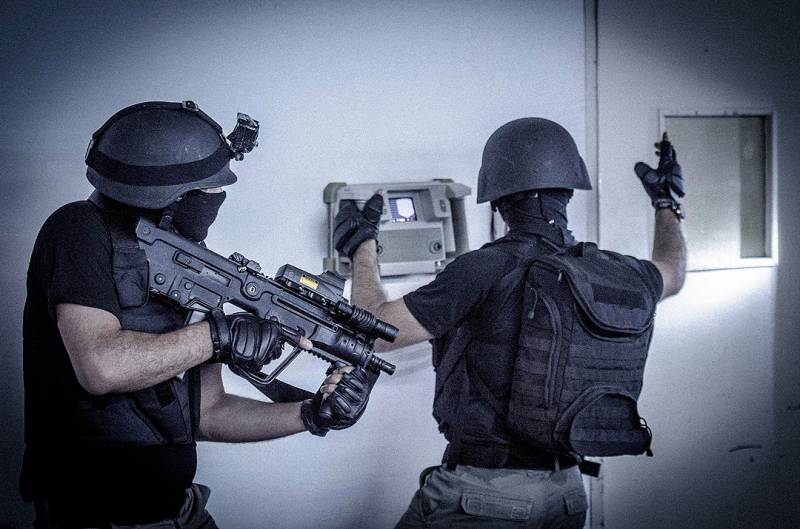 In the meantime, the Israeli company IAI is offering its new development EL / O-5220 Othello - a passive optical device for determining the exact coordinates of the firing positions on the battlefield. It can be installed on the machine as four independent units with a circular field of view 360 degrees or used as a portable device consisting of one unit with a field of view in azimuth 96 degrees. The use of thermal imaging technology allows to determine the thermal signature of the attacking earth-to-earth missile, rocket-propelled grenades and small arms fire. In addition, the IAI states that ELO-5220 can be integrated into a variety of systems, for example, in remotely controlled combat modules installed on vehicles.
Optical device for determining the exact coordinates of the firing positions EL / O-5220 Othello developed by IAI
In order to solve the problem of threats attacking from all directions, Meprolight developed the Mergo-М5 collimator sight. The Mergo-M5, compatible with the 2 and 3 generation night vision goggles, has a large display that allows the shooter to aim with both eyes open, thus avoiding a reduction in the field of view. A spokesperson for Meprolight said that "with a large window and a well-defined red dot, MEPRO-M5 provides a very quick target-lock with open eyes in a sector where the target appears for a very short time."
The Mergo-М5 sight from Meprolight has a large display.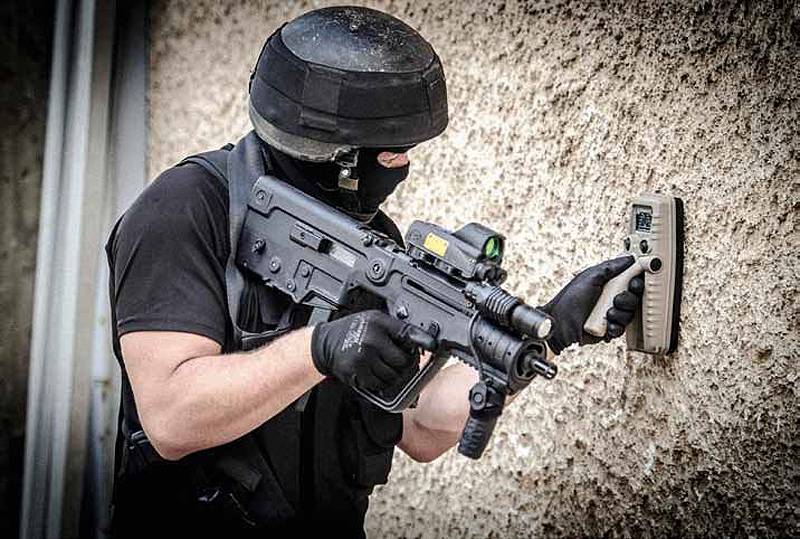 Camero's Xaver-100 Hand-Held Detection Instrument uses radar sensor and mathematical algorithms to detect the presence of living beings behind the wall
Intelligence and Observation Tasks
According to General Buken, "the basis for any military operation is preparation for it, while the BDGTs require even more preparation and planning, since they are carried out in such a complex environment in which you can never get enough information about possible threats." Observation, intelligence and information acquisition technologies (eng. Term. ISR - Intelligence, Surveillance and Reconnaissance), although not necessarily originally developed for BDGT, have found their special place in the context of these operations. Safran's lightweight, multifunctional Jim-Compact long-range binoculars weigh less than two kilograms and have three observation channels (cooled thermal, color daylight and low light) that maximize the detection range, for example, to 12 km for vehicles. Another important feature of JIM-Compact is its link establishment function, since it can transfer saved photo and video materials via Ethernet, WiFi or Bluetooth interfaces. The JIM-Compact device (photo below) has already been sold to two NATO countries, including France, where it replaces the existing Sagem / Safran optical-electronic JIM-LR systems. Safran reported that a pilot batch of JIM-Compact binoculars was delivered at the end of 2016, and mass production will begin at the end of this year.
The Finnish company Senop, in addition to weapons sights, also supplies optoelectronic systems optimized for urban conditions, for example, the LISA surveillance system. According to Senop, the product is designed for use day and night, it includes an uncooled thermal imager, which, when turned on, does not require time for cooling, unlike cooled models, a day channel plus a laser rangefinder safe for the eyes. The LISA device can capture images and videos and send them to other users via wired and wireless channels, it also has a built-in GPS receiver.
IAI offers a wide range of portable and portable surveillance equipment. The EUI-3370 lightweight portable surveillance system includes a radar reconnaissance device for ground-based moving targets, integrated with day and night optoelectronic devices. According to the company, the field of view of the system is 90 degrees, the total mass of 45 kg; it has a human detection range of 8 km and a 15 km machine.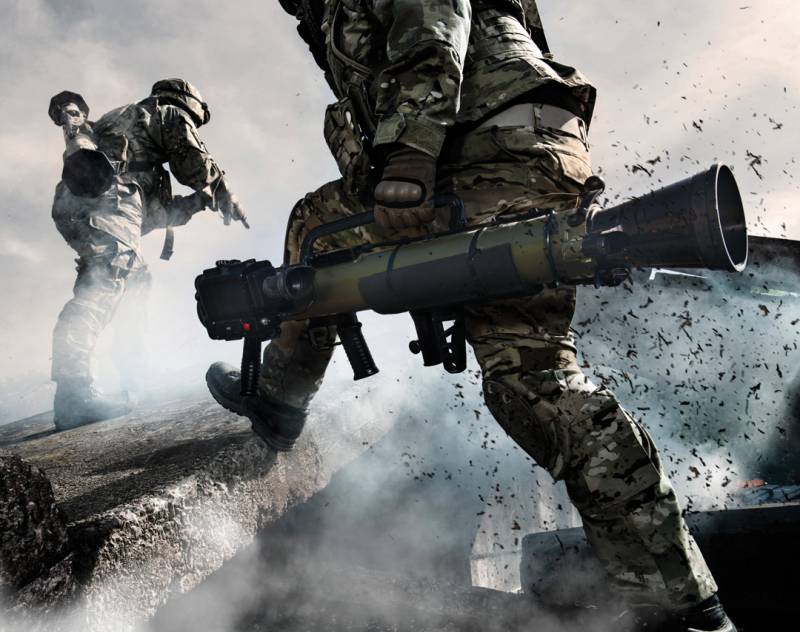 Saab's M4 Carl Gustav grenade launcher is optimized for use in built-up areas. The weapon is currently in service with the US Army infantry units.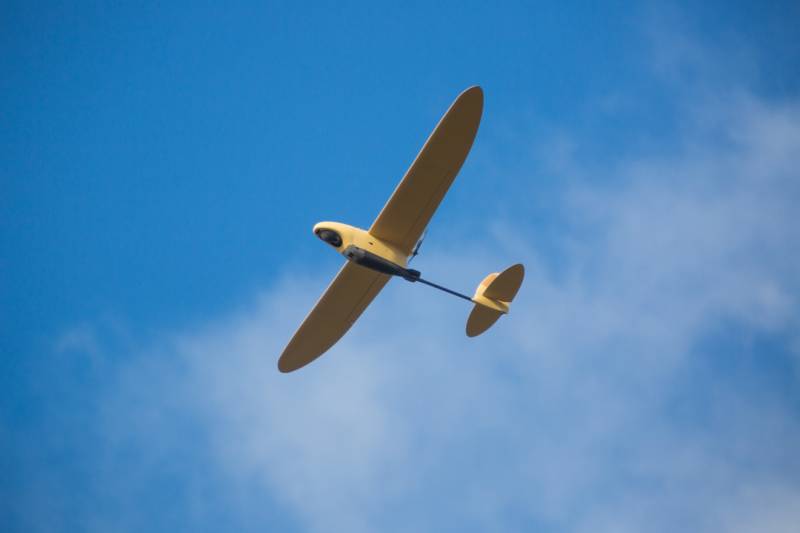 The Thales Mini Spy Ranger UAV is carried in a knapsack from which it can be quickly deployed. On board a drone that can last three hours in the air, an optical-electronic station of specific intelligence is installed.
Unmanned systems
According to General Buken, "robotization, and in a wider sense unmanned vehicles, will definitely be developed and developed exponentially in the coming years. They not only save lives by leading intelligence ahead of the movement of the units, but also allow intelligence to be conducted without putting human lives at risk. "
Regarding the UAV, he still voiced his concerns. "In the city, they should be quite small, like a micro or mini-UAV. Of course, large devices can carry a large load, but at the same time they become more vulnerable to threats. " For example, Patroller drone company Safran carrying capacity up to 250 kg is too noticeable in urban space. Kurlie noted that Safran is currently developing a mini-UAV that will be ready for testing in the 2018 year. In general, mini-UAVs weigh less than 20 kg, and micro-UAVs have a wingspan of less than 150 mm. The company Tales has developed two small-sized drone. Spy Ranger and Spy Arrow. The Spy Ranger mini-UAV, worn in a shoulder bag, is deployed without tools in less than 12 minutes, it is equipped with an optical-electronic station and has a flight time of three hours. The easy-to-operate lightweight Spy Arrow drone with a wingspan of 670 mm weighs 0,6 kg and can hold out in the air for up to 30 minutes. In February 2017, the company Tales announced that it was chosen by the Directorate of Defense Procurement to supply the French army 70 Spy Ranger complexes, three UAVs in each complex. Deliveries are scheduled to begin at the end of the year.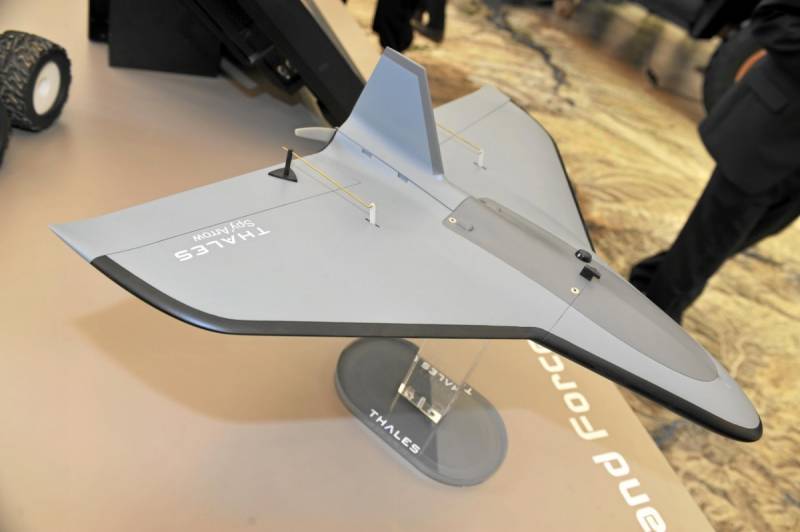 Ultra-small reconnaissance unmanned aerial vehicle Spy Arrow is designed to monitor, target, adjust fire and damage assessment
Progress in robotics also opens up new paths for the development of automatic ground vehicles that can be used in a variety of combat missions. As noted by Kurliye, "robots can be used for reconnaissance, transportation, or simply to follow a unit as a backup tool." To this end, Safran has developed a four-wheeled hybrid E-Rider with a payload of more than 100 kg, which can be operated in three different configurations. It can accommodate a 4 person and at the same time it is controlled like a regular vehicle. It can also be controlled remotely as an intelligence vehicle or work autonomously to identify various threats, for example, VCA. Currently, E-Rider is in the early stages of development, having recently passed military tests in the technical department of the French army.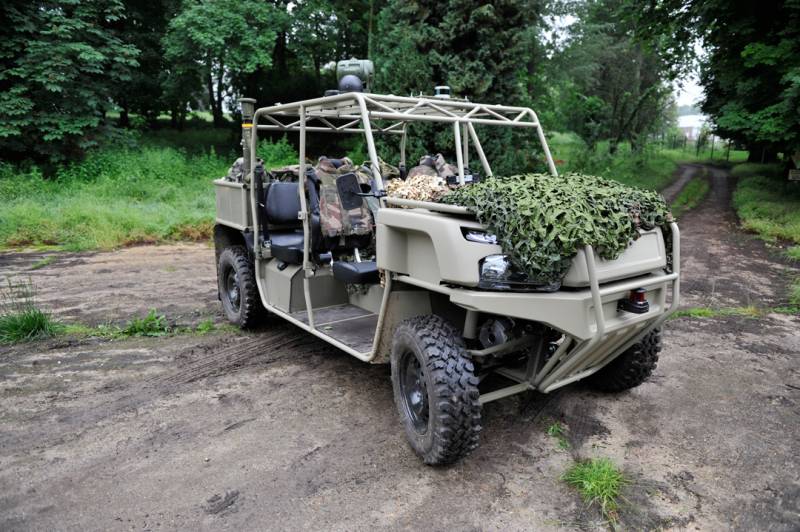 Safran develops a hybrid E-Rider that can be used as a regular vehicle with a driver, remotely controlled or deployed as a standalone platform.
Means of communication
Buken stressed that "cities with many streets, ring roads and obstacles such as destroyed buildings and debris quickly disorient. Therefore, it is especially important for the military to have appropriate technologies that will help them move in such a space efficiently and safely. " In terms of the actions of dismounted soldiers and the maneuvering of combined-arms forces, it is important to have a battle management system (eng. Term BMS - Battle Management System), which, as far as possible, would link everyone and everything.
Tales offers its Commander Battlegroup system, which provides accurate environment information based on geospatial data, friend-foe system data, as well as data from the most important sensors. The system simplifies the exchange of comprehensive, near-real-time data on the situation between members of the unit, which increases operational capabilities, such as orientation, observation and protection, simplifying the synchronization of maneuver and direct fire support.
IAI developed the Combat Team Battle Management System (CT-BMS) operational management software, which links commanders, soldiers, sensors, weapons, platforms, headquarters and supporting forces to create a comprehensive and accurate picture of the situation for the entire combat group in real time. The CT-BMS system is broadcast through traditional tactical radio stations, as well as cellular and satellite communications. It not only provides information about its own and other people's strengths and increases the level of knowledge of the situation, but also provides intuitive maps and provides information exchange through instant messaging, direct telephone communication and voice messages over IP. According to Kurliye, "cell phones will play an increasingly important role in operational management, since they are not only lighter and smaller, but have a simple interface that is well known to young soldiers." Given this, IAI offered a tactical broadband smartphone-modem that supports secure cellular communication protocols of the 3 and 4 generations.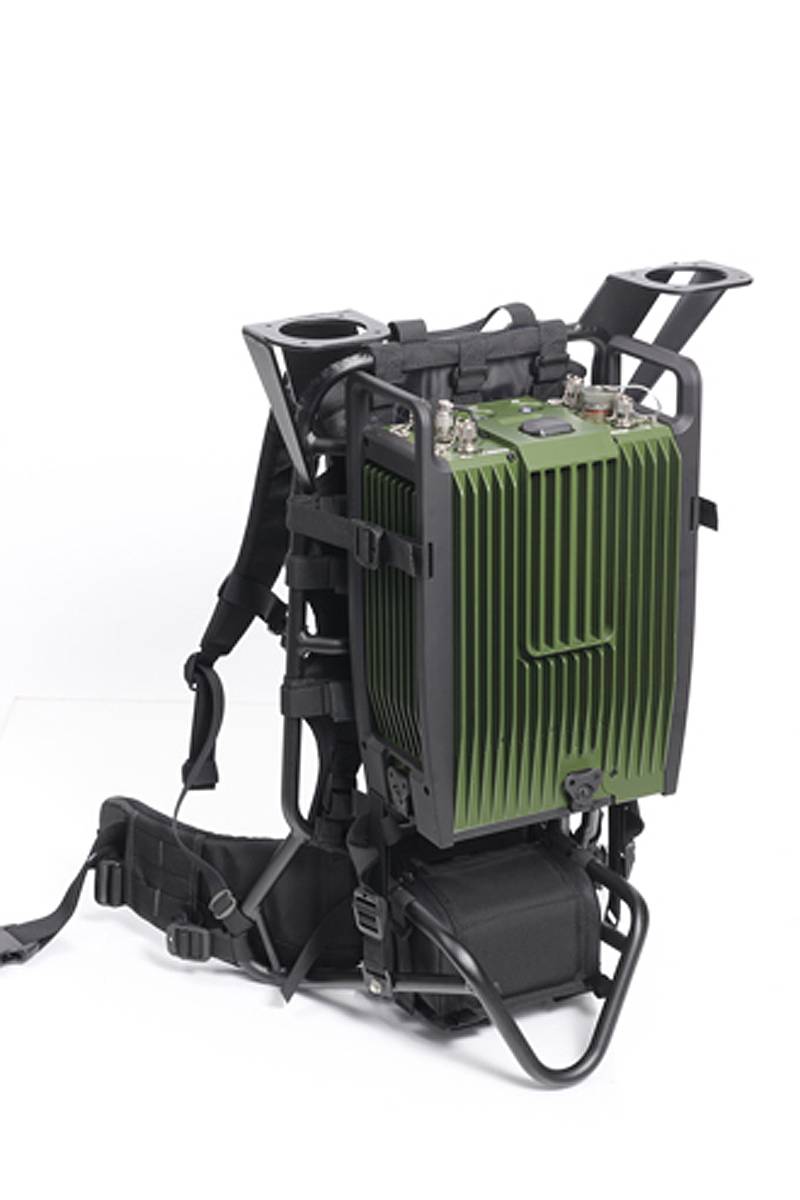 IAI offers a tactical broadband smartphone modem that supports secure cellular communication protocols of 3 and 4 generations.
Means of transport
Urban areas are also a difficult space for military vehicles, which are limited by narrow streets and driveways, as well as the carrying capacity of bridges. For example, according to the company General Dynamics, the mass of the widespread M-1126 Stryker armored personnel carrier may be 16 tons and above. In this regard, manufacturers of military vehicles should take into account all these aspects, but do not forget about booking, especially machines that are vulnerable to IEDs.
Oshkosh company develops machines for the military, which would be most suitable for fighting in human settlements. Its four-wheel drive M-ATV four-wheel-drive armored vehicle "offers the military the best balance of maneuverability, cross-country capacity, internal volume and protection for operations in urban environments," said a representative from Oshkosh. "The M-ATV can adapt to any unique military requirements and combat mission requirements." According to him, more than 1000 of these machines were ordered, they are operated not only in the US Army and Marine Corps, but also from their allies in Europe and the Middle East.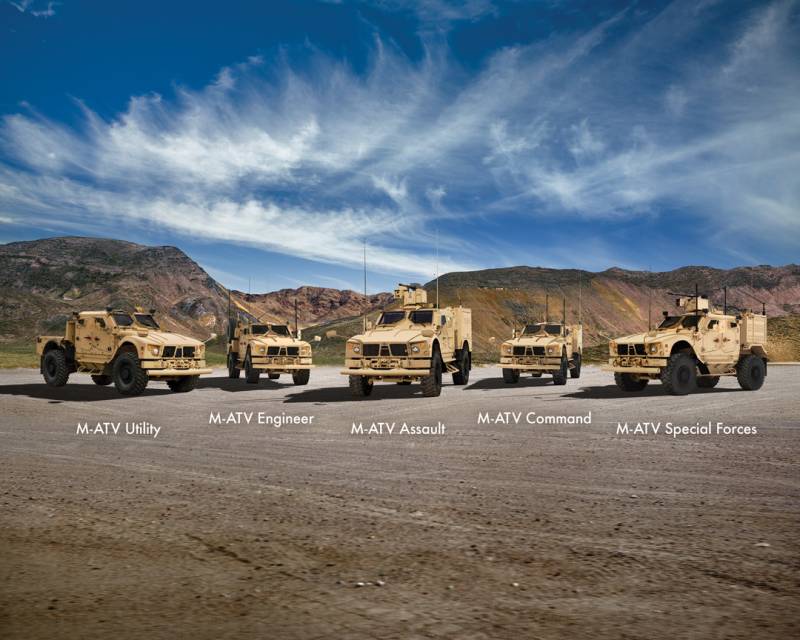 M-ATV Armored Car Family
War on the streetsAs a result of rapid urbanization, hostilities are increasingly occurring in populated areas, and as a result, the defense industry offers more and more systems for BDGTs.
Gadi Shamni, head of systems for BDGT at Israel Aerospace Industries, argues that "since the emergence of non-traditional theaters changes the battlefield, it becomes strategically important to develop technologies that simplify the detection and neutralization of targets and help minimize indirect losses."
It is worth noting that the devices of the "friend or foe" system are far advanced in providing support for ground forces. However, according to General Buken, "defense companies need to very carefully develop tablets and other devices of the" friend or foe "systems and battle management. They should be as easy to use as a soldier is in an extremely stressful and difficult space and he has no time to go into any difficulties. Every second spent on the tablet takes a second, which could be spent on monitoring the situation, so these technologies should be as simple as twice two. " They should also be connected to all decision-making tools, including intelligence gathering systems. According to Shawn Page of Avascent, a consultancy agency, "at the moment, to get the information you need, you need to refer to three or four sources, on which time is wasted. Therefore, it is very important that you have everything in one battle management system. " However, this is complicated by the fact that information can come from various proprietary systems, for example, UAVs, tactical radio stations, optical-electronic systems, radar notches of enemy weapons, which are difficult to integrate into a single architecture. "Industry must make a lot of efforts to overcome this."
UAVs will retain their priority for the BDGT and will remain at the top of the list of the most popular technologies. Colonel Santoni, former head of the French Center for BDGT training at CENZUB, noted that "drones are not only vital for gathering intelligence information; they and other autonomous systems are also important for transporting equipment, maybe in the future they will be able to transport wounded as well. "
In conclusion, Paget noted that "we will also see the development by vehicle manufacturers of platforms with an optimized mass-to-fire ratio." This will make a significant contribution to the combat capabilities of the units fighting in the urban space. "
Articles from this series:
City megawaves. Part of 1
City megawaves. Part of 2
On the materials of the sites:
www.nationaldefensemagazine.org
bmpd.livejournal.com
defense.ru
www.thalesgroup.com
www.marines.mil
www.recrutement.terre.defense.gouv.fr
www.globalsecurity.org
www.meggitt.com
bisimulations.com
www.safran-group.com
www.imisystems.com
fr.wikipedia.org
war-only.com
www.pinterest.com
saab.com