Western News Agency
Reuters
once again publishes material about how many Russian citizens died in Syria. Earlier, the Western media was also concerned about the number of dead Russians in the Donbas. As usual, by providing an OBS-style argument ("one woman said"), Reuters counted 131 of a dead Russian in the UTS from the beginning of the year. An important detail attracts attention: now, at least, all the "identified dead" are not called "servicemen of the Armed Forces of the Russian Federation".
As one of the "arguments", the death certificate of the form №33 is given. At the same time, it becomes clear from where Reiter takes the "data" about the 131 Russian who died in Syria. Takes from reference number: 131. Apparently, according to the logic of Western journalists, the number of this document (if it has any relation to genuine ones) must necessarily be linked to the number of Russians who have died in the SAR since the beginning of 2017. As an "explanation," it is stated that the Ministry of Justice recommends counting death in this way.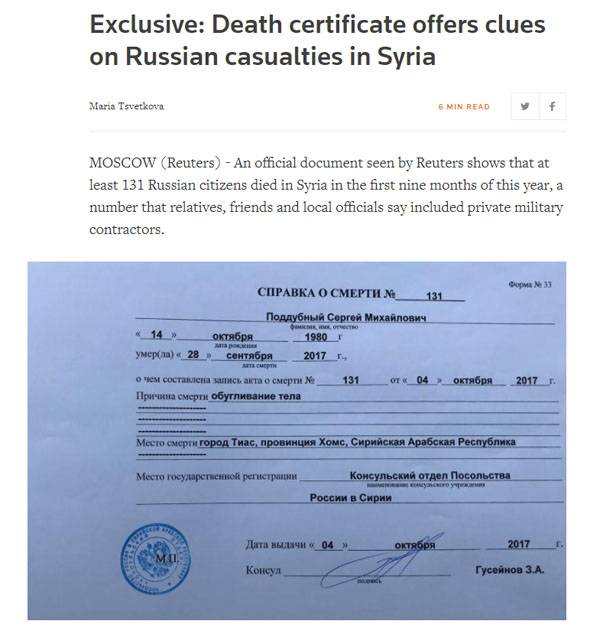 The certificate indicates the cause of death of a certain Sergey Poddubny, born 1980. - "charring the body." It is reported that S. Poddubny died in Syria on September 28, in the city of Tiyas (Homs province).
Further, the Reuters news agency claims that the relatives of the deceased allegedly declared Sergey Poddubny as a representative of a private military company.
So be it ... But the question immediately arises: why are there no materials from Reuters about how many British nationals and American citizens have died in Syria or in the Donbas since the beginning of the year? If we already undertook to cover the number of losses, so it is necessary to approach the matter thoroughly. It seems that in the USA it will be interesting to find out how many of their armed citizens were killed in the Syrian sands, where, according to current international law, they should not exist at all ... And then, it turns out that Americans are dying completely unknown, since even the US consulates in Damascus not.