The crew of the large landing ship "Ivan Gren", located on the factory trials in the Baltic Sea, conducted artillery firing at the naval target.
As reported in the information support department of the press service of the Western Military District in the Baltic
the fleet
, during the tests, the BDK used a 30 mm artillery mount. A ship's shield imitating a conditional enemy's surface ship was used as a target. At the time of going to sea, communication systems were checked, as well as the operation of the bow and stern landing devices.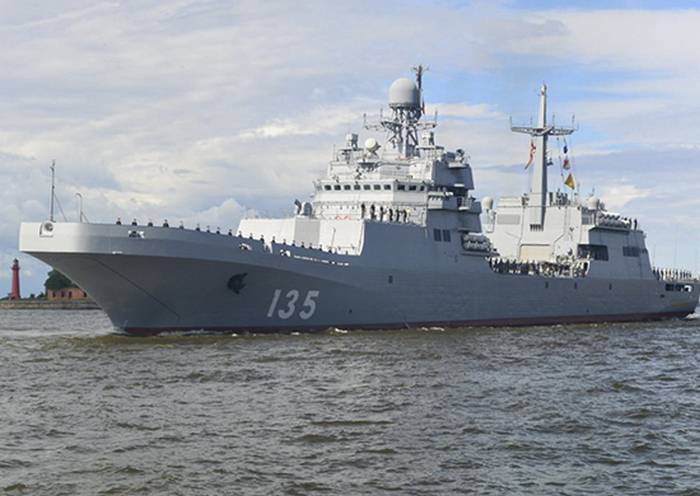 We remind you that the BDK "Ivan Gren", which is to serve in the Northern Fleet, is the lead ship of the 11711 project, built in Kaliningrad at the Amber plant. The ships of this project are armed with the AK-176М and AK-630М universal naval artillery mounts, the A-215 Grad-M multiple launch rocket launchers with a range of 20 kilometers. On the deck, there is a basing of one Ka-27 search and rescue helicopter or a Ka-29 transport and combat helicopter.
The BDK of this project can take on board up to 13 units of heavy equipment (
tanks
) or up to 36 infantry fighting vehicles or armored personnel carriers, as well as the personnel of the air assault units. By order of the Ministry of Defense of the Russian Federation, another ship of this project is being built in Kaliningrad - BDK Peter Morgunov.
A week earlier, the AK-630M airborne artillery complex was tested at BDK and the electromagnetic hull was treated with the help of de-magnetization ships CP-28 and CP-936 in order to reduce the physical field.