Russian heavy nuclear missile cruiser Admiral Nakhimov awaits modernization, which will lead to a change in the appearance of the ship, according to
News
.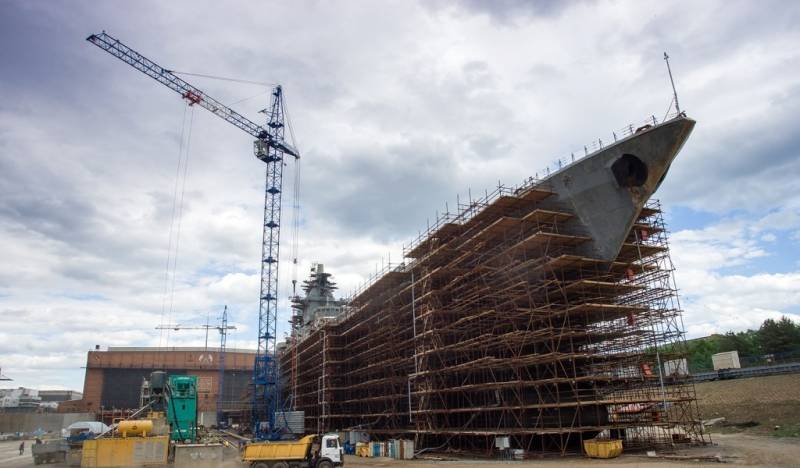 In the Main Committee of the Navy, the newspaper was told that the engineering changes in the design of Nakhimov had already been agreed, their preliminary cost, as well as the deadlines are being estimated. The restructuring of the corps is necessary to accommodate advanced weapons systems. "The changes, although they will be noticeable, will affect not the whole ship, but first of all the rocket deck and superstructure; the ship's nuclear reactors will not be changed, they will only update the systems ensuring their operation, "explained the military.
Initially it was assumed that the upgrade would not affect the ship's hull, but after dismantling the old equipment, the need for "plastic surgery" became obvious.
The ship will receive universal rifle complexes (USKS), which, depending on the tasks to be solved, can be equipped with missiles of various types. At Nakhimov, it is also planned to install a modern air defense system, Polyment-Redut, with a firing range of up to 150 km. New electronics will be installed, in particular, modern radars, digital communication systems, and this implies the replacement of antenna systems.
Main anti-shipping
weapons
"Nakhimov" should be promising hypersonic missiles "Zircon", which is expected to be adopted next year. For the destruction of ground targets will be used cruise missiles "Caliber".
In addition, the ship will receive a powerful on-board computer, "will be able to assess the situation on its own, predict the course of the battle and even independently use weapons".
Local modifications of the hull are simply necessary, since all the old stuffing is removed from the ship and a fundamentally new one is put in place. For example, installation of a new hydroacoustic station means alteration of the nasal bulb. The main alterations, presumably, will affect the forecastle, since universal launchers for new missiles will be placed there. The antenna complex will be changed, so the appearance of the add-on will change, which now resembles a pagoda,
told the expert on the Navy Dmitry Boltenkov.