The assault and defensive battalions of the engineering troops will receive armored vehicles that will not only protect attackers from infantry
weapons
and fragments of artillery shells, but also support them with fire, as well as electronic warfare, report
News
.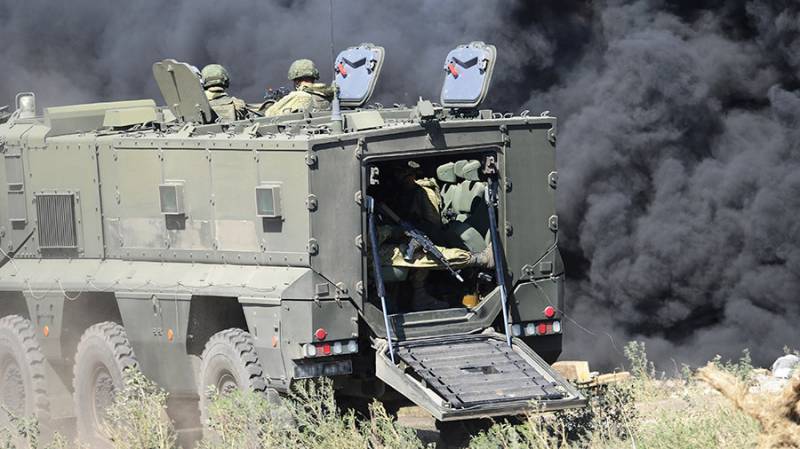 Machines are created on the basis of armored vehicles "Typhoon-K". According to the Ministry of Defense, currently the "Typhoon" in the "assault" configuration is already undergoing military trials.
"Assault" Typhoon "is designed to deliver troops on the battlefield. The spacious troop compartment in the aft part of the vehicle accommodates seven attack aircraft, dressed in heavy armored suits IOB-3Sh. They protect the entire body of fighters from bullets and shrapnel. Through a combination of rigid metal, plastic and ceramic plates, as well as flexible elements made of aramid fabric, "the article says.
To support the engineering units with fire, a remote-controlled combat module is installed on the machine, which can be equipped with the Kord heavy machine gun or the AGS-30 automatic grenade launcher. In the future, the installation of anti-tank guided missiles is not excluded.
The task of the EW system installed on the machine is to create a protective perimeter within which radio-controlled explosive devices often used by terrorists in urban combat cannot work.
Now the BTR-82 armored personnel carriers and the armored vehicles "Typhoon. The BTR-82 has good weapons and armor protection. It is suitable for general combat with a high-tech adversary, as well as for anti-terrorist operations and local conflicts. But it is very difficult to transport attackers-sappers inside them in heavy armor protection. Therefore we need "Typhoon-K". They can be used not only as transport, but also to ensure combat work. "Typhoon-K" covers fighters with fire, protects against improvised explosive devices and enemy drones,
The military expert Anton Lavrov told the newspaper.