The SAR Army, under the guise of the Russian Aerospace Forces (VKS), cleared the island of Sacre from terrorists, as well as the T-2 station in the province of Deir ez-Zor. Four high-ranking SSA commanders were killed at Dar'a. Reports about it
FAN
with reference to Syrian sources.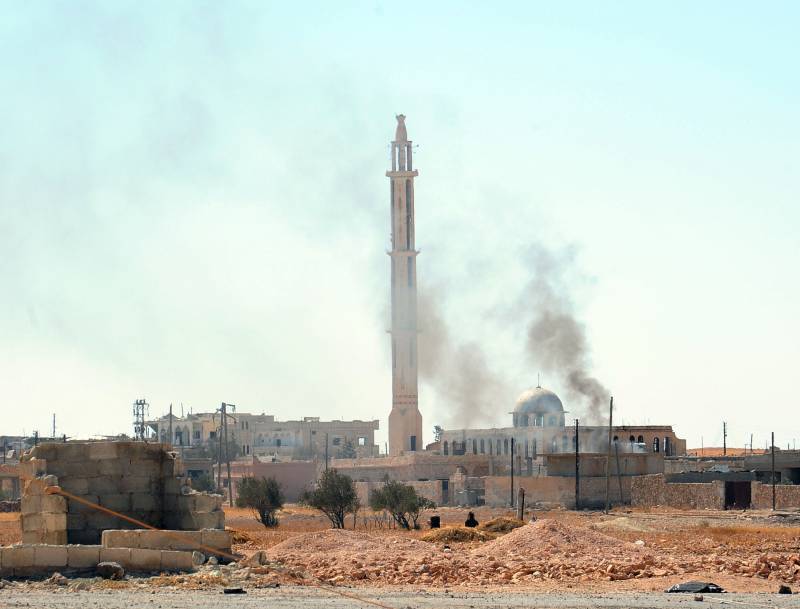 After the Islamists blew up one of the underground tunnels located under the positions of the Syrian Arab Army (CAA) in Damascus, armed clashes between opponents ceased for a while. However, in the second half of the day the fighting broke out again. Government forces resumed shelling of fortified radicals in the Jobar and Ayn-Tarm quarters. Artillery strikes of the SAR forces also suffered militia strongholds near the village of Duma.
On the outskirts of the so-called "Rastan boiler" (Homs province), the territory of which is under the control of the armed opposition, armed clashes between government forces and militants of the terrorist alliance were recorded during the day. The "Dzhebhat an-Nusra" radicals (grouping banned in the Russian Federation) went to an anti-government rally in the city of Tall Biss, however, the civilian population did not support them.
Last day, the areas of As-Sinaa and Amal, as well as the Sacr island in Deir al-Zor, were completely transferred to the control of the Syrian Arab army. Afternoon by the forces of the SAA and pro-Assad fighters with
aviation
The Russian Federation also released the strategically significant T-2 station. In the afternoon, the forces of the SAR, in addition, fired on the fortified areas of the Islamic State in the area of ​​Al-Kalamat in the administrative center of the province. After the complete liberation of Deir ez-Zora, the SAA, with the support of the Russian Aerospace Forces, will launch a full-scale attack on Abu Kemal.
During the day, four high-ranking commanders of the Syrian Free Army (FSA) were killed in Dar'a province. One of them was shot by militants in the city of Al-Yaduda. Two more leaders were killed by terrorists in the Yarmuk River area. The latter died in the explosion of a bomb planted in his car. The grouping of the IG (banned in the Russian Federation) also lost one of its high-ranking leaders as a result of fighting with the SSA.
In the northern part of the province of Hama, an armed confrontation continued between "al-Nusroy" and the SAR forces. In the first half of the day, skirmishes between opponents were observed north-east of Hama, then after the air strikes of the Russian Aerospace Forces, the Syrian army launched an offensive. According to a military source, the city of Jubb Al-Abyad was taken under fire control.