The UN Security Council finally presented the report of the OPCW on the use of chemical
weapons
in the Syrian Khan-Sheikhun. The very presentation that Russia offered to wait to conclude that it is possible to extend the OPCW mission in Idlib province after its expiration in November of this year.
The report of the OPCW mission did not clearly indicate who was specifically guilty of the use of "chemical weapons" (if any) in Khan-Sheikhoun. However, this did not prevent the American side from immediately stating that "everything is already clear". US Permanent Representative to the UN Security Council Nikki Haley once again expressed that "the Assad regime is guilty of the use of chemical weapons in Syria."
RIA News
cites a statement to the plenipotentiary in the US
The findings of the joint UN and OPCW mechanism presented today indicate that the Assad regime used sarin poison gas against more than 100 civilians in Khan-Sheikhoun 4 April 2017. The Commission also determined that ISIS (* banned in the Russian Federation) is responsible for the use of chemical weapons of mustard gas in the September 16 attack in Umm Hohe.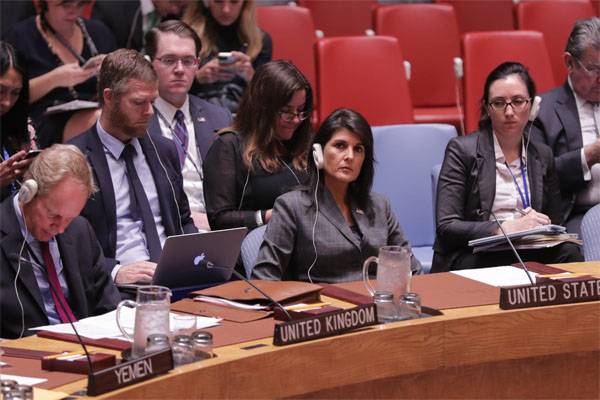 As you can see, Hayley decided to share responsibility for the use of chemical weapons in Syria between government forces and ISIL (*), in fact, equating their status ...
In this case, no scientific analysis of the application, as stated, sarin in the report again did not contain.