The United States highly appreciates the level of contacts with the Russian Aerospace Forces in Syria on conflict prevention, but do not see an opportunity to deepen them, reports
RIA News
A statement by Colonel John Thomas, representative of the US Central Command (CENTCOM).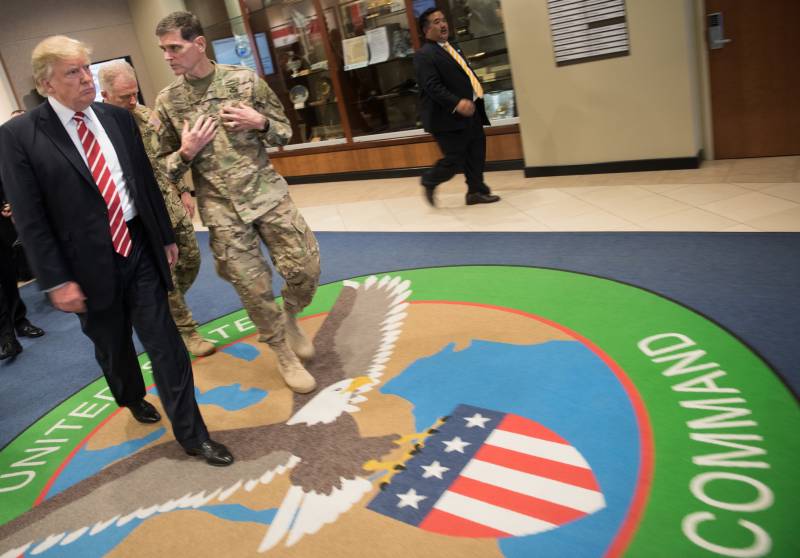 Donald Tram when visiting the US Central Command at the McDill Air Force Base.
I don't think that we can have more (contacts) ... I don't think that we can be more active in terms of preventing conflicts along the lines of the joint operations center (USA). We do this daily several times if necessary,
said thomas to the agency.
He also expressed confidence that in the event of the emergence of new problems in Syria between the military of the two countries, "there is a mechanism to solve them."
It (the mechanism) is extremely effective. We really did a good job of conflict prevention, and this applies to both parties, who share responsibility and talk to each other when necessary,
said the colonel.
At the same time, Thomas recalled that these contacts relate only to conflict prevention, and no more. US law "prohibits cooperating in any way with the Russians."
Earlier in the Western coalition reported two face-to-face meetings at the level of generals to discuss measures to prevent conflicts. It is known that negotiations took place outside of Iraq and Syria. The coalition command did not rule out that a new meeting might follow, but did not specify where and when it could pass.
We do not talk about them (meetings) in advance. These are not standard meetings, they are held as necessary ... Now we are pleased that we have this mechanism at the level of three-star generals who can, if necessary, help (in resolving issues between the US and the Russian Federation),
Thomas said, answering the question about the possibility of a new in-person meeting of the Russian and American military.