BAE Systems announced the baptism ceremony of the second 2000-ton coastal patrol ship (OPV, Offshore Patrol Vessels) Medway of the River-2 class, reports
TSAMTO
.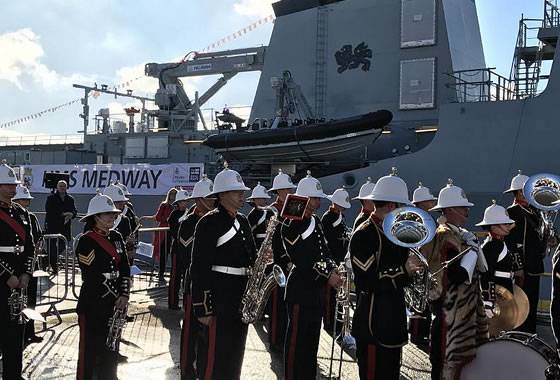 In the near future, the company will begin to conduct marine tests off the coast of Scotland. The inclusion of the ship in the Royal Navy is scheduled for 2019 year.
The contract for the supply of the Navy of the three OPV ships was concluded in August 2014 of the year. The transaction value was 348 million pounds. The agreement provides for the option to build 2-x additional ships.
Cutting steel for Medway started on 8 June 2015 of the year. The third ship Trent was laid in October of the same year.
In December 2016, the British Ministry of Defense signed a contract with BAE Systems worth 287 million pounds for the construction of two additional ships. The agreement also includes servicing all five ships of the series. Ships must be handed over
the fleet
in 2019 and enter the combat strength of the Navy in 2021.
As before, the construction of the ships will be carried out at the Govan enterprise, then they will be transferred to the Scottstown shipyard for equipment.
It is reported that "the new ships will increase the capabilities of the British fleet to protect maritime borders, counter terrorism, counter piracy and smuggling."