The North Atlantic Alliance plans at a meeting of the Russia-NATO Council, which will be held on Thursday 26 in October in Brussels, to accuse Moscow of misleading the West deliberately, significantly underestimating the number of servicemen who participated in the West-2017 exercise, reports Die Welt with reference to its sources in the organization.
We will very clearly say what we think about this behavior.
- noted in NATO. Earlier, the alliance has already expressed suspicions that the Russian Federation was deliberately sly, declaring a smaller number of military men participating in the maneuvers, but this time the accusations will be made directly to the Russian side.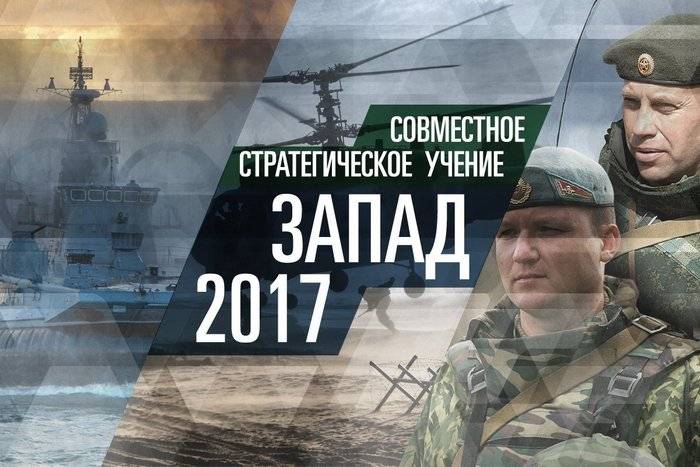 Moscow reported that 12,7 thousand soldiers took part in the exercises. In turn, NATO experts, after studying images from satellites, came to the conclusion that tens of thousands of servicemen were involved in the maneuvers. According to the alliance version, the truthful information was hidden, since for exercises with the number of participants over 13 thousand people the presence of observers of the Organization for Security and Cooperation in Europe (OSCE) is necessary.
Russian-Belarusian exercises "West-2017" were held from September 14 to September 20 at the training grounds of Russia and Belarus. They involved about 70 aircraft and helicopters, up to 680 units of military equipment, including about 250
tanks
, up to 200 guns, multiple launch rocket systems and mortars. The exercises were monitored by representatives of seven states, including from NATO.
The maneuvers caused a flurry of criticism from the West. Thus, in addition to the accusations of underestimation of troops, NATO recalled that in 2013, Russia had worked out the actions of special forces and conducted exercises, the script of which was later used during the annexation of the Crimea. NATO expressed fears that new maneuvers could escalate into aggression against the Baltic countries.
Russian Defense Ministry spokesman, Major General Igor Konashenkov, commenting on the "hysteria" of the West about the exercise in October, said that the West needed accusations against the Russian Federation as a cover for the arrival of the American military in Poland. Earlier, the US 2-I Armored Brigade arrived in the region. As noted by Konashenkov, while in Poland and the Baltic countries remained military equipment 3 of the American armored brigade, which was replaced by the military. In fact, not a brigade, but a mechanized division of the US Armed Forces is deployed near the borders of the Russian Federation, the general stated. He expressed the opinion that "all the hysteria of the Baltic states and Poles about the" Russian threat "from the Russian-Belarusian doctrine" Zapad-2017 "is a fraudulently won back the information curtain of this operation of the Pentagon."
However, the Pentagon has denied these allegations. As Pentagon spokesman Johnny Michael told reporters in mid-October, the 2-I armored brigade is just arriving in position. He explained that approximately 3,3 thousand troops and 1,6 thousand units of equipment, including about 85 tanks, would be deployed in Poland. Michael stressed that the military and technology replace the outgoing unit, rather than being added to it, reports
News ru.com