The pilots of the Air Force and Air Defense of the Eastern District and the pilots of the Indian Air Force as part of the Indra-2017 exercise for the first time in
stories
VKS RF flying in mixed international crews, reports
press office
BBO.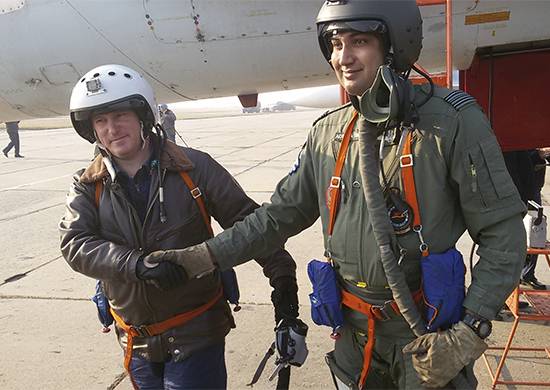 At the Central Corner Aerodrome near Vladivostok, during the interspecific Russian-Indian exercise Indra-2017, for the first time in the history of the Russian Aerospace Force, flights on Russian equipment are performed by mixed international crews, in which the role of second pilots is entrusted to the pilots of the Indian Air Force. All foreign pilots involved in the exercise have sufficient experience of flying on similar aircraft in service with the Indian Air Force,
says release.
During the exercise, mixed crews piloted Su-30М2, AN-26 aircraft and Mi-8AMTSH helicopters.
It is reported that "about 10 joint crews have already completed aerial reconnaissance flights, took part in the landing of tactical assault groups at Sergeyevsky training ground, and also hit
aviation
missiles target positions simulating the firing points of a conventional enemy. "
On Thursday, international crews to create a tactical background of the exercises acted in the interests of the warships of the Pacific Fleet and the Indian Navy, which in the waters of Peter the Great Bay solve the tasks of the maritime component of joint maneuvers.
Help press service:
"This year, for the first time, international teaching is being held in an interspecific format according to a single plan. Instead of the earlier Indra-Nevi-2016, AviaIndra-2016 and Indra-2016 exercises, one exercise was planned involving the warships of the Pacific fleet and the Indian Navy, the air and ground units of the Eastern Military District, and the Indian Army's ground units. "