"From now on ... I will live forever!
Hey, Devil, go after me!
And my power is infinite!
And let the world know that my name is EDWARD HEID! "
(Good Dr. Henry Jekyll, after first taking a miracle drug)
Are there processes that absorb a person in his thoughts and activities, in which a person lives, regardless of the season, lives in a certain state, as if "out of time"? There are. I'm not talking about work, or about everyday household joys and duties. Many would say: this process is "love," a time when flowers bloom in your soul, "butterflies and dragonflies flutter", and the whole world, and especially the object of your feeling, is seen through rose-colored glasses. But, paraphrasing the classics, "we all fell in love little by little, sometime with somebody," so let others tell about it, you can tell as much as you like, even shoot TV shows, even tearful novels print in packs.
To each his own, and I will propose a topic of concern to me lately - the theme of human creativity, the very concept and its process. Probably, while creating something new that no one has done before him, a person feels himself a little outside of time and space - in the "fifth season", or in the process of creation; if you like, "lives in it." Someone will shake his head and say - they say, "you write philosophical nonsense, Mikado-san." Uh, this is not a dreamer's mind! (well, maybe with a dreamer and agree). But ... why is this important to all of us? And you did not think that all new discoveries were made by creators-dreamers who went deep into the unknown, expanded the boundaries of new knowledge and skills? And what exactly due to this did humanity come to a reasonably comfortable existence for itself, at least, with the exception of African countries, or some other poorest countries, where the mentality of the people and their rulers is their main enemy?
What prompted Rubens and Michelangelo to paint pictures, Tchaikovsky to write his famous music, and Leo Tolstoy to submit an epic novel in four volumes for discussion in the school curriculum (with philosophy breaking a youth's brain at the end)? Why can a talented artist play the same role in the theater in ten different ways, each time bringing something new, his own, into it? How did it happen that a young wounded senior sergeant
tank
troops suddenly took up the invention of a small
weapons
, and the crown of his work was one of the best machines in the world? The answer is one - the creative component of man. And ... the most important question is how to release creativity in a person "outside"?

The first Kalashnikov assault rifle
This is how the first model of automatic weapons designed by Mikhail Kalashnikov looked like. Let this submachine gun and did not suit anyone, but the process of its creation opened the way to further inventions of the Master. And whatever the various "singers who forget a lot about it," I think, in the process of creating weapons, Mikhail Timofeevich thought above all about protecting his Homeland and technical solutions, and not about the lamentations of the future "bohemian", they say, "how many people killed his weapon. "
I will try to define the concept of "creativity." It is multifaceted. Creativity is the process by which a person creates something new, and something new for himself, and in this creation, the imagination of man plays a crucial role. A person performs the creative process independently, based on his own desires and preferences, thoughts and emotions (if they create a few, then in co-authorship, it is necessary that the process uses the imagination of all participants). The result of this process is material objects (products, books, pictures) or material actions (movements, actions). This is the outer side of creativity. The inner side of creativity is the state in which a person is during his process, and the emotions that overwhelm him at this moment. The material remuneration for the product produced at the time of creation is not psychologically of special importance for the creator.
Example: you were asked to work - do something (write, cut out on the machine, chop, mimic) on the model. No more, no less. Exactly, with small deviations within the limits of error. You do as said. This is a job. But if they say to you: do something so that it would be approximately like this, but you are free to choose actions and material. That is, you can work with a large share of your imagination and this is already creativity. The work will be done, but it will be based on your creative process! And if you yourself generate an idea and execute it in accordance with your own fantasy, then you can consider yourself a creator!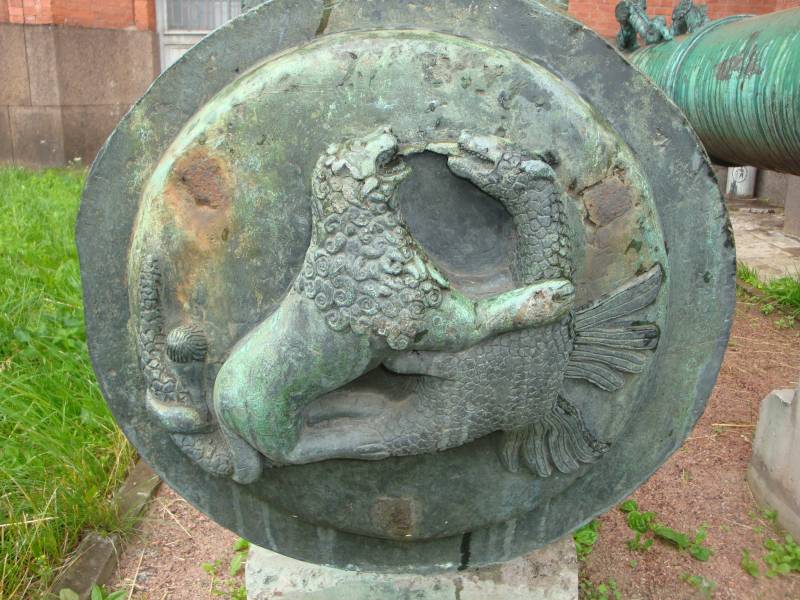 Squeak "Scroll"
Bronze 180-mm siege alarms Scroll (trunk), Military
historical
Museum of Artillery, Engineering and Signal Corps, St. Petersburg. The mass squeaked - 4762 kg, cast in 1591 by the master Semyon Dubinin. It was in service with Nizhny Novgorod, in 1700 it was used in battles near Narva. Not only did the master cast food in the form of a "scroll", as if twisted around the trunk, but also made a chic decoration of the breech. It is unlikely that he had a clause in the contract: "And command the master cannon Simeon the light of Dubinin, to depict the battle of a lion and a dragon, so that their tails are woven. But he does not disobey, or he doesn't do it delightfully, with a belt to hit the place of the sciatic until the place turns blue. " I venture to suggest: probably ... is this also a free creative idea of ​​the master?
The human person has many facets, and sometimes we don't know about our hidden sides, in which both talents and vices are hidden. And it is sometimes easier to recognize a bad side in yourself than a good and creative one. The dear Dr. Henry Jekyll, the character of Robert Louis Stevenson, was seduced by the idea of ​​separating human beings so that the good and bad sides of man lived separately. Trying to do this, he got his monster Hyde as his alter-ego, but he wasn't able to get rid of the doctor - sometimes he was fascinated by the idea of ​​sometimes being Hyde, with all his vicious tendencies. By releasing our creativity, by definition, we produce a creative process in ourselves. After all, you can also enjoy the feeling of self-realization from the creation of the new, and not from indulging in your dark passions! Vices are simpler (for some reason, I immediately remember a cheerful Italian grandfather, who, when he was his prime minister, was remembered by us, mostly for his frantic lovingness. Why him? Apparently, because Joseph Vissarionovich also said the phrase: "We will envy ..." . It is more difficult to create and develop, but it is more gratifying for a person, and in many ways much more exciting.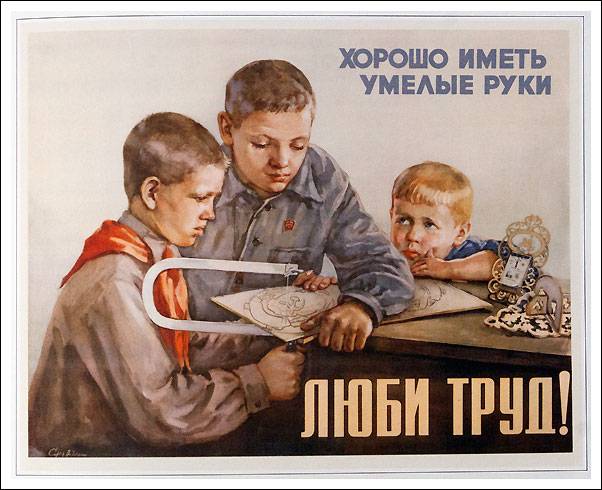 Soviet poster "Good to have skillful hands."
With similar posters, children in the USSR were taught to work from school age. Please note that the boys on the poster are engaged in a rather "fine" work - cutting out of wood. And where work (especially if it becomes a hobby) is skill, and where skill is, there is creativity! This is probably great. If you wish, you can find many similar Soviet posters that teach both to work, and study, and to art.
What is the process of creativity? What is letting him out? Probably, everything begins in the childhood of a person, in his interests and preferences, for example, if a person likes to write, draw or make, and he feels pleasure from it. Gradually, a person develops, and his skills and abilities in specific matters are also growing, as well as opportunities. Although there are many people who discovered the hitherto hidden talents in adulthood!
I have a friend, a very pleasant and intelligent man, who already at the age of "deep in sixty" suddenly began to ... write poetry!
What is ahead? But who knows?
Fate will take, turn the tangle.
Break the thread. And again, the wind will start ...
Who knows what then awaits us? ...
It seems to me very nice lines even. We wish him good luck in the development of his talent and at the same time good health, because "in a healthy body there is a healthy mind," which means "the output of creativity" will be good poems!
And what is the mechanism for launching a particular creative act? It begins with a plan and a desire to do something, and this process in the head causes pleasant feelings in a person from being able to do something new. And what helps him to "give birth", this idea, and the desire to implement it? .. Pushkin and Vysotsky (two great Russian poets) would say in one voice: "If the muse visits". Most likely, this is due to the feelings inside us - love, pain, hurt feelings, just a good mood and lightness in my soul. Feelings can be anything - even the feeling of making your work better and more beautiful, and the desire to look at it, i.e. get a sense of self satisfaction. That is, under the influence of the senses in man, the idea is born and the desire to throw them out, the imagination begins to work, prompting him the right ways for this. In any case, emotions and feelings are companions of creativity!
Is it possible to create in grief? Can! Many works were written after their authors had tragedies in life. One of the best, and one of the last works by Sergey Yesenin, the poem "The Black Man", seems to me, written in a state of deep depression.
... The month is dead
Blue in the window dawn.
Oh, night!
What are you, night, twisted?
I stand in the cylinder.
No one with me.
I am alone...
And a broken mirror ...
What is it? Isn't the poet's requiem to himself, not the analysis of the outcome of life, not the summing up of the line? But .. this is my opinion!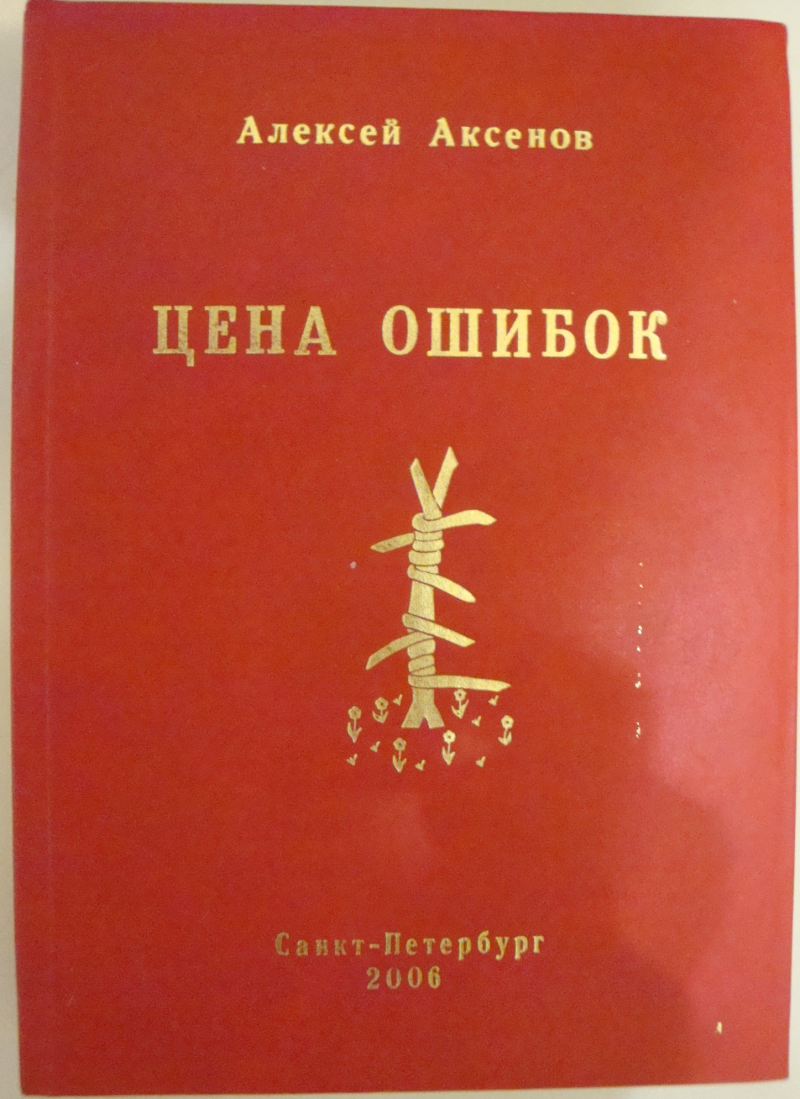 "The price of mistakes"
Before you is the book by Alexei Aksenov, The Price of Mistakes. You will not find it on the Internet, except for private ads for the sale of rare books. The book was printed in 2007 year (2006 is indicated on the cover) with the circulation of all 100 copies, and it was released 12 years after the author's death, and his daughter, Olga, helped publish this work. I accidentally bought it at the Yalkala Historical-Ethnographic Museum, which is located in the Vyborg district of the Leningrad Region not far from Zelenogorsk, in the same 2007. The author of the book, being a young tanker, was captured in Vitebsk in 1941. A simple but clever syllable, without any frills, but what a power in it! Pain, honor, humiliation, glory, confidence in our people - everything is intertwined in the description of what he had to go through with almost four years of German camps. The memory of the experience was so strong that Aksenov literally "splashed out" his experiences on paper, it is felt. Light memory to him!
Is it possible to do evil? It seems no, at least from an ethical point of view, although the question is very complex. Here you can talk for a long time, sum up the ideological base, argue yourself hoarsely and broken keyboard. Usually they say - "genius and villainy - are incompatible." But this, again, my opinion! And if you analyze the product of a certain "creativity". Well, you will not carry the inventor of the gas chamber for the mass destruction of people on a national basis to the creators? Or, for example, the kind Dr. Guillotin suggested using the "miracle razor" to "standardize and humanize" the death penalty - but what was the result of this "humanism"?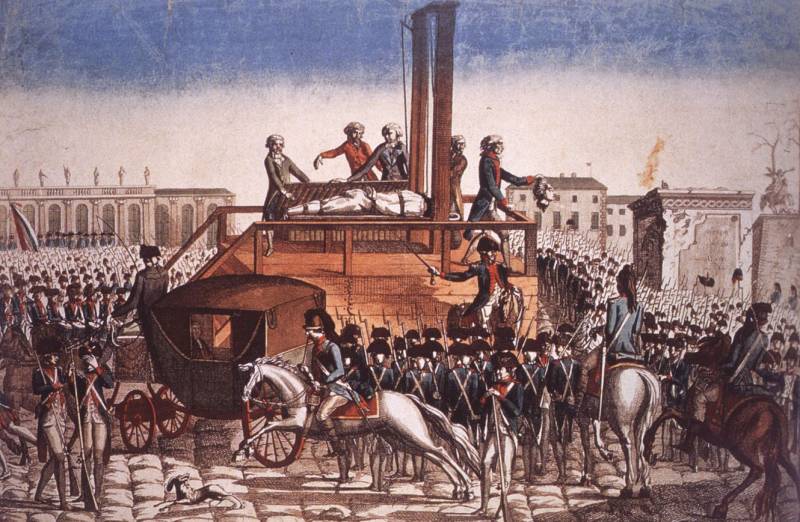 The execution of Louis XVI
Unknown artist, The Execution of Louis XVI. Just one of many paintings on the execution of this king. Here it is - a device for causing "humane and quick death." Would any of us like to get acquainted with such a product of the "creativity" of an unknown inventor, "the miracle of technical thought of that time"?
How to choose the ideal path for the development of creativity? I do not know, the problem is too deep. But maybe in everyday life, just ask yourself: what classes did you get the most interest from? (strong feeling!) Especially if the root of interest comes from childhood. It means, not from activities related to the saturation of the body with food, alcohol, the desire to lie on the couch or obsession with the opposite sex. And with occupations, as a result of which a certain material product or action appears. Try to do it, look at the result, improve it, do not stop there. Naturally, it is worth isolating your mistakes in the process, if they were, to eliminate them in the future. Gradually, you will have a feeling of confidence in yourself and your strength, and this will liberate you by going further, experimenting in a particular field of creativity, be it drawing, mechanics, or even singing! And in any case not to get proud, because excess self-confidence is the worst enemy of creativity, and indeed everything new.
I will give examples of why excessive pride is harmful to creativity. The image of an incompetent poet (but at the same time sincerely convinced of his talent!) In Russian history was reflected in the column of Dmitry Ivanovich Khvostov (years of life 1757 - 1835). The count was an honest, decent man, but at the same time he did not know how and didn't want to "bring out," for all to see, his poems, which made readers much more amused than delight their eyes and ears. The great Alexander Suvorov was the uncle of Khvostov's wife; Arriving in St. Petersburg after the Swiss campaign, he stopped at the house of Khvostov, in the same house and died. According to legend, already lying on his deathbed, the commander, famous not only for his military talents, but also for his straightforwardness, said, addressing the graph-graphomaniac: "Mitya, you are a good person, do not write poetry. And if you cannot help writing, then for God's sake do not print. "
And such examples of poetry are not only with us. For example, in Scotland, William McGonagall (1825 or 1830 - 1902) is considered an analogue of Count Khvostov and the "worst poet of the world", who suddenly matured (in 1877) suddenly "realized himself a poet" at a mature age. He often chose to recite his poems (naturally, considered absurd) in public places, which made listeners either wondering if he was serious or joking, or enraged and started throwing objects at the "poet". The outcome of McGonagall's life was dire - trying with might and main to engage in his "creativity" and not possessing the state of Khvostov, he died in poverty.
Left photo of William Topaz McGonagall, in which he appears in the form of a Scottish attacker. What kind of weapon is in his right hand? Not exactly a Scottish broadsword. Yes, it seems, and not the claymore.
Since our site is a military one, it's probably worth talking about creative personalities who are not very successful in military affairs. First of all, it concerns inventions. Perhaps one of the most creative and fascinating people in the history of mankind can be immediately called Leonardo da Vinci. The author of the painting "Mona Lisa" was not only a great artist, but also an engineer, an inventor, was fond of medicine and even left a literary heritage. Among the projects of his military inventions - which at least were voiced - are prototypes of a tank, aircraft, helicopter, parachute, artillery projects, and much more. There is no limit to the human imagination and thoughts that are driven by a genius!

Wheel Gun
In the photo - the guns of officers of the Saxon Life Guards, the work of the master Zacharias Herold, made at the turn of the XVI-XVII centuries. As we can see, the pistol has a wheel lock. It is believed that this type of lock for firearms was invented by Leonardo da Vinci, and this is almost the only invention of the author, which became widespread during his lifetime. A similar device striking sparks from rubbing the wheel over flint, though without a winding mechanism, we see every day - in lighters!
If we talk about gunsmiths-losers, in their domestic list in the first ten you can safely put Leonid Kurchevsky and Nikolai Dyrenkov, the peak of which fell on the first half of 1930-s. It has been written about them so much that it is possible not to get carried away with the description of their creative crafts, inventions, which have lost the country in the development of their projects time and total amounts. And after all, all the same, part of their biography will somehow be covered with darkness. Who were they? Constructors, enthusiasts who have not calculated their strengths and claims, adventurers, or clever figures, "throwing dust in the eyes" of poorly educated military leadership? The end of both inventors was relatively the same. And, of course, if you continue to remember the unsuccessful inventions, then how not to recall the New Zealand attempt to make a full-fledged fighting vehicle out of a caterpillar tractor, the "Bob Sample" tank became an expensive and ridiculous result!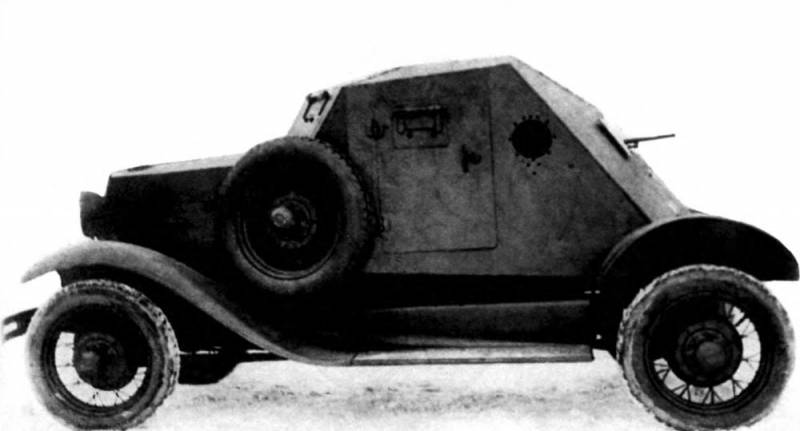 Armored car D-8
One of the inventions of the prolific Dyrenkov (there were more than 50 - armored cars, armored vehicles, tanks, armored cars and even D-grade armor!), Which went into the largest series - 60 machines - D-8 armored cars (in the photo - D 12), with its "signature handwriting" - the installation of ball embrasures for the DT machine gun from all sides of the armored corps. Already in the conclusion of the military commission about the D-8 prototype machines, it was said that it was almost impossible to fight on this armored car due to the fact that the machine gun settings were made without taking into account the possibility of firing them. However, it was put into service in the 8 year, because there were simply no other new light armored vehicles then in the Red Army! However, when entering the armies of a new model of light armored vehicles (FAI, less tight, and already with a rotating turret), part of the armored vehicles D-1931 / D-8 was transferred to various educational institutions.
But back to creativity. Of great importance in its development is the help of more knowledgeable people. Why, there is help - even kind words can sometimes play a decisive role in the creative side of life. One condition - if this person is intelligent, benevolent, sincere. Restricted or angry people can advise not at all what is needed. Also, very often, a positive opinion or criticism of relatives (mothers who see you through rose-colored glasses, or unsociable neurasthenic grandfather, who are annoyed by everything and everyone, including you!) Can either give you extra confidence in your as-yet-polished talent, or completely discourage the desire to do something on the vine. Therefore, their opinion is to listen with a healthy share of criticism.
Yes, and most to their own creativity, too, should be treated with a share of criticism, no one is immune from mistakes or reassessment of himself. In the world, and so there were enough bad poets, mediocre singers and pseudo-inventors. It is worth noting numerous "art dubs" - for example, when a person is not so famous for his works as "originality of behavior" - well, for example, he sets fire, self-mutilation (in the literal sense of the word! At least, test ") Publicly and enthusiastically take up the numerous flashes of cameras. Yes, some are engaged in similar activities, which are difficult to relate to creativity. And, oddly enough, such "creative personalities" also have their fans!
What can interfere with creativity, especially when a person realizes his passion for something? Often it is the lack of time, necessary means. Can be a deterrent and bad mood due to any problems in life, apathy, stress, anxiety. It may be a fool - the chief, who yelled in the morning (who yelled because of his own family problems), but he could be ... and his relatives! You can easily understand the author who wrote the phrase to his novel as an epigraph: "My family, who was preventing me from writing this novel by all means, is dedicated to ..." It is written subtly, with love and affection, but there is some truth in every joke! Yes, you try to write, inspiration has come, and you - then "dig up the garden, I will plant the tomatoes", then "throw out the garbage", then "the loaf of the house is over, go buy it." And so that the rifled, and so soft! "And if, even during an argument, the spouse speaks nasty things - that's all, there is no inspiration, light the carcass. That is, a man in the midst of creativity is trying to "fly up above the head," and his relatives, unwittingly, at this moment "knock the stool out from under their feet." Dear relatives! If you see that someone from your family has a creative passion (writing, poems, wood carving, graphics, in general, everything that is not related to drunkenness, debauchery, exhaustion of the family budget, or dependence on computer games), and, if you have the opportunity and time to give a person a little bit to be "in himself" and work out a favorite thing, give him that time, do not jerk him, even a little. After all, when a person sees his idea, the fruit of his creativity in a finished form, you will see how his mood rises, how he will be in the very good mood, full of strength and energy, and your family relationships will only get better.
Well, a little, "for sweet". We are all engaged in creative work, one way or another, systematically and situationally. And sometimes people live nearby, whose hobbies you would never have guessed. For example, I learned about the work of one of my good friend, with whom I work in the same building, quite by accident! He showed him his articles on the "Military Review", as many as two whole numbers, and in response he surprised me even more — he was stunned — he showed his own creativity. You could imagine that a person, having worked for a long time in security structures, having received a letter of appreciation from the governor of St. Petersburg, a letter from the border department of the FSB of Russia, etc. incentives and awards, candidate for master of sports in judo, free time gives ... music? Here, I also could not!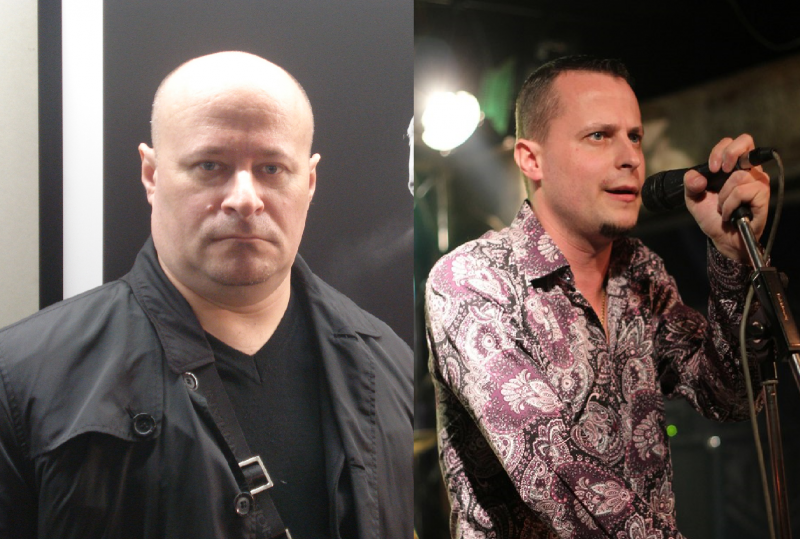 Adaykin brothers
Meet the brothers Denis (on the left, I told you about him) and Kirill (on the right) Adaykiny. Their passion for music has grown into the creation of a full-fledged rock band Radio Maldives in 2010. The group has performed in various clubs in St. Petersburg, such as Money Honey, biker club Route 148 and many others. They took part in various rock festivals - "Breakthrough", "Jem Fest", festival "Guild of musicians" of St. Petersburg. Melodious rock, Cyril - the lead singer of the group; Brothers write music and lyrics together. Let's see how they will surprise rock fans in the future!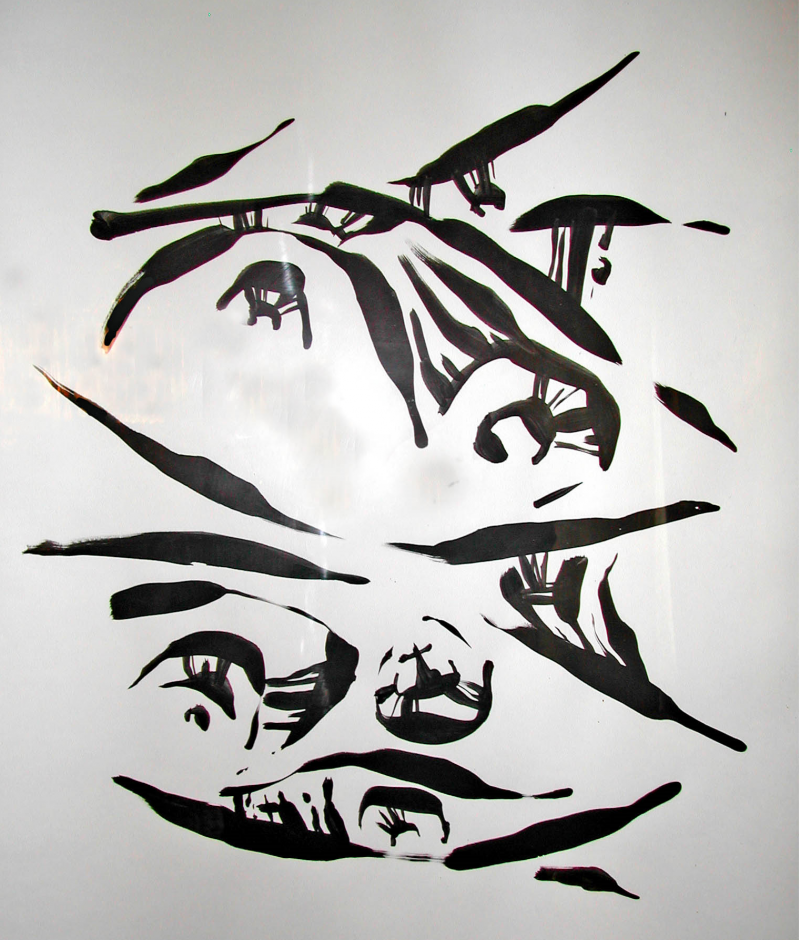 Denis's painting
They say a talented person is talented in everything. In addition to music, Denis is fond of painting, his paintings have been exhibited at numerous exhibitions since 90-s in the St. Petersburg Manege, in the Smolny Cathedral, were at the exhibition "My Russia is My World" (Moscow-New York), in 1994 year He had a solo exhibition in the Danish Aarhus. The abstraction on the photo is made with gouache. Denis is also in the Register of Professional Artists of Russia. So here, you sit with a man in the same building, and you do not know what ideas and thoughts he is passionate about! In general, we wish the brothers good luck in new works, new songs, full halls, crowded exhibitions!
Summing up, I will say: if you want to be a creator - be it, give vent to your hobbies, create for interest and good. Feel the power and flight of fantasy. Do what you love, awaken your second creative self, develop it, and let it appear when needed and say: "From now on ... I will live forever! Hey, Genius, follow me! ", And your life turns for a time into an exciting process of creating a new and unknown - the process of your creativity! Amazing - near, sometimes very close, inside of us.