Damascus blamed the Western coalition for the murder of civilians in the province of Deir ez-Zor. The terrorists suffered losses as a result of air strikes of the Russian Space Forces and the Syrian Air Force in Hama. Reports about it
FAN
with reference to Syrian sources.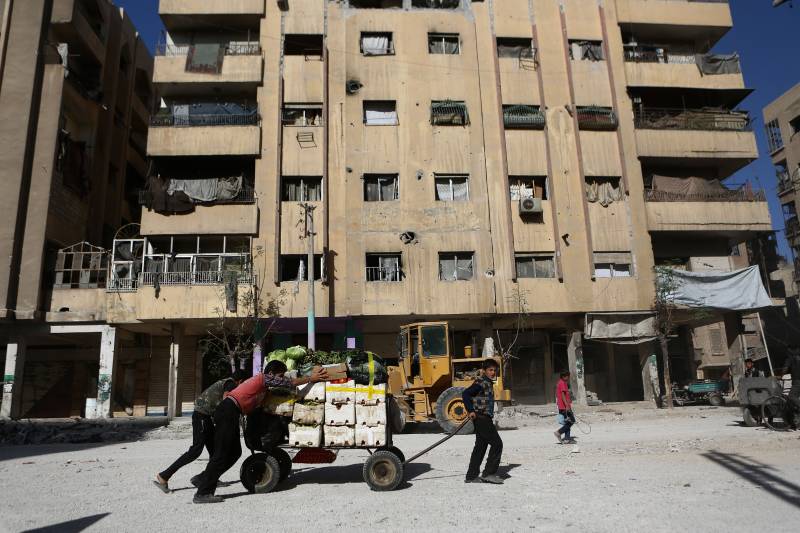 Suburb of Damascus, October 17.
Over the past day, armed clashes between anti-government radicals and ATS troops continued in the north-east of Damascus. Mutual artillery shelling was noted in the Jobar and Ayn-Tarm quarters, as well as near the village of Duma. In the west of the province, clashes occurred again between the government army and the forces of the terrorist alliance. The most large-scale firefights were recorded in the area of ​​the village of Mugr Al-Mir.
More than 70 families who left their homes during the fighting, returned to the area of ​​the city of Muskan, located southeast of Aleppo. Those in need received kits with food and medicine from the Russian Federation. It became known that the Syrian Free Army (SSA), supported by Turkey, intends to launch an attack on the city of Manbij in the northern part of the region. The Kurds received leaflets warning of the seizure of the city at any cost.
Throughout the day, in the vicinity of the city of Deir ez-Zor, battles broke out between the radicals of the Islamic State (the group was banned in the Russian Federation) and the Syrian army operating with the help of the Russian Aerospace Forces and the pro-Assad militia. Government forces managed to break through the first line of defense of the terrorists and liberate the Al-Sinaa area, as well as most of the Khasarat quarter. Meanwhile, the Syrian Foreign Ministry called on the UN Security Council to stop the killing of civilians by Western coalition forces. Damascus blames the alliance's air force for violating the country's sovereignty, as well as for the death of at least 14 people.
The "Democratic Forces" (SDF) continued to advance in the southeastern part of Deir Ez-Zor province and reached the outskirts of the Al-Tanak field, without encountering resistance from the igilovites. In addition, according to unconfirmed reports, the Kurds captured the city of Al Busayrah and Diban on the left bank of the Euphrates. Recall that many military experts believe that there is a secret agreement between the Kurds and the Islamic State.
Throughout the day, the aircraft of the Russian Aerospace Forces and the Syrian Air Force continued to conduct air attacks on the objects of the terrorist association north-east of Hama. As a result of the sorties, dozens of radicals, several units of military equipment, as well as a number of command posts of the Dzhebhat an-Nusra (grouping banned in the Russian Federation) were destroyed, after which the SAR forces managed to occupy the village of Shakhatya. Air strikes were inflicted after receiving accurate intelligence that the militants are preparing an attack on the strategic highway "road of life".