Colonel of the Supreme Court of Ukraine Vyacheslav Vlasenko today announced that the radicals rally outside the Verkhovna Rada of Ukraine sent appeals to the militants of the so-called volunteer battalion Donbass. The appeal says that the "twin brothers" from the NBU must leave the "ATO zone" and go to Kiev.
According to Colonel Vlasenko, "there is a provocation in order to induce servicemen to desertion from their positions."
The commander of the Donbass national battalion, Semyon Semenchenko, who is also a deputy of the Verkhovna Rada of Ukraine, previously stated that "he does not intend to resist the provocation, because the twin cities are already under the Rada", and immediately added that "the Poroshenko regime is not long". According to Semenchenko, Poroshenko will be removed from the presidency until the end of this year.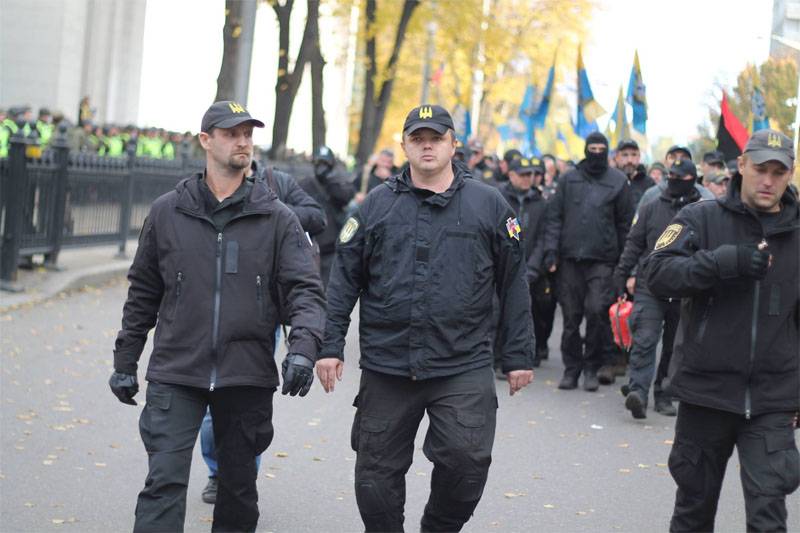 Today on Facebook, "Combat MP" writes the following:
People are wise!
I read a message today that "fighters of the Donbass battalion" are holding a press conference "against the protesters near BP."
We are already accustomed to fighting our twin brothers, that as soon as we start some kind of good deed, IT starts right away). Several people come out and tell "the whole truth about Semenchenko." I am a spy, "I got everyone into the cauldrons", "a coward, a scoundrel, wounded in the ass, stole everything and ran away everywhere." I also come across pearls, and the battalion commander wasn't, so came to popiaritsya ...
It was:
1) In the autumn of 14, when we demanded an investigation of Ilovaisk and opposed the Minsk agreements.
2) In winter, 14, when we blocked Akhmetov's convoys and achieved the return of our prisoners to almost 100.
3) In the winter of 15, when we demanded an investigation on Debalcevo.
4) In the autumn of 15, when we demanded to stop Shirokino's "demilitarization".
5) In 16 and 17, during the Krivoi Rog events, meetings with the demands of the Ilovaisk court, blockades of trade with the occupiers, etc., etc., etc.))
Recently, the circle of "scoundrels, thieves and traitors" has expanded from one Semenchenko to "Semenchenko's mercenaries" (represented by my comrades). I usually don't respond to that. And today I will not. Just to remind you what we all stand for. Peacefully and without
weapons
:
Down with the oligarchs from the government, punish the traitors, establish new rules, and that the Law be one for all.
Everything else: the law of impeachment, the lifting of immunity, anti-corruption courts - only tools to achieve these goals. And of course, we are "cowards, scammers and paid agents of the Kremlin." After all, they need us to achieve this)
And we will achieve it. And people are wise. I am sure that they will understand everything themselves.