Some details of the meeting between Russian President Vladimir Putin and his German counterpart Frank-Walter Steinmeier have become known. The President of Germany arrived in Russia on a visit. The official purpose of the visit is the participation of Steinmeier in the events on transferring the Cathedral of Peter and Paul to the ownership of the Evangelical Lutheran Church of Russia. In addition, Steinmeier arrived in Russia to "address the situation" around the German-Russian home in Kaliningrad.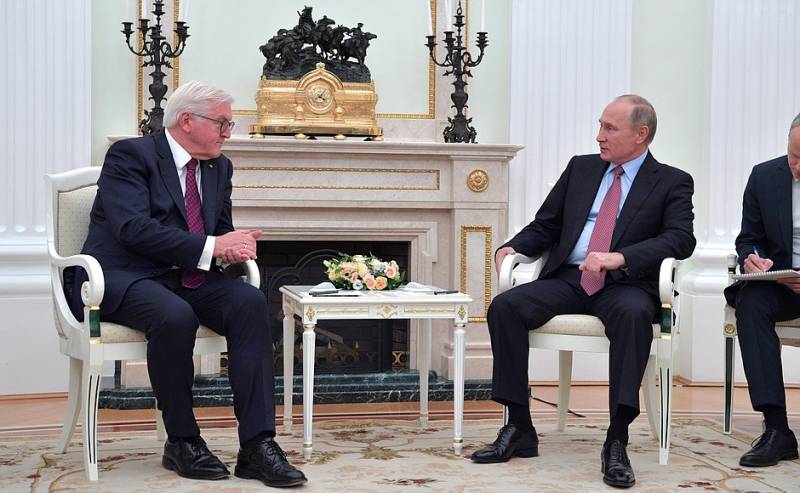 From the statement of the President of Germany:
I consider it necessary to use our capabilities as presidents in order to continue the dialogue and to try to determine how to achieve better relations with which we cannot be satisfied now. In any case, I am convinced that we need to counteract the alienation that has taken place between our countries in the past years. For this it is necessary to continue the dialogue, long-term attempts are needed on both sides to find a solution in crises. In short, I would like to contribute to the improvement of relations between Russia and Germany in my new role as Federal President. And I hope that our today's conversation and conversations like her will help me in this.
In turn, Vladimir Putin noted that he continues contacts with Angela Merkel, and hopes that relations between Russia and Germany, despite all the political nuances, will continue to develop.
According to the results of the current year, the trade turnover between the Russian Federation and the Federal Republic of Germany is expected to increase by more than 10%. Recall that last year the turnover amounted to about 48 billion euros, and in 2012 year corresponded to the value of more than 80 billion euros, which is a record in bilateral trade relations.
At the moment in Germany, not everything is rosy with the political situation. Merkel can not form an effective coalition after winning the election. The reason for the long process is that the victory of the Merkel party which was far from convincing.