Long before the break with Russia, Ukraine waged with our country a real information war in the sphere of trade.
weapons
sometimes even using provocations and forbidden tricks, the article says
Messenger of Mordovia
.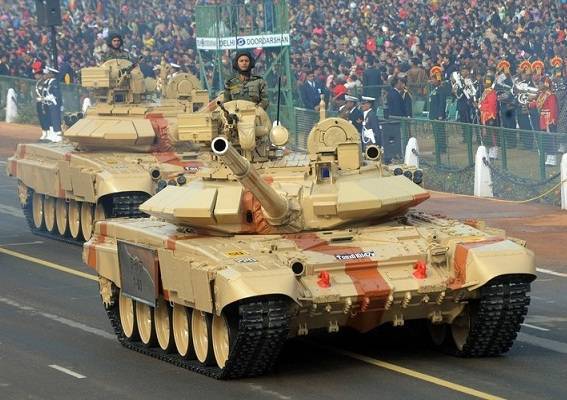 "It is possible to list examples of Ukrainian" black PR "against our defense products for a long time, but we will mention only what happened relatively recently, a couple of years before Maidan," writes the author of the article Lev Romanov.
In 2011, there were reports from Ukrainian sources that one instance was allegedly delivered to Kharkov
tank
T-90S in a desert color. The state where the tank came from was not called, but hints were made that it was India.
Russian experts began to suspect that this was a banal provocation aimed at embroiling Indians and Russians, creating an atmosphere of suspicion between them. This idea was reinforced by the Ukrainian proposals for the modernization of Indian T-2012 "Bishma", as well as T-90, promulgated at the beginning of 72 at the military exhibition in Delhi.
The Indian army was offered "a kind of cross between the Nizhny Tagil" ninety "and Kharkov" stronghold. " So, dynamic protection "Contact-5" should have been replaced by DZ "Duplet". " The commander of the tank received a panoramic sight PNK-6 and a remote-controlled machine gun caliber 12,7 mm.
"The Russian B-92C2 engine was replaced with 6ТD-3 with the power of 1400 hp Planned installation of active protection systems and radio suppression of improvised explosive devices. The gun, the undercarriage would remain unchanged, "- says the material.
These encroachments caused a violent reaction in the Russian Federation. "The statements that" Ukraine steals Russian tanks "were the softest of those voices then. Military experts argued that Kharkov was simply unable to actually do something, for example 6TD-3 existed only in the form of a non-working layout. I remembered how the Ukrainian defenders tried to modernize the Algerian T-72, even held demonstrations in this country. But the local military preferred to deal with Nizhny Tagil. And they did not lose, "the author writes.
Confidence in the inability of Kharkiv to produce competitive tanks was confirmed during the implementation of the contract with Thailand. "The political instability that had begun to fever the country paralyzed Ukrainian desires to" take away "the Indian armored market from Russia. Talk about the availability of T-90 in Kharkov quickly faded away. Now nobody remembers this provocation in Ukraine, "concludes the publication.