Shipyard Northern shipyard (part of USC JSC) continues completion work on the head corvette of the 20385 project. The technical readiness of the corvette has reached 65%, the press service of the enterprise reports.
Now on the "Thundering" is completed wiring weapons and special equipment. Sailing of the cabin is continued on the ship, systems of domestic wastewater, general hydraulic hydraulics, and air conditioning are installed. The pre-insulation saturation under the flooring and installation of electrical equipment is carried out. Completing the laying of cables to all ship systems. The total length of the power and low-current cables on the corvette reaches almost 300 km. Workers began sewing the galley. After completion of these works, the installation of cooking stoves, ovens and other galley equipment will begin here.
- it is spoken in the press release, arrived to the address of "the Military Review"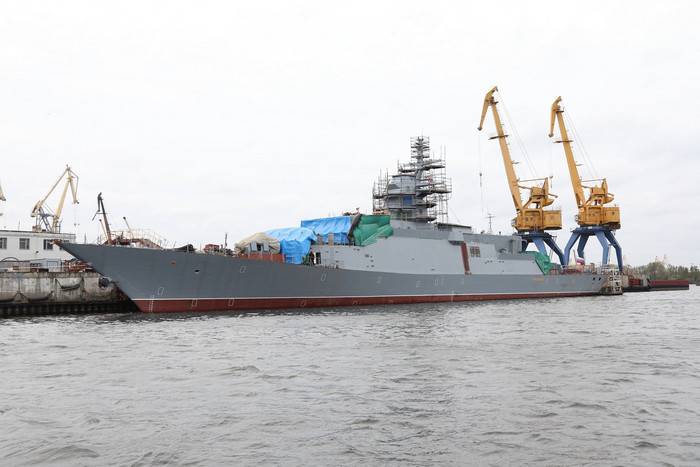 The introduction of personnel is scheduled for spring 2018. The lead ship of the project series 20385 "Thundering" is planned to be transferred
the fleet
in 2018 year.
The 20385 project was developed by Almaz Central Metallurgical Bureau. Within the program of import substitution, the Main Power Plant of the production of the Kolomna Plant was installed on the "Graemae". To adapt the project to the domestic engines, the design bureau needed to substantially rework the project documentation. 20385 is a modernized design of the new generation of corvette. Its main task is to detect and destroy enemy surface ships or submarines. Also, a warship serves for the landing of troops, protection of the coastal zone, escorting other ships. Artillery, missile, anti-submarine, sonar and radar complexes are located on the ships. The project provides a hangar for the Ka-27 helicopter. Thanks to the original architecture and the use of composite materials in combination with special coatings, as well as the missile armament and antenna posts at the corvettes built into the hull, the radar, acoustic and optical visibility is significantly reduced.
The main characteristics of the corvettes project 20385:
• Displacement - 2200 tons.
• Length - 104 m
• Width - 13 m
• Speed ​​- up to 27 nodes
• Navigation range - 3500 miles
• Autonomy - 15 days
• Crew - 99 people.
Main power plant:
• Two diesel-diesel units 1DDA-12000