Russian and Indian troops continue joint operations in the framework of the bilateral interspecific exercise Indra-2017. Maneuvers are held with the participation of the combined arms army of the Eastern Military District.
Department of Information and Mass Communications
The Russian Defense Ministry reports that during the maneuvers at the Sergievsky training ground (Primorsky Territory), the Russian-Indian contingent repelled the attack of a conventional terrorist group on a humanitarian convoy.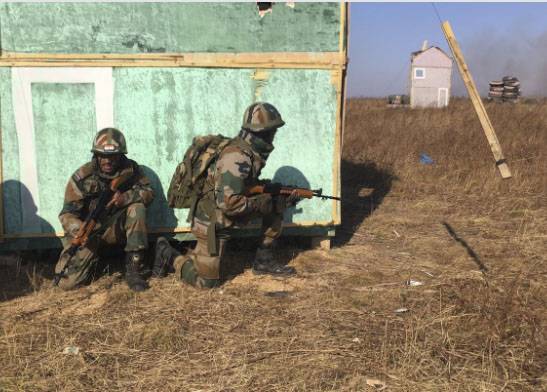 It is noteworthy that the conditions of the city were simulated, in which, according to the legend, exercises and wielded several terrorist groups.
From the message of the department:
According to the scenario of the exercise, a terrorist group of up to 40, a man using a mined vehicle, attacked a military convoy at the time of the delivery of humanitarian aid to the local population. The protection of a humanitarian convoy under intense enemy fire was forced to retreat and go on the defensive. In order to neutralize the detachment of terrorists, a joint international operation was conducted, during which Russian and Indian units blocked the settlement.
The submission states that for the liquidation of reinforcements, which advanced towards a terrorist group, the Gradz MLRS, SAU and towed guns were used. They destroyed suitable militant groups on the approaches to the conventional city.
It is noted that the Mi-8AMTSH helicopters supported the operation from the air, from which a tactical landing force was landed.
MO informs:
In 2017, the international doctrine for the first time takes place in an interspecific format according to a single plan. Instead of the earlier Indra-Nevi-2016, AviaIndra-2016, and Indra-2016 exercises, one exercise was planned involving the warships of the Pacific fleet and the Indian Navy, aviation and the ground units of the Eastern Military District and the ground units of the Indian army.