Russian and Indian ships completed joint maneuvering and inspected the "suspicious vessel" in the maritime part of the joint exercise Indra-2017, which began on Wednesday in the waters of Peter the Great Bay, reports
TASS
Post press service of Pacific Fleet.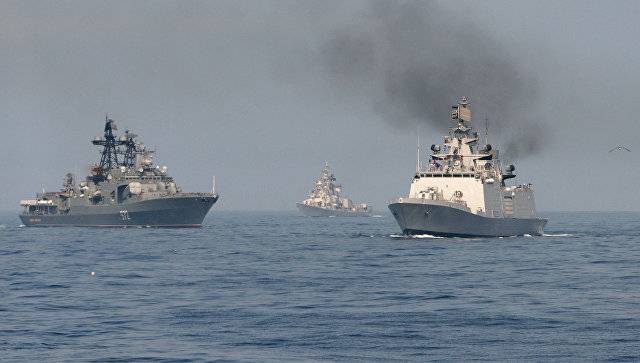 "Today, in accordance with the plan of the first interspecific Russian-Indian exercise Indra-2017 in the training grounds of the Pacific
fleet
the ships of the Russian Navy and Indian Navy began to work out the tasks of the naval stage of the exercise. A joint Russian-Indian squad of ships was formed in the waters of Peter the Great Bay, which included the large landing ship Admiral Nevelskaya and the small anti-submarine ship Ust-Ilimsk, as well as the frigate Satpura and the corvette Kadmatt. Base minesweepers of the Pacific Fleet BTSC-245 and BTSC-256 ensured the posting of an international squad behind the trawls. At sea, the ships of the two countries worked out joint maneuvering, conducted training on organizing communications, "the release said.
In addition, "the inspection teams of the Pacific Fleet and Indian Navy, within the framework of an episode of the maritime control exercise, have worked out standard international procedures and skills for marines in conducting a suspicious vessel inspection operation."
It is noted that "the actions of the groups provided the anti-sabotage boat and the sea-going tug of the Pacific Fleet". During the day, the ships with the involvement of the Russian Navy helicopters and the Indian Navy "will hold a joint photograph as part of various systems, and in the evening the crews will conduct training on the organization and protection of the detachment while parked on an unprotected roadstead."
For the first time, the international exercise Indra-2017 is held at the landfills of the Primorsky Territory and in the Pacific Fleet's landfills with the participation of various types of military forces of the two countries according to the common plan of October 20-29.