The administration of the US president has accused Russia of allegedly refusing to stop chemical attacks in the UAR. White House spokeswoman Sarah Sanders noted that Russia's blocking the extension of the mandate of the Organization's Prohibition of Chemical
weapons
talks about "Moscow's unwillingness to stop the himataks, but about the desire to preserve its Syrian ally".
In this case, Ms. Sanders, as befits a modern official representative of the White House, clearly did not take care to get acquainted with the Russian arguments. And these arguments are quite simple.
Russia blocked in the UN Security Council a draft resolution on the extension of the OPCW's mission in the SAR to investigate chemical attacks due to the fact that so far the mission's representatives have not submitted a final report on the chemical attack in Khan Sheikhun. Meanwhile, the US itself constantly refers to the OPCW, announcing that "it is already clear that the attack was carried out
aviation
Assad with Sarin. "
When Russian representatives ask the question why, after the sarin attack from the so-called "White Helmets", the Syrian Khan-Sheikhun strolled through the streets even without the necessary personal protective equipment, then the West begins to defame the topic.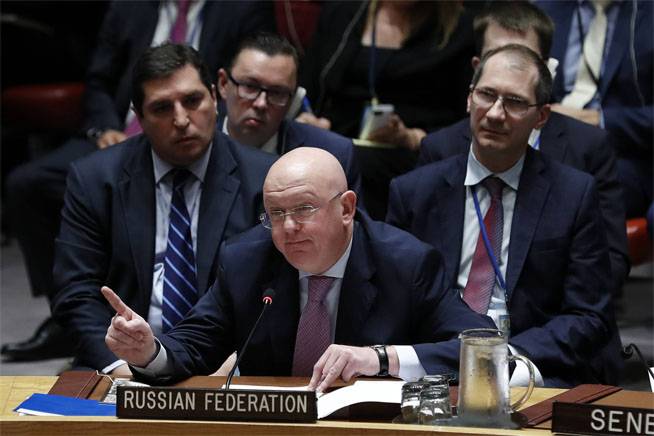 Bolivia spoke out against the resolution besides Russia. The Chinese delegation habitually abstained. The 11 members (permanent and non-permanent) of the UN Security Council voted in favor.
The Russian representative noted that the mission of the OPCW can be extended only after the OPCW itself presents a final report on the events in Khan-Sheikhun, and after carefully reading the findings of the report of all interested parties. Recall that such a report should be submitted on Thursday 26 October. In other words, Russia simply offered to wait a couple of days before adopting a final resolution.
As a result, guided by the logic of Sanders, it can be stated that the United States does not care about the termination of the use of chemical weapons in the SAR, and shield their allies.